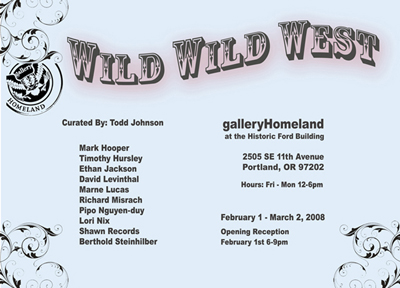 This group exhibition, curated by
Todd Johnson
, examines "the mythology and romanticism of the American western frontier." What lingering effect does the notion of the pioneer and Manifest Destiny have on the making of contemporary photography? The artists in this show explore what is still captivating about "the legends and myths of the Wild Wild West."
Opening reception • 6-9pm • February 1
Gallery Homeland
• 2505 SE 11th AVE •
info@galleryhomeland.org
Josh Arseneau has reinvented Jáce Gáce, using spray paint to launch an "all out assault on the image," and their walls. His work imbues the images with socially charged meaning, while reveling in the abstract beauty of color and form.
Opening reception • 6-10pm • February 1
Jáce Gáce
• 2045 SE Belmont • 503.239.1887
In the most romanticized month of the year, the Launch Pad Gallery is offering up a "psychic counterweight" to the paper-hearts and candy-filled Valentine's traditions. Their third annual salon-style
Love Show
aims to create a "visual dialogue about love in its many incarnations," from passion to bitterness to everything in between.
Opening reception • 6pm-12am • February 1
Launch Pad Gallery
• 534 SE Oak St. • 971.227.0072
ArtGhost
This month, Redux is exhibiting the "cleverly manipulated thrift store paintings" of Seattle duo
ArtGhost
. Their paintings of cute creatures and creative beasts over vintage nature scenes are a colorful, whimsical treat.
Opening reception • 6-9:30pm • February 1
Redux
• 811 E Burnside, Suite 110 • 503.231.7336