For my money the real super bowl this weekend is the Hanakago (flower basket) exhibition at the Portland Japanese Garden. It features bamboo basket masterpieces from Portland collector Peter Shinbach's bamboo art collection, further brought to life with the ikebana art of Mrs. Etsuho Kakihana. Kakihana is a master teacher of ikebana of the Saga Goryu School at Daikakuji, Kyoto. It is one of the oldest and most revered Buddhist Temples in Japan. I think it is important to remember there are things to be gained from 2 different things working together... if only the world could follow this modus operandi more, eh? The exhibition encourages a closer look in an age lacking much of that.

For a long time the Garden has arguably and consistently put on the strongest craft exhibitions in Portland (if not the West Coast) but what I love is how each exhibition are treated as living, iterative and evolving practices... like Jazz. Instead of some simple collector's vanity show the Garden's efforts are charged and expanded through the inclusion of flower art in the baskets.

I am not a football fan, and in contemporary art (and this is contemporary) this use of vessel and object has been of prime interest to so many artists like Eva Hesse, Anish Kapoor, Lee Ufan, Damien Hirst, Rachel Harrison and Michael Heizer. Locally MK Guth, Midori Hirose, Ellen George, Laura Fritz and so many others also focus on the display support as part of the object... an interrelated charge that goes beyond surface and support. It is often a delicate visual ecosystem that can be traced to Asian traditions that Brancusi then brought to modern art museums and furthered by Noguchi. hat I like is the way life animates art, it tells us that art history is still made in the present, besides what could be better than spend the super bowl in quiet contemplation?

Hanakago | February 3 - April 1, 2018
Portland Japanese Garden
611 SW Kingston Ave
Posted in PORT: portlandart.net on February 4, 2018 09:46 AM

Robert Frank, Santa Fe - New Mexico, from the book The Americans

He's ultra influential and considered by many to be one of the father's of street photography but Robert Frank's work is rarely seen. To remedy this situation Frank and Gerhard Steidl concieved of a travelling exhibition of photos, books, and films. Rather than as ultra precious objects Frank's images are printed on sheets of newsprint and hung on the walls or from the ceiling. This is one not to be missed.

Robert Books and Films 1947 - 2018 | January 4 - February 25
First Thursday Reception: January 4, 6-8PM
Blue Sky
122 NW 8th


... (more)
Posted in PORT: portlandart.net on January 4, 2018 02:51 PM

Detail of Erik Geschke's Arena (2015), all photos Jeff Jahn

At the end of the year there is always at least one really worthwhile exhibition that sneaks in before the calendar runs out. Currently, there are lots of fine iterative exhibitions that present incremental artistic strides in Portland right now but Erik Geschke's Amalgam at PCC Sylvania is the most satisfying. In no small part this is because Amalgam gives us the real scope of Geschke's recent work, allowing us to explore and absorb his somewhat twisted practice in multifaceted detail... (more)
Posted in PORT: portlandart.net on December 11, 2015 03:51 PM
Up to 5 this year the 2015 Hallie Ford Fellows in the Visual Arts are Ben Buswell, MK Guth, Tom Prochaska and Samantha Wall of Portland, and Jack Ryan of Eugene. Congrats to all.

Parsing it out it still seems like the awards favor:
men
academicaly afiliated locally as teacher or graduates at Oregon art schools
those who foreground "effortful" craft, even if the work is conceptual (avoiding technological and experiential work or which is purely conceptual)


On the plus side it seems like a better mix of younger and older midcareer artists who work in a variety of media... (more)
Posted in PORT: portlandart.net on June 3, 2015 02:04 PM

Jorge Pardo's Streetcar Stop for Portland (detail inside at night), Best Installation 2013 (all photos Jeff Jahn)


Complacency is a state of mind that exists only in retrospective: it has to be shattered before being ascertained. -Vladimir Nabokov


Portland's art scene was incredibly active in 2013 so I wouldn't describe it as year defined by complacency but like some aspects of 2012, specters at the institutional level still linger (mostly a divide between too much interest in old regional stereotypes to the exclusion of an immense influx of more varied and internationally relevant work). Still gains were made, such as when RACC changed their grant language to invite independent curatorial projects and new media to apply for project grants. The other fact is that Portland's living art scene still remains a meritocracy largely underinfluenced or spoiled by the art market.

Since Portland is both small and hot in terms of international interest, complacency should be our chief area of concern. Do we support what we already know better than what challenges us?

I counter that criticism is a cure for complacency, and by that I mean real criticism... not the kinds that merely flatter and reiterate artists statements as a kind of marketing for friends, community support and favored galleries or simple rants. I'm writing specifically about criticism that expands the discussion and illuminates the pressure points, right or wrong it matters not as long as there is informed intellect and integrity at work. Criticism will ruffle feathers (even when positive) and cannot be expected to go down any smoother than the visual art can be expected to. Practicing this type of criticism is an earned errand and 2014 marks my 15th year in the city.... (more)
Posted in PORT: portlandart.net on January 1, 2014 06:45 PM
"Only through art can we emerge from ourselves and know what another person sees" -Marcel Proust

Proust is utterly wrong with that quote of course, but it is a sentiment of yearning and perhaps a tad religious one at that. Instead, Art tends to be as subjective as anything else... though visiting someone's home or having a meal together is a kind of shared experience that is similar to looking at art or a performance together. In fact, all meals are performances and there is a power in such communion. The point being that art doesn't have any special authority, only that it has license to make unexpected demands on those that experience it. Sometime between the time of Lascaux and Titian though, art experiences became increasingly elitist and about projecting power. This was the hard power of class authority or social station.



Georges de La Tour, Porridge Eaters (1625)

In the 1600's a painter by the name of Georges de La Tour broke from the traditional baroque painting subjects like academic history scenes (history through the lens of those in power) and patron portraits to focus on genre scenes of commoners at work and play. Rather than using the image to project authority or hard power in an icon it projected a pervasive or soft power of secular domestic life and simple everyday pursuits.

...(more)
Posted in PORT: portlandart.net on December 6, 2012 01:17 PM

Vicky Lynn Wilson's Cumulus at PCC Sylvania's Northview Gallery (all photos Jeff Jahn)

October 2012 might go down as one of the best months in the history of the Portland art scene with strong solo shows from; Sigmar Polke, Kara Walker, Corey Arnold, Francis Celentano, MK Guth, Marie Watt, Linda Hutchins, Wid Chambers, Victor Maldonado, Photographer Hal, Daniel Heffernan, Jordan Tull, Isabelle Cornaro and Vicky Lynn Wilson that everyone should see if they haven't already (most end in the coming days).

Although PCC Sylvania is somewhat of a special trek, Vicky Lynn Wilson's Cumulus at the Northview Gallery is arguably the most extensive effort this month... (more)
Posted in PORT: portlandart.net on October 24, 2012 01:24 PM


The Art Gym is re-opening on Sunday after its latest round of remodeling with MK Guth's, "when nothing else subsists, smell and taste remain." There will be a series of conversations about food with the artist during the opening and a stream of artists and scholars throughout the run of the exhibition to make the Proustian palimpsest point. Here's the PR:

"'When from a long distant past nothing subsists after the things are broken and scattered, the smell and taste of things remain.' -Marcel Proust

Inspired by Proust and a long history of artworks using and commenting on food, Oregon artist MK Guth is launching a new body of work this fall with the exhibition 'when nothing else subsists, smell and taste remain.' M.K. Guth uses art to deepen conversation. 'when nothing else subsists, smell and taste remain' will use handmade books, sculpted serving pieces and utensils to materially propose and symbolize potential dinners inspired by art, music, places, relationships or milestones."

MK Guth: when nothing else subsists, smell and taste remain
The Art Gym | Marylhurst University
17600 Pacific Highway (Hwy. 43)| Marylhurst, OR 97036-0261
Preview Reception: October 7, 3-5pm
Gallery Talk: October 18, 12pm
Homecoming artist and curator's tour: October 26, 8pm

Closed Thanksgiving Weekend: November 22-26 | Exhibition continues through December 9
Posted in PORT: portlandart.net on October 6, 2012 01:36 AM

All and Nothing @ Froelick. Photo, Jeff Jahn.

In an exhibition entitled All and Nothing, Victor Maldonado creates an empty space for the viewer to fill with meaning a la Cage's 4'33" and others. Here, though, the visual nothing that we're supposed to stack meaning atop takes root in the common motifs of his earlier work. "[Maldonado]attempts to step back from elements of his established creative practice to give the viewer room to experience as they will. The pieces in All and Nothing are humorous and pointed, such as pages from art history texts, painted over in black or chroma key green to omit, alter or highlight reproductions of well known works." Let's see if we can find something in the pastiche, in the Hal Foster sort of way.

All and Nothing | Victor Maldonado
Opening Reception | October 4th | 5-8 PM
Froelick Gallery | 714 NW Davis Street

(There is so much more to peruse behind the cut!)
Posted in PORT: portlandart.net on October 3, 2012 05:29 PM
Unlike New York, LA or London, Portland's gallery season starts on January 1st and ends on December 31st... perhaps because our excellent summers attract people from elsewhere while keeping us here? Instead, we tend to flee Portland's arch-soggy December through February months.

The first half of Portland's 2012 visual art season was a doosy headlined with a Mark Rothko retrospective that transformed the way a many Portlanders view its local art museum + civic cultural history. Also, the news that our alternative scene was worthy of international attention, leaving more traditional galleries in the dust was a wake up call. Why the galleries don't at least attempt to harness some of that energy in their inevitable summer and winter group shows like they used to... I'll never understand? I guess they think selling the same art to the same collectors over and over again is a good idea? Especially when new players keep moving here and begin looking for the action they read about but cannot be found in the Pearl District. C'mon you know I'm right, Portland is going through massive changes... act accordingly, there is a new set of waves to catch.

So what is in store for the second half?




At MOCC Design with the Other 90%: CITIES (Photo: (c) Haas & Hahn for favelapainting.com)

On Friday the Museum of Contemporary Craft fully morphs into the design museum a city full of designers calls for with Design with the Other 90%: CITIES. The show was organized by Cooper Hewitt and the Smithsonian making its only West Coast stop in Portland at MOCC and Mercy Corps.




Kara Walker, (detail) Fall Frum Grace, Miss Pipi's Blue Tale (2011), Courtesy of the artist and Sikkema Jenkins & Co.

On September 4th the Cooley Gallery re-opens with Kara Walker's More and Less. Featuring prints from Jordan Schnitzer's print collection and her latest film "Fall Frum Grace, Miss Pipi's Blue Tale" (2011). Walker will come to Reed to speak on October 2nd... you might want to take that day off to get a good seat!


... (much more)
Posted in PORT: portlandart.net on August 16, 2012 12:45 PM


Last January I authored an OP Ed piece on Portland's somewhat troubled relationship with supporting internationally notable levels of excellence with special focus on the arts. Before tonight's town hall style panel discussion on the subject I'd like to dig a little further.

First of all, it is an indisputable fact that the artists who have been flooding into Portland since at least 1999 (often educated outside of Portland) have changed the expectations and awareness of the city as an interesting art city worthy of international attention. Now the New York Times stalks Portland for its edgy funky charm... they never quite get it that it is the permissive arts atmosphere. It all started when the 1999 Oregon Biennial shocked people with multimedia work. In 2002 I staged a show called Play to show just how different things had become and in 2003 a series of large warehouse shows Beamsplitters, The Best Coast, The Modern Zoo, Core Sample and Battle of the Artist Curators all hammered the point home. Portland has been interesting for at least 13 years now but...

...(more)
Posted in PORT: portlandart.net on July 19, 2012 06:05 PM
There were numerous excellent shows I simply did not have time to cover over the last 6 months and The Score as an ongoing series of reviews is a way to catch up and take note. What's more, three very good shows; Museion, David Eckard's survey (feature article coming soon) and The Bonnie Bronson Fellows show all end this week.




Museion at Reed College (photo Jeff Jahn)

Museion at the Cooley Gallery ends today so it is your last chance to see what Reed has in the vaults. For example ,they have a more varied and numerous collection of Milton Avery's than PAM has. Also, their Rothko is strangely fleshy... (more Recess, Half/Dozen, Worksound and Apex)
Posted in PORT: portlandart.net on December 7, 2011 12:12 PM


The Working Waterfront Coalition (WWC) presents Industry&Art, an art exhibition, sale and fundraiser. The event is curated by Brenda Smola and features a juried competition, the artwork of many waterfront employees, and weekend boat tours.

It's a heady swathe of art and industrial interests. The WWC represents more than half of the 50 industrial marine businesses in Portland, and many regional art collectors have ties to the market. Proceeds from the event go to the WWC Scholarship Fund at Portland Community College Foundation and West Multnomah Soil & Water Conservation District. The two organizations support industrial job training and environmental initiatives, respectively.

Select artists include: Greg Boudreau, Michael Brophy, Kate Copeland, Claire Cowie, Kevin Farrell, MK Guth, Sean Healy, Christopher Martin Hoff, Matt McCormick, Donald Morgan, Jim Neidhardt, Janet Otten, Melody Owen, Henk Pander, Christopher Perry, Christopher Rauschenberg, Robin Siegl, Tyler Stuart, Seth Tane, Lli Wilburn and Linda Wysong.

(Details after the jump.)
Posted in PORT: portlandart.net on September 22, 2011 01:57 PM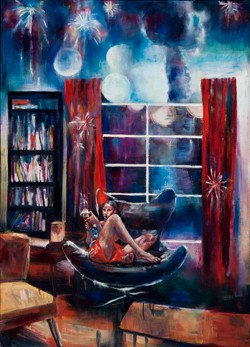 Laura Ross-Paul's Remote (2011)

Tomorrow, the excellent Hoffman Gallery at Lewis & Clark College opens an exhibition celebrating the 20th anniversary of the establishment of the Bonnie Bronson Fund, featuring new work by the Bonnie Bronson Fellows, who happen to be some of the Pacific Northwest's most influential contemporary artists. The show runs through Dec 11th but don't wait, besides a show like this will have a homecoming atmosphere at the opening from 6:30-8:00PM tomorrow. It has also become a tribute to Joan Shipley who passed away in the last week. Shipley had long worked to make the Bronson Awards what they have been.

How to typify the list of awardees who will be on display? Well it... (more)
Posted in PORT: portlandart.net on September 6, 2011 05:22 PM

Louise Bourgeois, "What is the Shape of This Problem? (detail)," 1999

Elizabeth Leach presents its 30th Anniversary Exhibition, The Shape of the Problem. Nearly 70 artists who have shown at the gallery over the last three decades will return for a whizbang, three-day extravaganza "celebrating the past, present, and future of the gallery, the Portland art community, and their relationship to the art world at large."

Day One: A group exhibition highlighting prominent historical artists of the last century, and featuring emerging artists alongside longtime gallery artists.

Opening reception • 6-9pm • August 4
Elizabeth Leach Gallery • 417 NW 9th • 503.224.0521

Day Two: A multi-channel video projection of internationally acclaimed multimedia artist Dinh Q. Lê's The Imaginary Country.

Opening reception • 5:30-7:30pm • August 5
Reed College Cooley Gallery • 3203 SE Woodstock Blvd • Hauser Memorial Library

Day Three: A group exhibition featuring Robert Hanson, MK Guth, Ryan Pierce, Bonnie Bronson, Lee Kelly, Sean Healy, local curator Kristan Kennedy, and many other regional artists.

Opening reception • 5:30-7:30pm • August 6
PNCA Feldman Gallery • 1241 NW Johnson • 503.226.4391

(More: Terry Toedtemeier at PDX, Bill McCullough at Blue Sky, Jennifer Locke & Lucas Murgida at Rocksbox, Eva Lake at Augen.)
Posted in PORT: portlandart.net on August 2, 2011 04:43 PM
It's an annual occurrence... the lament against the derivative nature of recent grads and this year Jerry Saltz does the honors. He often does it best too... though Robert Hughes' original ending for The Shock of the New lamenting how art has become a "vocation" not an "avocation" is the all time best (he later wussed out and took the teeth out his argument by writing an amended ending for the second and subsequent editions).

Overall, I agree with Jerry's assertions, but I want to get at the real issue, why is the thinking behind new art so derivative? Yes it is the academy (which promotes a clubby group think) and the system (which is subject to trends more than intellectual curiosity)... and it's partly why Portland keeps churning out interesting international level artists like Storm Tharp, Jessica Jackson Hutchins, Matt McCormick, MK Guth etc. They all pretty much were allowed to develop on their own according to their own idiosyncrasies for a decade plus. Portland lets you do that (other places do too but Portland has that magical combo of being off the beaten path and being a hot place where international curators will find you). San Fran artists like Harrell Fletcher and Chris Johanson came to Portland to do their own thing and the place still attracts and develops artists. Id say there are 30-50 artists (young and not so young) who make work worthy of serious international attention and maybe 200-400 with potential to join their ranks (17,000+ artists active in the city). So if you are looking for a lost world of excellent artists you didn't quite know existed, check out Portland's busy studios. BTW, many of the best ones do not have gallery representation since they are installation and video artists and yes many show outside the city. For an information gathering resource, PORT's reviews and interviews are the best collection of who to watch.
Posted in PORT: portlandart.net on June 20, 2011 03:26 PM
Since I'm now beginning my 13th year of living in Portland I thought another iteration of the score was in order. A lot has changed, in fact back in 1999 people kept saying "things never change here." I very publicly bet against them by doing some curating and writing in 2000 and the rest is history (stasis is always a terrible bet). Now the scene has made a habit of of it's perpetually growing international profile and the question is more about how the scene will direct its energy rather than simple regionalist grumbling. In short, everyone that gets talked about here has simply upped their game and international profile and The Score is just another way to keep tabs of this new reality. Some feel criticism should be be gentle... but that generally means they simply want to ingratiate themselves, which is fine but it's also important to take a stand, especially when things are obviously wrong. Sometimes the critic's role is to say what everyone perhaps already knows but needs to say publicly. It keeps us honest and therefore a stronger art scene.



(all photos Jeff Jahn)

Perhaps the biggest change is the proliferation of alternative spaces and a generally higher level of sophistication, typified by huge influx of installation/new media art to a one time more traditional painting and crafted object art scene (not that they need to be mutually exclusive). There is room for both in any worthwhile scene.

... (more)
Posted in PORT: portlandart.net on May 10, 2011 12:48 AM

Exhibition preparation at the PCVA, image ©PAM

The YU Contemporary Art Center presents its inaugural exhibition, Selections From the PCVA Archive. The show will "revisit and honor the legacy of the PCVA and look into a vibrant and important moment in the history of contemporary art in Portland, providing historical context for YU and inspiring a forward-looking vision for a world-class contemporary art center in the city." The show will also launch the YU library and its first publication, Veneer Magazine 08/18.

Opening reception • 6-9pm • May 6
YU Contemporary • 800 SE 10th • 503.236.7996

(More: Paulaus Kapteyn at Nationale, On&On&On part II at Ditch Projects, fringe economies at Newspace.)
Posted in PORT: portlandart.net on May 5, 2011 05:23 PM
Continuing their 30 year anniversary celebration, Elizabeth Leach is opening two shows this week:



Matt McCormick, "Crescent Motel"

In The Great Northwest, Matt McCormick presents video installation and photographs inspired by a scrapbook created in 1958 by four friends and found by McCormick in a thrift shop. The scrapbook details their Northwest travels together, which McCormick recreated in spite of a new highway system and towns that entirely disappeared. The resulting video and installation is his documentation of the process, which "reminds the viewer of the fragility of history, of the swift passage of time."




Dan Attoe, "Monument Valley Meteor Shower"

Here/Now is a group exhibition that "recognizes and celebrates the ever-changing Portland art community," including current and former Portland artists. Featured artists include Dan Attoe, MK Guth, Jessica Jackson Hutchins, Johanna Jackson, Chris Johanson, Arnold Kemp, and Michael Lazarus.

Opening reception (both shows) • 6-8pm • February 17
Elizabeth Leach Gallery • 417 NW 9th • 503.224.0521
Posted in PORT: portlandart.net on February 15, 2011 03:04 PM

Tania Cross

Worksound presents Drawing the Slight Uneasy, curated by MK Guth and featuring work by NYC & PDX artists Bill Adams, Nicolaii Dornstauder, Tania Cross, Patrick Kelly, Michael Lee, Frank Parga, Nicole Eriko Smith, and Lynn Yarn.

Opening reception • 6-10pm • April 2
Worksound • 820 SE Alder • mojomodou@gmail.com

(More: Gabriel Liston artist residency at NAAU, 100% Organic at Gallery Homeland, and the remaining two Disjecta shows, Kartz Ucci @ Alpern Gallery and Heidi Schwegler @ Alicia Blue Gallery.)
Posted in PORT: portlandart.net on April 1, 2010 12:15 PM


Modou Dieng and Damien Gallery present Flashstream: New Video at the New Video Gallery at PSU. In the lobby of the PSU Art Building or projected on the outside wall after dusk will be video works by Hannah Piper Burns, Carl Diehl, Jacob Fennell, Weird Fiction, Jaclyn Fronzack, Matthew Green, MK Guth, Ryan Jeffery, George Kuchar, Chris Larson, Bob Moricz, and Randi Razalenti.

Video exhibition • March 1 - March 26, 2010
PSU New Video Gallery • 2000 SW 5th Ave • Lobby of art building or outside at night

(More: Aili Schmeltz lectures at Clark College and Of Walking in Ice opens at UO's White Box.)
Posted in PORT: portlandart.net on March 1, 2010 11:40 AM
PORT will have several reviews and our exhaustive 2009 roundup next week.

Till then NY1 has a nice article and great video on MK Guth's latest show in New York City.

Sometime guest PORT contributor Bean Gilsdorf has an interview with Storm Tharp on Daily Serving.

Posted in PORT: portlandart.net on January 15, 2010 01:11 PM
The results of our first ever Portland art scene reader's poll are in and it definitely confirms that 2009 was an extremely interesting and active year. Overall, these things tend to favor young emerging artists whose social networks (formed in art school) tend to rally round popularity contests like this. Still, it's a worthwhile exercise and the results do reflect quality as well as popularity. In some cases the margins were so overwhelming that it forms a kind of art scene consensus.



Ruth Ann Brown

Art Scene MVP 2009: With a commanding majority of 68.2% of the votes Ruth Ann Brown ran away with this category. Her successful Couture Series at NAAU channeled and funded one of the scene's biggest strengths, installation art. I guessed this would be the result but the voting margins were even more heavily stacked than expected. Sure there were lots of write ins and grumblings about this category but facts were 2009 was RAB's year.

...(more)
Posted in PORT: portlandart.net on December 30, 2009 07:32 PM
I think 2009 was PORT's most in-depth year to date and though traffic isn't our primary concern our most detailed and critical articles tended to be our most popular... it is why PORT is less like a typical blog or newspaper (which favor; money, scandal and generally ingratiating oneself to the scene) and more like a critical journal or ongoing symposia. In other words, we are primarily interested in comparing ideas, execution and history.

By far, Amy's April interview with Okwui Enwezor was the most popular piece on PORT in 2009. Even now it gets over 1000 readers a day.


Other consistently high traffic posts from 2009 were (in no particular order):


Arcy's excellent research into Mark Rothko's crucial Portland years was an important post, gathering scholarly interest at the very highest levels.

In April, I posed a piquant question regarding which discipline is working with the most interesting spatial ideas, installation art or architecture?

Alex's excellent interview with the V&A's Glen Adamason even featured some nice iphone images of Adamson's personal collection.

Ziba gave us an early tour of their new HQ, and we gave the world their first look at the Holst designed space. You saw it on PORT first.


...(much more)
Posted in PORT: portlandart.net on December 28, 2009 12:06 PM

MK Guth's work at Pulse (Elizabeth Leach Gallery)

More from ABMB, Pulse, Nada and Aqua
Posted in PORT: portlandart.net on December 7, 2009 06:39 PM

Richard Serra etchings at Elizabeth Leach Gallery



Elizabeth Leach presents Richard Serra's Etchings 1999-2007. The exhibition explores Serra's lesser-known printmaking practice, featuring the 2007 Paths and Edges series. The works in the series "feature thick arcing lines, which stretch beyond the boundaries of the sheet, creating a palpable sense of continued movement and weight. Even on paper, these monolithic, looming forms have a physical, three-dimensional presence, which captures the same sense of spatial domination created by Serra's internationally renowned and monumentally scaled sculptures." UPDATE: It has come to our attention that Elizabeth Leach will not be having a First Thursday in reception. However, this is still a top pick show for the month.

Exhibition • December 3, 2009 - January 2, 2010
Elizabeth Leach Gallery • 417 NW 9th • 503.224.0521

(More: China at Ziba, Mel George at Bullseye, Reiner Reidler at Blue Sky, Kristen Miller at PDX, Charles Siegfried at Blackfish, Work|Progress by the Dill Pickle Club, OPS at Autzen, and the New Video Gallery.)
Posted in PORT: portlandart.net on December 1, 2009 05:25 PM

"The goal of our intellectual efforts cannot be a static, polished possession...In our many efforts toward knowledge, science, math, logic as in life itself, it is the process, not the terminus, that should concern us - if we are wise." Bruce Aune Rationalism, Empiricism, and Pragmatism

The fall season is in full swing, I've been here a little over a decade now and PORT is heading towards its 5th anniversary, so it seems like an opportune time to take full stock of the development of the Portland art scene. Part I is general and interrelated (nine ways to improve, Portland as a model city, and our recent past). Part II will be more specific, discussing artists - young, mid-career and old - different types of institutions, etc.



Broadcast at Lewis and Clark College (Dara Birnbaum's Hostage, 1994, in background)



Rose McCormick's Grande Ronde concluded NAAU's Couture series last weekend

There have been many excellent shows this season so far, including Rose McCormick's Grand Ronde, Broadcast at Lewis & Clark, Tom Cramer at Laura Russo, Jesse Hayward & Ethan Rose at TBA, Jordan Tull at Littlefield, Vanessa Renwick at Blue Sky, Ryan Pierce at Elizabeth Leach, and Processions at PSU, plus China Design Now and Raphael's Valeta at the Portland Art Museum. Portland definitely has a strong scene by anyone's standards, but it's not without its challenges. Only recently have our two top visual arts institutions (PAM and PNCA) embarked on serious campaigns with major donor education components. With PNCA celebrating its centennial this month, it's important to remember that they were the same entity a mere decade and a half ago and that only recently have the two organizations concentrated heavily on endowments and legacy gifts. The situation reminds me of the odd and sometimes beautiful combination of youth and age I come across in Portland. Now we seem to be at a tipping point where Portland could be more than just a great place for artists and become a better place for art. It's a subtle distinction that everyone should be considering..... (much more)
Posted in PORT: portlandart.net on October 27, 2009 02:13 PM

A Voyage of Growth and Discovery Installation view, Image c. 2009 SculptureCenter and the artists Photo: Jason Mandella

Voyages are an incredibly rich subject, let's briefly consider;

The Odyssey, The Rhyme of the Ancient Mariner, King Kong, Francis Alÿs's paseos, Kubrick's 2001, The Heart of Darkness, Moby Dick, Thor Heyerdahl's Kon Tiki, numerous HG Wells stories, Watteau's Pilgrimage to Cythera, Gulliver's Travels, Richard Long's walks, Star Wars A New Hope, Star Trek's 5year mission, Spinal Tap, Christina Rossetti's The Goblin Market, Swan Lake, The Wizard of Oz, the trials of Heracles, the quest for the Holy Grail, The Canterbury Tales, Saturday Night Fever, The Exodus, The Lord of the Rings, Pierre Huyghe's A Journey that Wasn't, Beowulf , The Epic of Gilgamesh, Leif Erikson, Gordon Lightfoot's the wreck of the Edmund Fitzgerald, Battlestar Galactica, The Ballad of John and Yoko, The Hajj, The Apollo program and Martin Luther King's march to Washington and subsequent I Have A Dream speech…

Needless to say voyages both fictional and real are a defining aspect of the human experience.

Not surprisingly then that Mike Kelley and Michael Smith's new show at SculptureCenter was the highlight (living artist wise) during my own recent travels to New York. Titled, A Voyage of Growth and Discovery, this joint show consisting of Burning Man video of Smith as Baby Ikki, stuffed animals, custom playground equipment, lights, streamers, a scrap metal sculpture of Ikki and dance music successfully conjured the engine of constant infancy that makes the United States what it is... (more)
Posted in PORT: portlandart.net on September 21, 2009 12:01 PM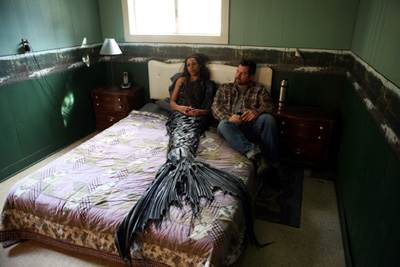 MK Guth, From the set of Allegory of Possible Hopes and Fears, "I Will See You on the Other Side (bed)"

MK Guth presents Terrain Change, an installation of new work at the Elizabeth Leach Gallery. "Featuring chandelier clouds and umbrellas made of sweaters and hats, video and photography, loggers and mermaids, Terrain Change poses the question: Who do you become when your environment disappears? When your life is defined by your profession, who are you without it? Through the use of mythic characters, Guth examines the very contemporary issues of climate change, the changing global economy, and the American cult of the career."

Opening reception • 6-9pm • September 3
Elizabeth Leach Gallery • 417 NW 9th • 503.224.0521

(More.)
Posted in PORT: portlandart.net on September 1, 2009 07:10 AM
Whether the economy is bubbling or collapsing Portland continues to attract new faces (often with new spaces). With more and more leaders to our ever growing and evolving scene there is most certainly yet another new wave in effect. Here are just a few of the new faces everyone should have on their radar (I'm certain there are many more... it's impossible to keep track of the in flow so feel free to nominate them in the comments).



The attention getting Jhordan Dahl caught our attention as an artist in 2007 at the Affair at the Jupiter hotel in Mark Woolley's bathroom (while still a PNCA student) and her most recent curatorial effort White Noise. She's serious, smart and sweats the details with a lot of edge... setting her apart from most of the softer slacker/hipster wannabe artists we spend a lot of time ignoring. I'd like to go on the record stating there haven't been enough young, independent female curators active in Portland... (a few years ago it seemed overbalanced with to many alpha male efforts.. many of which were more alpha male territorial exercises than concerted curatorial efforts). Let's hope she pulls together a solo show of her own work or another group show this summer.




Justin Bland is a 2008 PNCA graduate who has been very active as a curator of shows like Monster at Appendix Project space and the impressively professional Green Oregon (a much bigger survey like this is in order). In Miami's 2008 art fair he participated in Deitch Projects... (much more)
Posted in PORT: portlandart.net on July 1, 2009 03:00 PM
At PORT we've all known for a while that our pal MK Guth was stepping down as PNCA's MFA chair, especially after being in the last Whitney Biennial. What wasn't clear is if they could get some similar star power to replace her, yet they needed it. Now with noted curator (SF's Yerba Buena) and artist Arnold Kemp, it looks like they have the star hire they needed. In fact, Portland's professional portfolio of leaders just continues to improve... here's PNCA's release:

Pacific Northwest College of Art (PNCA) announces the appointment of Arnold J. Kemp as Chair of the Master's of Fine Arts in Visual Studies program.

"We are so pleased to appoint Arnold Kemp, with his great strengths in so many spheres of the art world," said Greg Ware, Provost, PNCA. "We feel confident that he will bring diversity, richness and depth of experience not only to our MFA students, but to Portland's art community... (more)
Posted in PORT: portlandart.net on June 17, 2009 01:03 PM

Mickalene Thomas at Lehmann Maupin's Glamour Project

One-time (before grad school at Yale) Portlander Mickalene Thomas had a whole page in the times last week, look for PORT's in depth interview with her in the coming days.

Jen Graves put the smack down on Seattle's art scene. Frankly, I think... (more)
Posted in PORT: portlandart.net on April 13, 2009 10:00 AM
The WWeek has the scoop, another sad day... Mark Woolley Gallery to close after 15 years in business. (Yes close is the right word this time, galleries often reinvent themselves but that isn't the case here.)

PORT reviewed the gallery's excellent 15 year anniversary show in December 2008 and hoped the recently relocated space had found its footings again after losing most of its top artists to other galleries as of late... (more)
Posted in PORT: portlandart.net on April 9, 2009 05:49 PM

MK Guth, "Ties of Protection and Safe Keeping," final installation, NY Park Ave Armory

Local artist MK Guth, who works in video, sculpture and performative social exchange projects, is lecturing this week for PMMNLS. Guth's project Ties of Protection and Safe Keeping was included in the 2008 Whitney Biennial, and subsequently installed in the APEX gallery at PAM. Guth is also a founding member of the Red Shoe Delivery Service.

Artist lecture • 7:30pm • March 30
PSU • Shattuck Hall Annex Room 212 • Corner of SW Broadway & Hall




Mr. Shiro Nakane (left) & Dr. Makoto Suzuki

Renowned Japanese garden professionals Dr. Makoto Suzuki of Tokyo Agricultural University and Mr. Shiro Nakane of Nakane & Associates will lecture next Tuesday at the Japenese Garden. They will both present on the topic The Japanese Garden: Past, Present, and Future. Tickets are $10, space is limited, reservations can be made here.

Artisan expert lectures • 6-8pm • March 31
Japanese Garden • 611 SW Kingston Avenue • 503.223.1321
Posted in PORT: portlandart.net on March 26, 2009 09:34 PM

Laura Fritz at NAAU, photo Jim Lommason

MK Guth: I wanted to start with the basics like, what is your background? What brought you to art? Where did you go to school? Where was your area of focus and does that connect to how you are making work now?

Laura Fritz: Well, I grew up in the Chicago area and I started out being really interested in lights in darkened rooms. They fascinated me. Sometime between Preschool and Kindergarten age there was this one grocery store that had an aisle where the lights weren't working. It was the peanut butter and jelly aisle and all the jars were just glowing because the aisle next to them allowed light to come through the side. I would just run up and down the aisle because I thought it was so interesting... (more)
Posted in PORT: portlandart.net on February 14, 2009 06:00 PM

Eugene Delacroix, "Christ on Lake Genesareth"

PAM is premiering a new artist talk series with MK Guth this week. At 6pm, Guth will lead museum visitors from the Hoffman Lobby on a tour through the galleries to discuss Eugene Delacroix's Christ on Lake Genesareth and Jeff Koons's Lifeboat. Afterward there will be discourse and happy hour until 8 in the museum café.

Artist talk • 6-8pm • February 12
Portland Art Museum • 1219 SW Park • 503.226.2811


Also, UPDATE: We apologize for any confusion, the Sara Greenberger Rafferty lecture is this Thursday. Rafferty is an artist/comedian who lives and works in New York, is co-editor of North Drive Press, and has published widely on art and comedy.

Artist chat • 12:30-1:30pm • February 12
PNCA • 1241 NW Johnson • 503.226.4391
Posted in PORT: portlandart.net on February 10, 2009 10:35 AM

Shigeru Takato, "Cologne V.," 2004

Lewis & Clark's Hoffman Gallery presents reGeneration, a group photography exhibition. Selected by three curators from Musée de l'Elysée, the show highlights some of the best work from emerging photographers around the globe. In an effort to explore the future of 21st century photographic practices, the curators used one question to guide their selections: Will this image be known in twenty years? Amongst over 150 remarkable images, featured work includes Keren Assaf's Untitled (Israel), an attempt to understand Israeli culture through the comparison of its aspirations with the American dream; Shigeru Takato's Cologne V. (above), part of his Television Studios series that exposes the hollow and blatantly artificial environments of the studio; and Untitled from Nicholas Prior's The Age of Man, where the photographer explores childhood as a social, not biological, construct.

Exhibition • January 22 - March 15
Hoffman Gallery • 0615 SW Palatine Hill Rd • 503.768.7687




MK Guth, Ties of Protection and Safekeeping

MK Guth will speak in the APEX Gallery at PAM this weekend about her installation Ties of Protection and Safekeeping. Read about the installation at the Whitney Biennial here.

Artist lecture • 2-3pm • January 25
Portland Art Museum • 1219 SW Park • 503.226.2811




Michael Brophy, "Day"

PMMNLS is back with celebrated local artist Michael Brophy, who paints vivid and often desolate images of the Northwest landscape.

Artist lecture • 7pm • January 26
PSU • 1914 SW Park • Shattuck Hall Room 212
Posted in PORT: portlandart.net on January 23, 2009 11:04 AM

flying the Portland flag high in 2008

Worth the wait, 2008 was the most varied and adventurous year of art exhibitions since I moved to Portland nearly 10 years ago. You name it, I saw it; pornographic/existential beer signs, arch minimal multireferential ruminations on the corner of a room, Ed Ruscha's latest paintings, TV stations that broadcast a whopping 20 feet, videos with zebra suits, lots of photography, The Natzler's ceramics, a condo for bats, too many good lectures and lots of gallery shuffling...

(more from Arcy, Ryan, Amy, Alex, Megan and Jeff)
Posted in PORT: portlandart.net on January 11, 2009 02:15 PM
2008 may be the year that most everyone I know can't wait to leave behind but it was easily PORT's best year ever. Tomorrow I'll post PORT's annual year in review.

Till then, here's a list of just a few of our standouts from 2008:

Arcy and I interviewing Brad Cloepfil in a marathon 2-part art and architecture geek fest... we kinda good cop/bad cop'd him but the man is a aesthetics machine

Arcy's interview with Ed Ruscha, AKA the world's greatest living painter

Ryan's interview with Storm Tharp, ending with the most intriguing hamburger discussion of the year

Amy's critical takedown of Ethan Jackson's Couture show at NAAU

My review of Paul Sutinen at 9 Gallery

Arcy's historical piece on Donald Judd at the PCVA... uncovering an important show in Judd's development.

Arcy's review of Robert Rauschenberg's final works at Bluesky

My review of the Contemporary Northwest Art Awards

Megan's heartfelt review of Jim Lommason's Exit Wounds at NAAU

Arcy's digestion of Shiro Nakane's lecture at PNCA

My interview with Fritz Haeg at Reed College

Alex's interview with Garth Clark

Amy's review of Video Gentlemen at NAAU (see a trend here, the Couture series has been a critical favorite)

My review of Keith Boadwee at Rock's Box

My review of Jacqueline Ehlis at NAAU

Arcy's essay on Barnett Newman's 18 Cantos

Megan's tough but fair analysis of Disjecta with some very constructive advice... which happily seems to have gotten through

My analysis of PAM's new direction with Brian Ferriso

My review of Gertrude and Otto Natzler at MoCC

Amy's interview with Jonathan Lasker.... this is a clinic on how to do a smart, informed interview for an art audience.

My analysis of the I-5 Columbia River Crossing, AKA the 4+ billion dollar bridge

Ryan's interview with MK Guth

Arcy's interview with Vito Acconci

So please bear with me, it's time for me to be "The Publisher" and toot our own horn:

...(more)
Posted in PORT: portlandart.net on December 30, 2008 01:53 PM
Just in time for the holidays, Mark Woolley's savvy eye for up-and-coming artists has given Portland another reason to celebrate besides the fact that it's the gallery's 15th anniversary. Titled Selections from ME9, this show by Stephen Scott Smith is a fitting affirmation of Woolley's keen eye for fresh contemporary Portland artists.

The Woolley Gallery has been an integral part of the contemporary Portland art scene since first opening in 1993. While in the Pearl District, Woolley became a pioneer in discovering new talent in town. His eye for new artists has been and continues to be an important factor in the Portland art vocabulary.



Installation view, Selections from ME9 by Stephen Scott Smith

...(more)
Posted in PORT: portlandart.net on December 29, 2008 11:24 AM

Vernissage ABMB 2008. The orange piece is Ai Weiwei's Cube Light, 2008 Meile

All photos Vanessa Calvert

The hall was packed and work was selling at the Vernissage according to Vanessa Calvert, who took pictures of Art Basel Miami Beach's main event fair this year. Will things be as brisk throughout the weekend? Last year ABMB did well while satellite fairs were less robust and I expect that trend to continue, the art world isn't going to simply stop buying art. I suspect it's the relatively expensive young rising-star artists whose markets will get hit hard. The speculation days are likely gone but people who love art still love art and will support it... (more)
Posted in PORT: portlandart.net on December 4, 2008 10:47 AM

MK Guth's project at the Whitney Biennial

MK Guth is bringing her installation at the Whitney Biennial to PAM's APEX gallery. For Ties of Protection and Safe Keeping, Guth traveled across the country, asking community members "What's worth protecting?" Their answers were handwritten on red flannel ribbons, and incorporated into a continuous braid, referencing Rapunzel's epic braid. PAM writes that the project "poignantly embodies the diverse voices of America in today's complex times." Don't miss PORT's exclusive interview with the artist last January.

Exhibition • November 1, 2008 - March , 2009
Portland Art Museum • 1219 SW Park AVE • 503.226.2811
Posted in PORT: portlandart.net on October 30, 2008 11:35 AM

A tiny sample of Marie Watt's installation

So is this Contemporary Northwest Art Awards deal at the Portland art Museum worth seeing? People have had their doubts and well... I've seen it and yes (unequivocally) you should too...

The CNAA's open tomorrow to Museum members as a gala and the 5 artists will speak on Sunday at 2:00. A huge, free and warmer weather bash is planned for July 25th

The Verdict: As a collection of 5 solo shows it starts with two of the best exhibitions we've seen in Portland in the last year before losing its nerve (in a very professional way).
I'll save in depth formal reviews for later because it really deserves 5 reviews, but in short here is why it does and doesn't work:

Overall it is a serious museum show, not like the somewhat ADHD style biennials, even the stuff that falls short... falls short with well installed authority. You get to explore precisely why and how each artist succeeds or fails.

It starts with a bang, Marie Watt really steps up with a Joseph Beuys meets Louise Bourgeois festival of fond remembrance that utilizes the Belluschi designed atrium space to great effect. If you like craft, spatially activated art and do-gooder social coincidence stuff (quite reminiscent of MK Guth's Whitney Biennial piece but more crafty) then this will please you. If you were one of the people annoyed that Watt was the only Portland artist included and asked why her?... then her installation should answer the question (in case you missed her Smithsonian show). Fact is it is unfair for her to represent Portland alone... but she does a good job representing herself and this is an eye opener compared to her consistently good but never quite awe inspiring solo shows at PDX...(more)
Posted in PORT: portlandart.net on June 13, 2008 02:23 PM

Oregon's single best art collector, Ed Cauduro... and arguably the best eye north of San Francisco has given PNCA a 1 million dollar scholarship endowment. When he was active he tended to collect early and presciently and his collection has included the likes of Warhol, Judd, Schnabel, Terry Winters, Jasper Johns, Jeff Koons and Basquiat (who even did a portrait of the elusive collector). Cauduro has given many important works to PAM (like the Peter Young etc.) but none of the listed heavy hitters are currently in PAM's gap-filled collection. Cauduro also owns Short Stop, John Chamberlain's first crushed car sculpture... something every art museum on the planet is interested in (Cauduro is 81 and must be slightly annoyed with the dynamic sets up). In response he's been setting up a lot of charities, including this incredibly generous scholarship endowment for PNCA. I've known about this for a while and it's a major benefit for the college and the art community. PNCA is on a roll with its 511 building, Hallie Ford gift (FIVE program) and MK Guth in the 2008 Whitney Biennial.

The Ed Cauduro Fund for Pacific Northwest College of Art of The Oregon Community Foundation (OCF) will provide up to four $10,000 annual scholarships, beginning with two scholarships for the 2008-2009 school year and one in each of the following two years. The endowment will also provide approximately $5,000 annually for students to use in purchasing art supplies and materials they would otherwise be unable to afford. Having a scholarship like this helps PNCA compete with other schools for particularly promising students... many might not realize this but it is a competitive advantage they have been lacking....(more)
Posted in PORT: portlandart.net on March 31, 2008 11:49 AM

Ok, the typical Whitney rigmarole has given New York something to talk about again (though it seems quieter and less engaging than usual, the Whitney needs to radically change the show to increase its relevance). Frankly it doesn't excite me at all, but so far Ben Davis on Artnet has done the best job of capturing the issue at hand. His best summary, "the whole thing does seem to represent an interest in homeopathic medicine! That is, it offers to simulate a negative effect to cure the larger disease; as if to fend off harsh critical attacks, the show embraces a defensive self-abasement. It is willfully half-baked." Though his Neo-Hippie tag isn't quite news...truth be told the last 4 (including 2008) have all been Neo-Hippie late 60's and early 70's fests. One could point to the adoption of Devendra Banhart into the art world as making it rather official (and therefore dead). That nostalgia also underscores why people aren't that whipped up over this Biennial show, there is no real shift at work here.

Despite that, Portland's own MK Guth is racking up all sorts of critical notice doing the important thing in any group show, standing out (Davis and the New York Times single her out as a favorite). Though Holland Cotter's Times piece labeling of her work as "new agey" seems like a New Yorker projecting funny expectations on a Portlander. Truth is MK pisses a lot of Portlanders off because she isn't very dippy-hippy newagey, she's often hard core but romantic with an eye for entropy and not new agey at all.... (more)
Posted in PORT: portlandart.net on March 11, 2008 09:30 AM

Laura Fritz, still from "Interspace"

QPCA will be unveiling their fourth "Qproject." Interspace is a "fully immersive" video installation by Laura Fritz. The installation continues Fritz's exploration of what happens inside the viewer's mind as expectation and perception are manipulated by a "purposeful and provocative vacuum."



Mark Hooper, "Untitled (from the series There:Here)"

Also opening at QPCA: Mark Hooper's There:Here, an exhibition of large-scale photographs that "use metaphorical events and tools to address enabling and predicting change on the physical, psychological or spiritual level."

Opening reception • 6-9pm • March 6
Quality Pictures Contemporary Art • 916 NW Hoyt • 503.227.5060

(more)
Posted in PORT: portlandart.net on March 4, 2008 11:55 AM
It's Whitney Biennial time again... and Portland has had someone in 3 of the last 4. The 2008 show opens Thursday and even PNCA is doing an event in New York.

This year the Portlander is MK Guth, whom PORT interviewed in depth earlier this year. Joseph Gallivan just did a nice piece on Guth for the Tribune...we will surely miss Gallivan's contributions to that paper. His accessible but engaging arts writing made most of the other newsprint in town look tragic.

It's true some worship the WB as some sort of art career Deus ex Machina while the show's overall importance has waned as of late. Still, some 2-5 artists seem to emerge from each iteration and artists like David Altmejd, Forcefield, Chris Johanson and Harrell Fletcher have all gone on to make more serious contributions after the show. My point is the Whitney B in itself isn't as important as the follow through after. In many ways Portlanders are simply over being excited about The Whitney but we love the fact that MK gets to do her thing. I also keep thinking that a west of the Mississippi Biennial might be in order some day as well.
Posted in PORT: portlandart.net on March 3, 2008 12:30 PM

Whether you are an artist or an art lover, curators are the people in your community that you need to know and the job involves a lot more than simply selecting who gets to show in a space.

Last year's roundup was hugely popular and this 2008 roundup will take things even farther. It is still by no means comprehensive as Portland has seen an explosion in interesting alternative spaces. It goes without saying that there is a whole new crew in Portland these days.

Participants for 2008 are: Bruce Guenther, Linda Tesner, Josh Smith, Nathan Gibson, Patrick Rock, Namita Wiggers, Kristan Kennedy, TJ Norris, Paul Middendorf, myself, Stephanie Snyder, and Damien Gilley... (more)
Posted in PORT: portlandart.net on January 31, 2008 02:15 AM

Portrait of MK Guth by Marne Lucas

"I have no life," confesses MK Guth with a chuckle. "But that's off the record." What the overachieving Portland artist means, of course, is that outside of an accelerating art practice that has her touring a new project across the nation-state-hopping her way to the Whitney Biennial-and heading the new Masters in Visual Studies program at PNCA, she doesn't have a lot of time for hobbies. But Guth seems to be taking both her hectic schedule and success in stride. The Wisconsin transplant, who has lived and or shown in Portland for...(more)
Posted in PORT: portlandart.net on January 8, 2008 09:51 AM
It's done now but 2007 was a big year and here is how PORT's Ryan Pierce, ex-PORTer and new Beaverton Arts Comission board member Melia Donovan, Matt McCormick, Micah Malone, Jesse Hayward and my own dull self rated the year... (more)
Posted in PORT: portlandart.net on January 1, 2008 01:26 PM
PORT and Portland's art scene had a particularly good year in 2007 with a general expansion of interesting new venues, artists and greater national exposure all around. In fact, weve had so much exposure outside of the city that Portlander's have begun to refer the national media as stalkers. Even PORT ended up in Art in America.

PORT Scoops.. here are just some major stories where we were the first Portland publication to break the news:

The New American Art Union's stipend shows, which were later dubbed Couture when the final selectee's were announced

PNCA makes it's bid for the 511 building, possibly the most important growth opportunity for art in Portland in the past 60 years. Other media have been playing catch up to what could be the biggest story of 2008 as well.

MK Guth selected for the 2008 Whitney Biennial

Portland Art Museum acquired several nice contemporary objects including a fine Judy Chicago and a really nice Gene Davis (we were the only Portland publication to mention these... but then again we are focused purely on art... so there you have it)

Here are some of my favorite articles from the past year:... (more)
Posted in PORT: portlandart.net on December 28, 2007 10:39 AM

Yes, a tank in a waffle house...

Recently Jace Gace (a hybrid waffle house/gallery on Belmont) has become the newest place to see challenging art in Southeast Portland and openings have been packed despite the extensive condo construction next door. This installation art/waffle development would be more surprising if it hadn't been started by a bunch of MFA's from CCA and located in the Portland Art Center's smaller but wonderful old space when they were dedicated to installation art (2005).

Jace Gace's current show, titled "The Closest It Gets From A Safe Distance" features a large scale model tank made of cardboard. At nighttime it features an electric lightshow, fog and music by Megadeth... (more)
Posted in PORT: portlandart.net on December 22, 2007 02:45 PM


This Saturday, come participate in MK Guth's national traveling project, Ties of Protection and Safe Keeping, an "interactive braid sculpture." Participants are asked to write their response to the question "What is worth protecting?" on a piece of flannel fabric that will be woven into an ever-growing braid. The project will start in Portland, MK Guth's home territory, and stop in Boise, Atlanta, Houston, and Cleveland on its way to the 2008 Whiteny Biennial. If you can't make it downtown this weekend, online participation will be available at mkguth.com beginning Saturday.

11am - 7pm | Saturday, December 15
Portland Center Stage in the Gerding Theater at the Armory | 128 NW 11th AVE
Posted in PORT: portlandart.net on December 12, 2007 03:42 PM

Vanessa Renwick's Trojan #2 at ABMB

Portland's art scene will be well represented during this week's Miami Art Fair madness with greater visibility than ever before. Portland galleries and artists are seeminly everwhere this time. Sure, Portland artists, curators and galleries are already veterans of such fairs but after years being stalked by the media in the New York Times, Wall Street Journal, CNN, Art Forum, Modern Painters and Art in America etc. it now seems Portland has buzz for being different and it shows in the art. In fact, art is central to Portland, no other large metropolitan West Coast city can claim that... (more)
Posted in PORT: portlandart.net on December 4, 2007 01:34 PM

MK's portrait by Marne Lucas

Congratulations to MK Guth who made the cut for the upcoming 2008 Whitney Biennial. MK is the director of PNCA's brand spank'n new MFA program and a longtime stalwart of the Portland art scene.

Here's a short but recent PORT review of MK's work.
Posted in PORT: portlandart.net on November 16, 2007 10:58 AM


Here's an interesting article about Wilhelm Schurmann on Art Facts (Salvatore Reda pointed it out to me). In particular I like how Schurmann confounds those who try to categorize his activities and it reminds me of all those shortsighted people who seem to complain about how disciplines like curator, artist, collector, critic, historian, gallerist, philanthropists or board member are blurred together. We live in a true era of pluralism so all of this boundary blurring shouldn't come as...(more)
Posted in PORT: portlandart.net on October 24, 2007 04:53 PM
Ok most insiders have known about this forever but the Pacific Northwest College of Art has now officially launched its MFA program, giving Portland a much needed second MFA. Previously only PSU produced MFA's but PNCA's program is unique in the region because it is mentor based, which a little similar to what Goldsmiths college's does. The 15 MFA candidates have already been selected and will start in the Fall. Notably, 75% of the candidates aren't from Portland (which is just about in keeping with the general population of Portland's art scene these days). The competition should also highlight the need for PSU to get more serious about its program (which has improved tremendously with little support).

Here's what PNCA says via MK Guth, the new MFA program's chair:
... (more)
Posted in PORT: portlandart.net on May 6, 2007 06:36 PM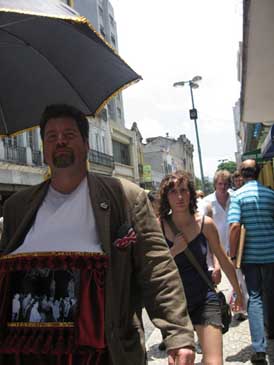 David Eckard on the streets of Rio

Despite the increasing real estate development and institutional maturation (for example Small A Projects was just accepted into NADA) Portland is still unique for being mostly defined by its people and I'm happy to report they have a rapidly increasing international reach. The artists are still the most influential and controversial force at work here and it will probably be that way for the next decade as...(much more)
Posted in PORT: portlandart.net on February 22, 2007 04:18 PM

TROCA USA Lecture at Pacific Northwest College of Art

Three years ago Feldman Gallery curator emeritus Nan Curtis began an exciting artist exchange and exhibition program with Ernesto Neto called Troca Brazil. The exhibition of Neto and others from Brazil at the PNCA's Feldman gallery group in 2005 was covered here. This past January the circle of exchange was completed when a select group Portland artists and PNCA students traveled to Brazil for an exhibit in Rio. You get to hear their stories today from the participants: Nan Curtis (curator), Bruce Conkle, David Eckard, Emily Ginsburg, MK Guth, Don Olsen, Tamsie Ringler.


Tuesday, February 20th 7 pm (free)
PNCA Commons
1241 NW Johnson
Posted in PORT: portlandart.net on February 20, 2007 11:55 AM
Curators are the people you need to know in the art world and Portland is full of them. To begin 2007 we thought we'd poll a few of them and learn a little more about how they see their roles. Now prepare yourselves, this is one long article. Also, as expected the term curator was incredibly loaded. Some reserve the term only for nonprofit work, others admitted to acting in a curatorial role without actually claiming to be curators. For some being a curator seemed to be like breathing. To be sure there are as many types of curators as there are curatorial roles. From old pro's to rookies, these 13 are only a sampling of the curatorial voices in town:



Terri Hopkins by Joe Macca (detail)

Terri Hopkins: Director & Curator of the Art Gym, Marylhurst University

How did you get into curating? It was a circuitous process of career sampling and elimination. I prepared for a career teaching art history, which
............(much more)
Posted in PORT: portlandart.net on January 3, 2007 11:23 PM

Marne Lucas, MLSP: Alphorny, archival pigment print 2006

Artist Marne Lucas and I took brief respites from our densely packed holiday schedules to sit down for an electronic bi-coastal conversation about her current exhibition, Sitting City: Portland Artist Portraits. The images of local artists created for Sitting City were partially funded by a RACC (Regional Arts and Culture Council) project grant, and represent a small cross-section of Lucas's ongoing project of capturing the appearance and essence of her artistic peers.....................(more)
Posted in PORT: portlandart.net on December 27, 2006 09:11 AM

Jesse Durost at Elizabeth Leach

Every so often, Jesse Durost surfaces somewhere in Portland to reveal the striking visual results of his experimentation in the realms of atmospherics and semiotics. With Hole in the Sky, Durost takes on the big subjects of Flag and Country. Catch him while you can during his 5-day turn in Elizabeth Leach's main gallery. MK Guth's Growing Stories has been extended and will occupy Leach's smaller space through November 4.

Later in the month, Elizabeth Leach Gallery will commemorate 25 years in the art business with A Century of Collage, a survey show in which works by renowned artists Joseph Cornell, Robert Rauschenberg, Robert Motherwell and Kiki Smith will share wall space with collages by locals Judy Cooke, Lee Kelly and Michelle Ross. A Century of Collage runs Nov. 11-Dec. 30.

Reception for Hole In the Sky • Nov. 2, 6-9pm • Oct. 31-Nov.4
Elizabeth Leach • 417 NW 9th Ave. • Tel. 503.224.0501
...(more)
Posted in PORT: portlandart.net on October 31, 2006 07:55 PM

MK Guth's Braid at Elizabeth Leach Gallery

Group shows are important as social mixers and as an opportunity to see a lot of different artists but now Portland's ever-maturing art scene's focus has increasingly shifted to solo shows where artists are truly gauged. Even the Oregon Biennial was quickly supplanted attention-wise by numerous solo shows this summer.

That said it is the last day for these worthy solo shows:

MK Guth's Growing Stories at Elizabeth Leach Gallery marked the return of one of Portland's brightest installation artists after years of collaboration and video work. There was a palpable buzz of excitement at the opening but its best to catch this work in less crowded circumstances during its last day today.

Growing Stories focuses on pop culture, expectations and the sort of personalized fairytales that people tell themselves to get through the daily existential grind. The familiar fairytale "Rapunzel" with her famously long hair in a tower is the thread that quite literally ties it all together.

The most direct piece in the show is a...(more)
Posted in PORT: portlandart.net on October 28, 2006 10:47 AM

Mark Zirpel, Eye Chart, kilnformed glass, 2005. Bullseye Gallery.

The International Exposition of Sculpture Objects & Functional Art, or SOFA , is an annual exhibition that takes place next month in Chicago. The Bullseye Gallery is one of 90 galleries invited to participate. This month the gallery is hosting a SOFA/Chicago 2006 Preview of the work heading to the Midwest. The preview consists of fourteen artists who have shaped glass at North Lands Creative Glass in Scotland.
Preview Reception: October 3, 5:30 to 7:30p • Exhibition runs September 19 - October 21, 2006.
First Thursday Reception: October 5, 5 to 8p
Bullseye Gallery • 300 nw 13th ave • 503.227.0222


MK Guth is showing at Elizabeth Leach . Her work combines a narrative of fairytale (often the disturbing parts, not the happily ever afters) with video art. In Growing Stories, she "explores life through the context of a fable using footage from popular films and sitcoms as a backdrop."
Preview Reception: October 4, from 6 to 8p • First Thursday Reception: October 5, from 6 to 9p
Elizabeth Leach Gallery • 417 nw 9th • 503.224.0521

more.....
Posted in PORT: portlandart.net on October 3, 2006 01:23 PM
What follows is a complete listing of all workshops, Guest Lectures, and Chats concerning the Visual Arts during the TBA festival:

Time Based Art Festival 2006 - Institute: Workshops, Chats, Lectures September 7 - 17, 2006

Visit PICA's website for all the details.

Visual Arts Workshop

Isaac Peterson: Visual Art Criticism
Thursday, Sept 7, 2pm Ecotrust
Friday, Sept 8, 2pm Ecotrust
PNCA Art History Professor Isaac Peterson gives a 2-day crash course on looking at and writing about contemporary visual art. Workshop includes a visit to TBA's visual art exhibitions. Must attend both days. Bring laptop if you have one (wireless is great) be ready to look, discuss and write!

Lectures

Mark Russell on The Bridge
Monday, Sept 11, 6pm, Weiden + Kennedy Atrium
Russell will talk about his own experiences of the history of performance and its future.

James Yarker on Why Be a Professional Artist? (Workshop match: Stan's Cafe)
Friday, Sept 8, 3pm, PNCA
Why do you want to be an artist? Why do you want to do it professionally? Why do you want to do it now? With a wry sense of humor and almost fifteen years of experience as a professional artist, James Yarker offers up a compendium of strategies and practical advice for the incipient artist.

(read more for all visual art events......)
Posted in PORT: portlandart.net on September 6, 2006 03:19 PM

Storm Tharp, Old Sport, 2006, Ink on paper, Courtesy of the Artist and PDX Contemporary Art

PORT's Northern readers won't have to experience Portland vicariously anymore (at least for a night)—Reed curator Stephanie Snyder, Oregon Biennial artists Kristan Kennedy and Storm Tharp, and several other Portland-based artists including Dana Dart-McLean and MK Guth will converge in Seattle this Thursday to discuss what's going on down here. The timing is appropriate, as Portland is already beginning to feel the rumbling of activity that could only mean one thing: it's Fall here in Portland, and we're about ready to begin a non-stop line-up that begins with time-based art, continues with a month of solid gallery shows and peaks in early October with our very own art fair.

From the press release:
"Check out the latest in art made just to the south. Stephanie Snyder joins special guests to discuss new activities in Portland and consider the work of Portland-based artists Kevin Abell, Dana Dart-McLean, Alex Felton, Jessica Jackson Hutchins, Kristan Kennedy, MK Guth, Storm Tharp, and others. Part of what Snyder describes as Portland's 'representational imaginary,' the evening will consider an intergenerational group of Portland artists that explore 'self' through experimental film, drawing, painting, sculpture and social practice. These imagined and constructed self-discoveries are often created in dialog with art history, popular culture, and an interdisciplinary media practice signature to Portland's scene."

The Return of Projections: Portland · Thursday, August 31st · 7 pm
Henry Art Gallery · Henry Auditorium · University of Washington
15th Avenue NE & NE 41st Street, Seattle · Tel. 206.543.2280
Posted in PORT: portlandart.net on August 30, 2006 07:47 PM

Still from Olaf Breuning's 2001 video "Group"

Video Window is a forum for presenting different video works by national, international and regional artists. Each month a new video will be presented in the outside window of the Elizabeth Leach Gallery on opening night (for the First Thursday crowds), after which they will move to a monitor in the gallery for the duration of the month.

Olaf Breuning's not to be missed video, "Group", will be my last selection for video window. "Group" documents the metamorphosis of bearded water drenched surf Vikings into Lord of the Flies Javamen. The characters in the video evolve and de-evolve, combining modern day camping van society with prehistoric antics. Breuning's highly constructed universes employ recognizable cultural cliches but amplifies and explodes them through his bizarre reconstructions and simulations. "Group" has the look of a National Geographic documentary on acid. This is the first time Olaf Breuning's work has ever been exhibited in Portland.

Since this is my last month with Video Window I want to say I have enjoyed having the opportunity to present video works I admire by artists, Alix Pearlstein, David Eckard, Shawna Ferreira, Federico Nessi and Olaf Breuning. For those of you who have tuned in, Thanks! For those who have yet to visit Video Window come on by.

April welcomes Matt McCormick to Video Window. Matt McCormick is a filmmaker who has directed several award winning films and music videos over the past ten years. He is also the founder of Peripheral Produce, an internationally recognized video distribution label specializing in short experimental work, and the director of the Portland Documentary and experimental Film Festival, Portland's premiere event for experimental, documentary, and otherwise obscure contemporary cinema. The PDX Film Festival will be running from April 26 - 30

Window of Elizabeth Leach Gallery • 417 N.W. 9th Ave • Portland, OR 97204 • Tel: 503 • 224 • 0324


Posted in PORT: portlandart.net on March 7, 2006 10:31 PM
Victoria Haven @ PDX

Well, as a New Year's treat, I have the First Thursday listing up ahead of time (who-hoo!) and have included every single opening I received a press release for. Usually, I comb through the announcements folders and pick some favs but this month, I'm pulling out all the stops. There's lots going on so you've got no excuse to sit at home. And don't forget to save room for First Friday!

Read on for complete listings...
Posted in PORT: portlandart.net on January 4, 2006 01:27 AM

Social Studies #14 (detail)

This month at Nine Gallery, Emily Ginsburg exhibits work from Social Studies, a series of stark black and white silkscreens that continues her ongoing interest in human behavior and psychology. Each panel holds an interconnected tangle of silhouetted signs and symbols rooted in a graphic vocabulary that Ginsburg has culled from modern and vintage electronics, industrial forms and comics. Ginsburg's previous installations and video work make use of the body directly, and in works like Blotto, she employs imagery of body parts and gestures. Within this new series of work, she instead references human behavior in a very cool, distanced, academic way, using a set of abstracted symbols to infer such social forces as communication, networks and human conflict.

Works in the show fall into three levels of complexity and the installation emphasizes these differences, resulting in an unfortunate unevenness. One wall contains a set of simplified images, many paring down a simple representation of conflict and tension between abstracted forces. The facing wall contains a series of imagery with more complexity, but the similarity of scale between elements falls flat at times. Ginsburg's large silkscreens are by far the most successful pieces in the show, and the expanded palate of symbols and formal variation give the pieces a visual complexity that the smaller prints lack.

Ginsburg's large prints employ fluid composition and have a diffuse energy that recalls work by contemporary painters such as Paul Henry Ramirez, but Ginsburg downplays explicit figurative references, relying on the cerebral and visual rather than the visceral impulse. All of Ginsburg's canvases stay within the edges of their borders and act as self-contained compositions that are the visual equivalent of sampling, albeit in a strictly formalized manner...
Posted in PORT: portlandart.net on August 15, 2005 02:50 PM