It's been a crazy art week filled with press conferences and constant questions about PAM's new Rothko Pavilion expansion but frankly I'm more interested in looking art. I might even do a few studio visits to get back to the source next week. This weekend has some great opportunities to step out though.



Flash-November 22, 1963 with soup cans and flowers reflected

The big event this weekend is Andy Warhol: Prints from the Collections of Jordan D. Schnitzer and His Family Foundation at the Portland Art Museum. First, this is a full retrospective and I think the breadth of early work like the blotted ink technique shoes to a pop up book and album covers will give a more intimate personal view of an artist that most immediately associate with Soup cans and Marilyn Monroe. Those are present too but the exhibition does a good job of filtering in social concerns, politics and erotica in a way that goes beyond the celebrity obsessions that defined Pop Culture. In particular an entire gallery space devoted to the entire folio called Flash-November 22, 1963 is eye opening. It throws the entire show into a different relief. The folio has rarely been shown and it is a crucial piece of Americana that combines concrete poetry, political idealism and tragedy. I'll have an interview with scholar Richard Axsom published here this weekend where we discuss it and other works in depth. Warhol is a crucial artist and in Portland we so seldom experience well executed retrospectives that seeing this show is mandatory. What is great about Warhol is his art was all about "accessibility" a trend which has come to even further define the 21st century, yet somehow Warhol's work isn't the spent force of yet another meme, they age well. Overall, with Warhol's close knit cadres of filmmakers, fashion designers, actors and musicians Warhol predates many of the concerns of Millennials, long before they came of voting age. I'll be curious to hear how they and those even younger respond? Warhol came from a living practice of an extended artistic family so the way the work lives today essentially creates an indexed benchmark of the American identity... similar to the way the Greek Pantheon galvanized that culture. There will be a variety of events and films as well.

Andy Warhol: Prints from the Collections of Jordan D. Schnitzer | October 8, 2016 - January 1, 2017
1st lecture: Collecting Warhol with Richard Axsom and Jordan Schnitzer | October 9, 2-3PM
Film schedule here Beginning October 8th
Portland Art Museum
1219 SW Park Avenue



... (more)
Posted in PORT: portlandart.net on October 7, 2016 03:10 PM
Most city's art scenes kinda die in the summer but Portland tends to ramp up, we do have great weather at this time of the year. Generally, May, June, August and September are almost always the best months and this May is no exception.




Traditional western notions of property, resources and the public good are under a lot of remediation lately so in keeping The Ross Island Residency, a renegade project initiated by Taryn Tomasello and curator Will Elder, spanning June 2015 - June, 2016, "at the site of a sand and gravel mine in the center of the island in the center of city looks interesting. This exhibition is the residue of symbolic gestures of replacement and a ritual-relational witness of trespass."

Trespass: Ross Island Residency | May 14 - June 26
Reception: Saturday, May 14, 12 - 6PM
Hours: Saturday & Sundays 12 - 6PM Publication Release: June 25, 5 - 7PM HQ objective
2235 W Burnside





OCAC 2016 BFA graduate exhibition
I've always enjoyed OCAC's BFA shows and Making in Evidence: featuring Oregon College of Art and Craft's BFA graduates of 2016 looks like another good one to hit. With seventeen students from diverse backgrounds and creative disciplines they will explore a wide range of concepts and media. OCAC's thesis exhibition comes as the culmination of an immersive mentor-based, craft-oriented and creative community a kind of proof in concept of OCAC's unique and varied curriculum.

*Update: highlights include Una Rose, Lillian Reed, William Whitehead, Oliver Wilson and Jessica Oakes with a sense of polish that puts most MFA programs to shame.

Making in Evidence | May 13 - May 22, 2016
OCAC's BFA 2016 graduate exhibition (free)
Opening Reception: May 13 5 - 9PM
Food, drinks and music
Regular hours: 11am - 5PM
525 NW 10th

...(more)
Posted in PORT: portlandart.net on May 13, 2016 12:57 PM

"Hero" (2015), Marc Matchak

It was sad when HQ Objective left their Oak St. space in 2015 but they are back... on East Burnside now with Fortune Gallery and Press. Their latest exhibition, Folded Object Instructions and Recent Poems, features Marc Matchak and Jabari Jordan-Walker. The exhibition looks like a rebus of sorts:

"Marc says there is a tennis match going, but there is no victory and the rules are somewhat fictive. Jabari gave us instructions on how to build a folded object out of copper, yet its final form is impossible. Given these circumstances we may feel irresolute. These selected objects, companions in our small space for a time, are gently voicing concern about our expectations of fairness and order in our world." -Will Elder, curator

Folded Object Instructions and Recent Poems | January 16 - February 21, 2016
opening reception on Saturday, January 16, 12 - 6PM
HQ Objective at Fortune (Sat-Sun 12-6, or by Appt.)
2235 W Burnside St.




Michael Knutson, Symmetrical For-Layered Ovoids and Latices II, 2015, oil on canvas diptych, 60 x 80 in.

One of my main complaints with local curation of the Portland art scene is we dont do a lot of great thematic group exhibitions. In this case a group of hard core serial pattern abstractionists have stepped up and self-selected themselves at one of Portland's best spaces. Featuring; Cynthia Mosser, James K-M, Matt Cosby, Michael Knutson Rae Mahaffey, Sally Finch, Shu-Ju Wang and Tamara English. I always pay attention when artists organize and I'm a fan of Knutson, Mahaffey and English so I can recommend the trip.

THE PULL OF REPETITION | January 14 - February 13, 2016
Weekend Reception: Sat, Jan 16th, 2-4PM
North View Gallery
Portland Community College Sylvania Campus
12000 SW 49th Avenue

Posted in PORT: portlandart.net on January 15, 2016 05:44 PM
Like many January First Thursdays this one isn't firing on all cylinders with holdovers and some galleries opening a week or more later. Still, after the ice storm in Portland earlier this week many will want to get out and there are some good things to see (I'll publish the extensive rumination on 2015's Portland art scene this weekend, I think we are all in the right mood for serious reflection now).



Alien She at MoCC

Perhaps the best holdover from 2015 is Alien She, an extensive survey of Riot Grrrl counterculture at the Museum of Contemporary Craft and PNCA. It is the final week to catch this exhibition on the North Park Blocks with its feral sasquacherinas and pink squirrels.

Alien She | September 3 2015 - January 9 2016
First Thursday: January 7 6:00-8:00PM

Museum of Contemporary Craft
724 NW Davis

PNCA (511 Gallery)
511 NW Broadway






Perhaps the most promising new show opening in Portland today is Eyeshine, a double barrel pair featuring two of my favorite Portland artists, Ryan Pierce and Wendy Given. Both are nature aficionados interested in shifted para-histories, mystery and the way nature circumscribes both humans and itself. The exhibition arose while camping together on the excellent Signal Fire Residencies that Pierce co-operates.

Eyeshine | January 7 - 29
Reception: January 7, 4 - 7PM
Autzen Gallery | Neuberger Hall, room 204
Portland State University
724 SW Harrison St


...(more)
Posted in PORT: portlandart.net on January 7, 2016 01:55 PM

My top pick for First Thursday this month has got to be Bill Will's Love Thy Neighbor at Nine Gallery because any artist who uses bread makers, tent poles and felt rockets to explore the absurdity of short range missile warfare simply cannot be ignored. The installation makes a lovely clicking noise too... is it a bomb or bread?

Love Thy Neighbor | February 5 - March 1
Opening Reception: February 5 6-9PM
Nine Gallery (inside Bluesky)
122 NW 8th




Joe Rudko's Flat Wave at PDX

Joe Rudko's latest show Picturesque mines the way the distortions of nostalgia turn once recognizable photographs into a kind of abstraction. In some ways it is a full circle and very zen way of recursively turning photography into an icon but somewhat in reverse of Rauschenberg and Warhol's methods. It also makes sense that his work graces the cover of Death Cab for Cutie's latest album, Kintsugi.

Picturesque | February 3- 28
Opening Reception: February 5, 6-8PM
PDX Contemporary
925 NW Flanders


...(more)
Posted in PORT: portlandart.net on February 5, 2015 04:33 PM

Amy Bernstein

We have waited an incredibly LOOOOOOOONG time for PORT's own Amy Bernstein to do a solo show of her paintings but on Sunday it will finally be here with Notes at Nationale. I can safely say she's obsessed with possibilities and permutations of meaning... and I don't think there is a distinct difference between the visual moves of painting and the meaning of words in her world. She moves between the two fluidly but never really settles. Perhaps the visual and language are two sides of the same coin, one which always comes up heads as she keeps tossing it? She's one of Portland's best painters and really pushes herself hard.

Notes | March 6 - 30, 2014
Reception Sunday, March 9, 2 - 5 PM
Nationale
811 E Burnside





Once again Disjecta's biennial offering dubbed Portland 2014 will open in various locations (some better, some worse) but the main opening is today march 8th from 6-10PM at Disjecta. Already, this year is notable for not having very many female artists... (more)
Posted in PORT: portlandart.net on March 8, 2014 02:03 PM
The Village Voice looks at the art world's worst kept secret about the market.

Skylab's just approved tower for the Burnside Bridgehead is a stunner.

Edward Winkleman on earning that uppercase "C"... no not critic or curator, that's a different process but "C"ollector.

Cornell's newly approved Tech Campus on Roosevelt Island designs are worth a look.
Posted in PORT: portlandart.net on January 3, 2014 08:54 AM


Trimet is taking public input for the naming of the exciting new transit, pedestrian and cycling only bridge over the Willamette.

Sure, it could be named after a general or some politician but as I've mentioned before should be named after Mark Rothko, who is Portland's most famous son... and remains unacknowledged in any memorial within the city. The fact that he was a Russian immigrant Jew who rose to become one of the most consequential artists of all time should be enough but Rothko himself had quite a connection to the site as the western side of the bridge was host to numerous Jewish business and homes. He even painted the site and had a special fondness for mass transit... (more)
Posted in PORT: portlandart.net on October 17, 2013 01:42 PM
It is the beginning of the new art season in Portland and this weekend is full of options, here are my three picks:



Installation view of Josiah McElheny's 2012 exhibition at The Institute of Contemporary Art, Boston

Zena Zezza (a Sandra Percival project) is kicking off its Artist Project Season with Josiah McElheny at Lumber Room this Sunday. McElheny is one of my favorite living artists... successfully blurring boundaries between design, history, science and experiential art. The work is masterfully crafted but it succeeds through its intense conceptual ambitions, which turns the beautiful finished work into something interrogative rather than vain. In fact it addresses the vanity of science and modernism.

"I began exploring the history of modernism through ideas around exhibition, display and education. Those things are interrelated to me. My first works were quasi-educational museum structures. The first artwork I ever made—and I didn't consider it a work at the time—was a museum that you would find in the forest by accident. It had both originals and fakes in it that I made myself." -Josiah McElheny

Josiah McElheny | September 12-December 7, 2013
Opening Reception: Sunday, September 8 3-5pm
Open Hours: Thursday-Saturday, 1-6pm
lumber room | 419 NW 9th Avenue

...(more)
Posted in PORT: portlandart.net on September 6, 2013 06:14 AM

Cabinet
photographic construction, archival inkjet print
59 x 65 inches


Isaac Layman is known for his large format, hyper real images of objects from everyday life. His new body of work includes photographic constructions and curated objects. These works honor the idea of loss and hint through multiple perspectives to the possibility of the afterlife.


Funeral : Photographic Constructions| Isaac Layman
Opening | August 1 | 6-8 PM
August 1 - September 21, 2013
Elizabeth Leach | 417 NW 9th Ave. Portland, OR 97209







Yoonhee Choi | Roya Motamedi


Yoonhee Choi's elegant collages are notable for their unlikely materials. Drafting supplies from her days as an architect and city planner. In her hands, line tape, lettering sets, masking tape, and other supplies transform into expressive marks.

For rePLACING Choi has added delicate graphite lines, some unexpected material choice, and a dramatic shift in scale from 2.5 inches square to 11 x 30 feet.

Each of Roya Motamedi's abstract images is a meditation on place: "Afghanistan, Japan, New York, Mexico and Portland have created structure in me which carries through to my paintings" she says. This will be her first Portland show.

Born to an Afghan archeologist father and a Japanese art historian mother, Motamedi and her family spent time in both parents' homelands. At 18, she departed for college in the U.S. Later, with her husband and son, Motamedi lived in a small town outside Guadalejara, and for the last five years in Portland.

These intimately scaled oil paintings are glimpses into her wayfaring life. In her words "the colors of murals and dry earth at Bamiyan where Buddha once stood; the mossy temple of Kamakura; the sun of Mexico; the dusty road where dogs nap; and the color of now-the quiet gray of Portland".

Motamedi and Choi, share a fascination with place, an affinity for working small, and a playfulness with color and space.

rePLACING| Yoonhee Choi & Roya Motamedi
Opening | August 1 | 6-9 PM
Artist Talk | August 17 | 2-4 PM
August 1 - September 21, 2013
Blackfish Gallery | 420 NW 9th Ave. Portland, OR 97209





& there are more openings this First Thursday !
Posted in PORT: portlandart.net on July 31, 2013 11:00 AM
Art Spark is pleased to feature print making studios Atelier Meridian and Flight 64!

The event will include : Letter pressing, pulling screens on different materials, and coming up with abstract and comedic ways to print iconic Portland imagery. Flight 64 will also be celebrating their 10th Anniversary in the PDX community!

Atelier Meridian is a working print studio and artist community in Portland's Lower Albina neighborhood. It is an art studio with 24 hour access to the presses for members and goodwill to artists and the curious who drop in.

Founded in 2003, Flight 64 is a member-run non-profit print studio in the Alberta Arts District. It provides artist the tools they need to develop their work, there are facilities for screenprint, etching, relief and lithography, as well as a community of artists.


An evening of printmaking with Atelier Meridian and Flight 64 | Art Spark
July 18th | 5-7 PM
Vendetta | 14306 N Williams Ave, Portland, OR 97217







Lucy Skaer @ Yale Union


Lucy Skaer's new sculptures commissioned by Yale Union are not loud talkers. They are however overly informed. Put simply, they are lithographic limestone extracted from Iowa in April.

For 370 million years this limestone was considered nothing but rocks. In 1903 Clement Webster, a mining engineer, discovered the lithographic qualities of the stone. All of a sudden the stone had value and the area where the pieces were excavated was made into Lithograph City. For twenty years the slabs were quarried, however when metal printing plate technology developed the quarries closed, and the entire town had folded. The site is marked by rows of telegraph poles tracing what is now a cow pasture.

The terra cotta and lithographic limestone are laden with history and technological significance. They are materials that imply a certain kind of use, able to print checks and deeds, designating value. Today however, quarries mine the stone for its non-lithographic properties. They crush the stone into material for road-building or concrete production, and ignore the flat slabs suitable for printing.


Lucy Skaer
Opening Reception | July 19th | 7-9 PM
July 19 - September 12, 2013
Yale Union | 800 SE 10th Avenue, Portland, OR 97214





& there's more on the 19th and 20th !
Posted in PORT: portlandart.net on July 17, 2013 07:14 PM

Travis Nikolai


The Pacific Northwest College of Art MFA in Visual Studies class of 2014 presents an exhibition of works produced at the midpoint of candidates' studies. The work explores concepts of image, language, technology, and contemporary visual culture.

Participating artists:
Sarah Abbott, Stephanie Brachmann, Mary Mac Dahlke, John Dougherty, Mario Gallucci, Thomas Gamble, Jonathan Gann, Michael Horwitz, Leif Lee, Travis Nikolai, Mark Palmen, Anya Roberts-Toney, Lauren Seiffert, Jessie Spiess, Rachel Wolf, Richard York, and Stephanie Yu.



There is another opening in conjunction with Versus, taking place at the Vestibule within Disjecta.

Travis Nikolai's Rendering takes something raw and makes it usable. Waste tissue becomes lard, and raw data is assembled into image. We consume, gain sustenance, and reconstitute ourselves. Rendering, a performative installation, explores the use of digital environments for the purpose of remaking the self. Two bodies present themselves as fantastical forms, and together share a sacrament to crystalize their transformation. This act is an attempt to find kindred spirits, molecular affinity, an effort to bond into a new and tentatively cohesive substance. :)



Versus | PNCA First Year MFA Exhibition
Rendering | Travis Nikolai
July 13th - August 11th, 2013
July 13th | 6-9 PM
Disjecta ( & the Vestibule inside Disjecta ) | 8371 N Interstate Avenue Portland, OR 97217





& there are more openings on Saturday & one on Sunday too !
Posted in PORT: portlandart.net on July 12, 2013 11:01 AM
http://eutecticgallery.com/brad-mclemore-cognition/

Contemporary wood fired sculptures are on display at Eutectic Gallery by Richard Brandt, John George Larson, & Brad McLemore.

"The passage of time and the story of the sensuous human experience lay on my work. I erode, then build again, reminiscent objects from the past, cycled through the fire, to the future to erode again." Richard Brandt is inspired by his passion for adventure, experimentation, and the discovery of his true nature. The utensils for tea and his love for the land guide his forms and pace.

John George Larson is a painter and wood fire ceramic artist from southwest Minnesota. He discovered clay at age fourteen as a means of expression and as an alternative way of exploring fundamental physics. John is currently building his fifth wood kiln and maintains his studio in Milan Minnesota. He uses native clays and other indigenous materials to create his works. Under a constant spell to discover the truth, the resulting works are an exploration into the magnification of the object as metaphor and the physical and mental limitations of the human body.

McLemore is a Portland based ceramic professor, and this shows through his work. Guiding students in the observational of natural and human-made structures, his work is formally designed and abstract. His objects currently on display at Eutectic are relics of industrial design. They have been lost, decayed or edited over time, and remain fragments of a greater, discarded system. Organized to implicate utility, the somewhat awkward forms are not tools, yet try to charm with a certain hand-hewn conviction.

COGnitiohn | Richard Brandt, Brad McLemore Opening Reception | June 7th | 6-8P M June 7 – July 28 Eutectic Gallery | 1930 NE Oregon St. PDX, OR | entrance on 20th





Friday June 7th 20 artists at Portland Storage will have their annual open studios. This is always a lively event.

Open Studios | June 7th | 5 - 9PM
215 SE Morrison Street





Tonight, galleryHomeland kicks off Weird Shift Con with The Long Share, an exhibition in keeping with the conference of shifted reality that it supports.

"The Conference, an aggregate of interdisciplinary investigations, presentations, performances and puzzles that promise to implode, sinter and splinter (ir)reality prismatically into many new streams for retrieval and report."

"The Long Share exhibit (including works by Peter Claugh, Julia Oldham, Tom Sherman, Stephen Slappe, Soda Jerk, Weird-Fiction and others!) to additional amenities, including the Research Commons, the PDF Library, the dossiers, and the Map Room, paired with fine coffee and edibles, will provide other itineraries betwixt and between the scheduled events." It should be wierd.

Opening Reception: The Long Share | June 7th | 6:00-9:00
Weird Shift Con: The Conference. June 14-16, 2013
galleryHomeland, 2505 SE 11th Ave


& there's much more throughout the whole weekend . . .
Posted in PORT: portlandart.net on June 7, 2013 11:31 AM

pica.org/event/richard-jackson-lecture/


The PSU MFA Studio Lecture Series brings together artists from different disciplines to explore the subjects of their own work before a live audience. Lectures are FREE and open to the public. This week esteemed artist Richard Jackson will be talking.

Based in Los Angeles since the early 1970s, Jackson, with his wildly inventive & exuberant "action" paintings, has expanded the definition and practice of painting more than any other contemporary figure. Exhibited widely internationally and nationally, his paintings are slightly performative, sculptural, and concern themselves with the art of everyday experience.


Richard Jackson | MFA Studio Lecture Series
May 29th | 7 PM
PSU SHATTUCK HALL ANNEX | 1914 SW Park Avenue





& there's more . . .
Posted in PORT: portlandart.net on May 28, 2013 05:13 PM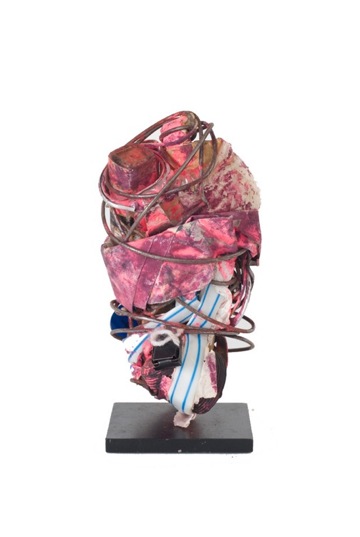 Philadelphia Wireman
Untitled (wire, paper, plastic), c. 1970-1975
wire, found objects
4 x 2 1/2 x 2 inches
PW 1019
www.adamsandollman.com/


Vaginal Davis' paintings of women on re-purposed surfaces are made using glycerin, tempera, watercolor pencils, food coloring, mascara, nail polish, & other beauty products. Her small works are self-portraits which also show her respect and admiration for movie stars, and imagined women of the past. According to Davis, they depict "women trapped in the bodies of women."

Davis' works will be presented along with wire and found material assemblages by the Philadelphia Wireman. Wireman's bundles consist of different gauges of wire wrapped around everyday objects and materials. Their maker, who has always remained unidentified, was able to communicate such power and energy through his transformation of ordinary materials. The pieces are often compared to African power objects and other ritualized traditions, but the works resonate equally with art practices. So intriguing.


VAGINAL DAVIS & PHILADELPHIA WIREMAN
May 3 - June 1, 2013
Reception | May 3 | 6-9 pm
Adams and Ollman | 811 East Burnside #213. Portland, Oregon 97214






nationale.us/aidan-koch-the-marble-hand-2013


For her show at Nationale Aidan Koch has appropriated the anthropologist's distanced lens, threading together, rearranging, and questioning fixed history. Her exhibit carries on her interest in form and storytelling which come from observing carefully rendered human forms from long ago. Once idolized and idealized she sought out to see if these works still contain power and attraction.


I want to travel only on the curve of an arm... | Aidan Koch
May 2 - June 2, 2013
Opening | Friday, May 3 | 6-9 PM
NATIONALE | 811 E Burnside. Portland, OR




. . . more !
Posted in PORT: portlandart.net on May 2, 2013 11:04 PM

http://www.recessart.com/

RECESS is excited to present a curated exhibition of resumes and curriculum vitae collected throughout the early months of 2013. The exhibition will open in conjunction with their 2013 open studios. Making a resume is a challenge. Job seekers are pressed to reduce their experiences into coherent chunks, hoping to manifest their specific person-hood on the page. In both content and form, the resume or curriculum vitae becomes a singular portrait of the job seeker's professional self. For Hire explores the methods adopted by job seekers to vocalize their professional merit. For Hire is an exhibition of resumes accepted through an open call in March of 2013.

Not only does RECESS have great events and good exhibits, but also it is home base for several artist who have studios there. On April 5th these artist are opening the doors of their studios and sharing their work. The artists include : Maggie Craig (Figurative Painting), Jenny Vu (Drawing, Painting & Comics), Lucile Marlome (Jewerly Making), Erica Edmonson (Sculpture & Textiles), Ashley Burke (Graphic Design), Paul Clay (Video & Performance), and Chloe Kendall (Video & Printmaking).

For Hire | mulitple participating artists
RECESS OPEN STUDIOS | mulitple participating artists
Opening Reception | April 5th | 7 PM - late
RECESS | 1127 SE 10th Avenue. Portland, OR 97214
http://www.recessart.com/





& there's more ...
Posted in PORT: portlandart.net on April 4, 2013 08:22 AM


Ay ay, this exhibition Interuptus by Paul North and Near Coastal Riot at Gallery Homeland looks like a promising bet to kick off a March full of gallery shows. Something about a show with a theme of interruption and a certain nautical spirit just seems appealing to me right now, here's the PR:

"Art is interruption. We spend much of our time and money perusing works created, yet within these efforts I find we pontificate ourselves into a culture of oblivion. It is a culture where few things are known, yet we speak with such brash certainty on the topics. We build parentheses, so that we may agree on the accepted continuum of what art is, but it aids nothing.

The entirety of the experience comes when an individual is interrupted by a piece – by its beauty, intrigue, tragedy, playfulness, and framing of something as other. Knowing this, I have framed this piece to veer away from collective opinion, focusing on individual's interaction and the meaning created from that.

INTERUPTUS functions as a baited hook. Those who choose to bite down will find themselves in a rascally carnival of experiences. For the last seven years, I have made my living on the Pacific, from commercial fishing in Alaska, to sailing Tall Ships down to the Equator and back. What I offer with this installation is a window into those worlds – a landscape framed by the tenets of my mind."

Ive also heard something about, "draw for your drink," which sounds like some inspired insanity worth supporting.

Interuptus | Gallery Homeland
Opening Reception | March 1st | 7-10PM
Ford Building 2505 SE 11th





Alex Steckly, Untitled 3, 2013, automotive enamel, automotive primer, and sign enamel on MDF panel, 36 x 36"

Another good bet is Alex Steckly's Entitlement at Nationale. Steckly is one of those painters with a fail for texture and a fetish for surface... akin to the the Dave Hickey UNLV school painters. While you are at it check out the new gallery upstairs from Nationale in this active arts neighborhood, Adams & Ollman.

Alex Steckly | Entitlement
Opening Reception: 6-9PM
Nationale | 811 E Burnside
Posted in PORT: portlandart.net on March 1, 2013 10:49 AM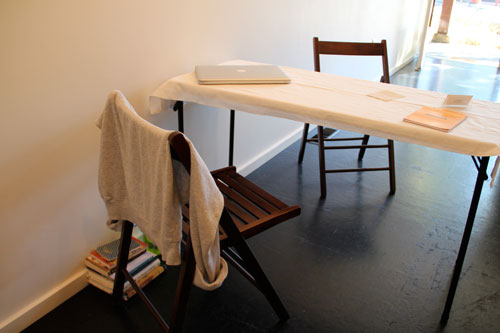 Jennifer Ambrust at Nationale

Jennifer Ambrust, who has been offering free advice to members of nationale for the past few years has recently retired from her web and graphic design work to launch a new creative consulting firm, Ambrust & Co. The next session of Free Advice hosted by Ambrust will take place on Saturday, the 16th. "Working intuitively from a wealth of scholastic and experiential knowledge including creative entrepreneurship, artist mentorship, small business & gallery administration, graphic & web design, Critical Theory, cooking & nutrition, yoga, Jungian psychology, Buddhism, and energetics, Armbrust meets one-on-one with participants, proffering an alchemy of observational insights, resource referrals, recommendations and somatic experiences in response to expressed queries."

Free Advice | Jennifer Ambrust
February 16th | 12-2 PM
Free for gallery members | $5 for non-members
Reservations welcome | info@nationale.us
Nationale | 811 E Burnside



Katherine Groesbeck at Place

Seattle-based artist Katherine Groesbeck will be conducting a wish-making performance this Saturday complete birthday cakes. "Even though I know longer believe in the magic of genies, birthday candles, or shooting stars, I still make wishes just in case I'm wrong. The remnants of my inner child compel me to continue wishing. For the next eight weeks I will explore the magic and the lure of wish making." Coinciding with Groesbeck's festive goings-on, performance artist Michael Reinsch will be turning art audience into consumer as he turns out art-on-demand. "This project utilizes retail strategies adopted from made to order production such as speed, efficiency, and attention to high customer service standards. The viewer orders pieces of art from a menu board posted behind a professionally manufactured service counter." Adrienne Huckabone will also have a new video work on view that fetishizes the imagery of advertising.

Katherine Groesbeck | Wish Making & Practicalities
Michael Reinsch | On Demand
Opening Reception | February 16th | 5-9 PM
White Gallery | Place | Third floor of the Pioneer Mall | 700 SW 5th Ave


Posted in PORT: portlandart.net on February 15, 2013 03:51 PM
This weekend is exceptionally busy with openings and events at Lumber Room, Art Gym, Place, Rock's Box, PSU, Nationale etc. Lumber Room (already posted about) and Art Gym are my two top picks (Tori is under the weather) but here are the rest.




Still from Kelly Rauer's Weight

On Sunday the Art Gym presents probably the most highly anticipated exhibition to kick off the new year. The dual offering of Kelly Rauer's Weight and Samantha Wall's Laid to Rest is an inspired pairing of two of Portland's best observer/translators of human physiography. The shows are separate but related. Rauer is presenting her most ambitious multi-channel video installation to date. Like Rauer, Wall focuses on a single female figure and "has created a set of drawings that draw on selected video stills as they explore the emotional and cultural underpinnings of gesture." Let's see how the stack up against Robert Longo and Sam Taylor-Wood?

Reception: January 13, 3 - 5PM
Runs Through February 15th
Gallery talk: January 31, 12pm
The Art Gym (third floor of the B.P. John Administration Building on the Marylhurst University campus)




Lindsay Kennedy @ Nationale

For you painting fans, Nationale presents Lindsay Kennedy's Pattern Assembly on your busy Saturday Night, evoking the pastel and pattern filled heaven/hell that was the hallmark of the late 80's. Buy some Aquanet, make your hair real big, put on some moon boots and check this out. In many ways I wish May would just call up Duane Sorenson and get him to back them and buy the prime Pulliam Gallery space in the Pearl District (now for sale). Nationale has had great taste showing Carson Ellis, Midori Hirose, Oregon Painting Society and Amy Bernstein etc. over the years. The Pearl could use some of the freshness that Nationale seems to find so effortlessly achieve in a serious, well funded gallery that can concentrate on the big picture not just hand to mouth sales (i.e. expect to lose money for 3+ years).


Pattern Assembly | Lindsay Kennedy| runs through February 17th
Opening Reception January 12th 6-9PM
@ Nationale 811 E Burnside


...(more with PSU and Chris Fraser)
Posted in PORT: portlandart.net on January 11, 2013 10:41 AM

Carson Ellis @ Nationale

Nationale opens this Saturday with a series of new works on paper by Carson Ellis influenced by the Norwegian novelist Sigrid Undset and her acclaimed Kristin Lavransdattar trilogy. "Her characters' navigate their destinies with the inspiring, yet clearly fated, qualities of romantic stoicism and self-determination. The resulting discord between this tragic core and Ellis' serene, midnight landscapes of snow-covered fields, stave churches, and fantastical vegetation inspires a new folklore that, while rooted in a romanticized past, ultimately evokes a more introspective present." Midori Hirose's stark snowdrift sculptures will accompany the works on paper.

Carson Ellis | Mush, Mush, the Sloping Midnight Line
with supporting works by Midori Hirose
On view November 14 - December 9, 2012
Opening reception | November 17th | 6-8 PM
Nationale | 811 E Burnside



Part of the series Red Heat Tremors by Jared Haug, construction paper faded with stencils and sun, 2012

Ditch Project co-directors Jared Haug and Brooks Dierdorff make work out in Eugene/Springfield rivaling that of their peer group in the NW region, but their work often doesn't make it out to Portland. Recognizing a common interest in (failed) representations of nature in an increasingly digitized age, they've teamed up for an exhibition opening this Friday at RECESS. "The work in Window Smokers reflects imagery of a cultivated, synthetic, and manipulated nature. With the myth of an untainted landscape in sight, Haug and Dierdorff search for an interface between nature and representation where the unenclosed can be depicted in its disappearance. Utilizing photography, video, and sculpture they investigate the rift between the real and representation, nature and culture, the viewer and the viewed."

Brooks Dierdorff and Jared Haug | Window Smokers
Opening Reception | November 16th | 7-10 PM
RECESS | 1127 SE 10th Avenue





This weekend, the extremely busy Daniel J Glendening has a solo exhibition opening at FalseFront. The manifesto-like press release for this show doesn't educate curious audiences on the characteristics of the works to be seen. Instead it probes some of the basic questions addressed by Thing Theory and hints at shamanistic motifs. "Earth is represented by a circle split into four quarters, or, alternatively, by an equilateral triangle, pointed downward, bisected by a horizontal line; fire an equilateral triangle, pointed upward. The symbol for gold is a circle with a single point at its center."

Daniel J Glendening | Conjurer
November 17th - December 9th
Opening Reception | November 17th | 7-10 PM
FalseFront | 4518 NE 32ND Avenue

Posted in PORT: portlandart.net on November 15, 2012 09:52 PM


Matt Doyle will be playing with light and sound this weekend at Nationale. Matt Doyle is a musician, artist, and writer. He is the performance coordinator at RECESS, a copy editor for Publication Studio, a Reed College graduate, and an all-around talented guy (if not also a warm-hearted fellow). "Experimenting with the contrasts and interactions of acoustic and visual perception, Matt Doyle will present two opposing channels of video accompanied by a live audio diffusion. This will be the premiere performance of Vibrating Boundaries."

Vibrating Boundaries | Matthew Joseph Xavier Doyle
October 27th | 7PM
Nationale | 811 E Burnside

Dill Pickle Club behind the cut...
Posted in PORT: portlandart.net on October 26, 2012 05:52 PM

Ranch @ RECESS

Lori Gilbert, Ralph Pugay, and Jason Zimmerman are the major players in the power trio that is F* Mtn. They debut their first solo exhibition as a collective at RECESS this Friday. "The ranch is a simple place. While this majestic, natural lifestyle is painted idyllic, It is also lonely, boring, and where stories of small-mindedness and inbreeding seem to stem from. F* Mtn.'s premier solo exhibition at RECESS balances tragedy and fantasy. With motifs birthed from language, the news, and popular history, the works in Ranch take form in sculpture, video, and installation." Ranch, not unlike the condiment it shares a name with, could be considered a celebration of loneliness and bad taste.

Ranch | F* Mtn.
July 13th - 27th
Opening Reception
July 13th | 7-10 PM
RECESS | 1127 SE 10th Avenue



Spatial Personality at Worksound

A collaborative curatorial effort between Modou Dieng (PDX) and Jesse Siegel (SF), Spatial Personalities is a group show of sculptural works from emerging Portland and San Francisco-based emerging artists. "Objects inherently ask for interaction, they exist in a context based reality in which they are not subjected to our mental scrutiny. Devoid of this context of normalness[sic], our perception of the objects changes and our interactions with them become more cadenced and intent[sic]." This might be one of the last chances you have to enjoy mingling and merriment in this classic establishment, so don't miss it.

Participating artists include Brynda Glazier, Lacy Davis, Lydia Rosenberg, Judith Sturdevant, Julia Sackett, Kara Cadwell, Michelle Ramin, and Kevin Champoux.

Spatial Personality
July 13th – August 3rd
Opening Reception
July 13th | 6-9 PM
Worksound | 820 SE Alder

(More behind the cut... Jaik Faulk @ Nationale)
Posted in PORT: portlandart.net on July 12, 2012 08:34 PM

Cracked Memex, Carl Diehl, 2012, desk retrofit with audio patchbay, incoming audio-visual feeds, monitor, contextual datums

Although the lovely little holes below the Imago Theatre are still charmingly pristine, Half/Dozen will host their last exhibition tonight in Left/Right. They happen to be closing on a high note (or should I say frequency) exhibiting the fantastically fictoquizzical works of Carl Diehl.

"In this exhibit, Carl Diehl draws from the rich history of UFO lore to develop speculative models of Drone Kitsch. At once a repository for technological anxiety, the darling of postwar science fiction and a stylistic mentor to the UAV, Diehl uses the UFO rhetorically as a means for imagining nostalgic objects from an estranged futurity."

Drone Kitsch | Carl Diehl
Closing Reception | June 1st | 6-9PM
Half/Dozen | 722 E Burnside Basement, Entrance on SE 8th Ave.

(Also, Guts at Ditch Projects and Andre Filipek at FOCO gallery)
Posted in PORT: portlandart.net on May 31, 2012 10:36 PM

Nathaniel Thayer Moss in progress at Worksound's Perceptual Control

We've been waiting for three months for Worksound's latest show Perceptual Control and it has been worthwhile seeing it develop over a series of talks... but it's time to see where this residency with, Nathanael Thayer Moss, Emily Nachison, Kyle Raquipiso, Jamie Marie Waelchli and PORTstar Amy Bernstein all ends up. The theme of, "exploring transcendence and perception," seems right on time.

Opening Reception: 7:00PM - 10:00PM | May 4th
Worksound
820 SE Alder Street

... (more: Customary Clothing and Dan Gilsdorf at 12128)
Posted in PORT: portlandart.net on May 4, 2012 11:16 AM

"Perceptual Control" Resident Artist's Talk #1 @ Worksound

Worksound presents the first round of artist talks for their "Perceptual Control" residency program. Participants Nathanael Thayer Moss and Kyle Raquipiso will give presentations on their work. If this is anything like the series of lectures that accompanied the group of artists in "Shred of Lights", it'll be a Friday evening well spent. Also, this is a good chance to hear the elusive PNCA grad, Kyle Raquipiso, speak about his often enigmatic yet enthralling work. Moss @ 7pm; Raquipiso @ 8pm.

Artist Talks | March 23rd | 7 - 9 pm
Worksound | 820 SE Alder



...(More: Half/Dozen & Appendix)
Posted in PORT: portlandart.net on March 22, 2012 08:45 AM
Well this will likely go down as one of the more epic vis arts weekends in Portland history with the already announced Reed Arts Week lineup and the must be there to support Blake Shell's short-sightedly cancelled but much lauded program at The Archer Gallery on Saturday night. Here are my other picks:




Ralph Pugay's Chicken Pox Orgy @ Rocksbox

Rock's Box is easily Portland's most irreverent and hard hitting alternative space, glad the programming has returned for Spring. Here is the agitRockprop: "Night-tide Daytripping at Rocksbox Contemporary Fine Art features works inspired by the progressively darkening atmosphere that is produced by the present-day state of our political, social and economic systems. A struggle towards brightness is evidenced in many of the works—embodying a need for clarity with regards to the ways that language, mythology, and belief influence the current condition of our lived realities. Ralph Pugay creates visual works that are formulated through the mash-up of ideas mined from philosophical inquiries, themes of the everyday, and binary thought processes. The groundwork for Pugay's practice is rooted in the hybridization, mistranslation, and over-literalization [sic], of various meanings and symbols; leading to the creation of absurd situational propositions. His appropriation from a multiplicity of sources such as popular media, game theory, proverbial sayings, and art history; result in works that attempt to convey deeper humanist concerns. Born out of introspection, Pugay's work is an investigation of empirical truth's influence on the perception of lived experience -- a depiction of the psychological gridlock that results when collective conviction goes on a highway rampage, resulting in a head-on collision with man's search for a purer form."

ROCKSBOXCONTEMPORARYFINEART | 6540 N. Intestate
March 3, 2012 - April 22, 2012
Opening Reception: Saturday, March 3, 2012, 7-11 p.m.
Performance: Saturday, March 3, 2012, 7-11 p.m.


... (more Ford Bldg, H/D, Black Box Gallery)
Posted in PORT: portlandart.net on March 2, 2012 03:06 PM

Rothko holding untitled (1954)

''I realize that historically the function of painting large pictures is something very grandiose and pompous. . . .The reason I paint them however. . . is precisely because I want to be intimate and human.'' Mark Rothko 1951



To say that Mark Rothko haunts Portland's collective civic psyche is perhaps an overstatement but there is a lot of evidence to the contrary (especially if one is sensitive to such things). This is partly because Portland as a city has bucked the predominant wisdom of the second half of the 20th century (we are pro approachable scale, anti corporate greed), just as its most famous son was. Portland is a city of shopkeepers rather than corporations as well as parks and public transportation, three things Rothko was also quite fond of. Rothko worked for his uncle, a shopkeeper and he painted subways, bridges and aggregate streets full of the masses. In short he was interested in the machine of civilization but sought a personal response amidst the modern impersonal grind.

... (more)
Posted in PORT: portlandart.net on February 29, 2012 06:32 AM

A view of the Rothko retrospective (photo Jeff Jahn)

The Mark Rothko retrospective at the Portland Art Museum opens to the Public Saturday February 18th. I've seen it and YES it lives up to expectations for the profound and even throws in a painting or two that have never been shown in retrospectives before.

No it doesn't break much art historical ground (it could have and other institutions are developing that scholarship, some of which originates from PORT articles).

I'll delve into into a more detailed discussion soon but for now I'll quell any fears you might have. First off, about half of the show consists of major late period works installed nicely. Yes the layout allows both a chronological walk through and a more intuitive path, both are musts for any aspiring artist of any genre since they show a somewhat talented but uniquely driven mind at work relentlessly trying to unlock the potential of not only himself but art in general. PORT has easily covered Rothko in more depth than any area publication and these two posts on; Rothko's connection to Portland and some aesthetic sensitivities as a consequence of that upbringing are the best places to prep for the exhibition. It's an auspicious homecoming which moves PAM into a new phase and fulfills some of the heightened expectations that the museum now enjoys and must consistently live up to. That's the thing about greatness, it places demands on viewers, patrons, institutions and discourse. In those respects Rothko both delights and challenges all of us in a way that has been a long time coming.

Mark Rothko a retrospective at The Portland Art Museum
Through May 27th




Kyle Thompson's SONIC REDUCER / SCALAR COUPLING

Yes, without Rothko it would seem like Kyle Thompson month here at PORT but he does have an opening tonight at Half/Dozen for SONIC REDUCER / SCALAR COUPLING.

"Thompson will present documentation of a two-day performance that... (more)
Posted in PORT: portlandart.net on February 17, 2012 12:01 PM

Joseph Beuys, Blitzschlag mit Lichtschein auf Hirsch (Lightning with Stag in its Glare), 1958–85. Cast Bronze, Iron, and Aluminium, Overall dimensions variable, Guggenheim Bilbao Museoa GBM2001.2. (c) 2011 Artists Rights Society (ARS), New York/VG Bild-Kunst, Bonn

It doesn't have an opening reception but the first Joesph Beuys show in the nearly 12 years I've lived here opens tomorrow in the atrium space at the Portland Art Museum. I've heard a constant string of complaints about PAM not doing anything of interest for younger relational aesthetics artists so Im not going to be delicate... Shut your pie hole and get on down to PAM this weekend. As the most important artist in the entire relational aesthetics canon this is a not to be missed show and marks the second in PAM's series of important Post War European artists. First one was Martin Kippenberger so this is some very cogent programming. Will the Contemporary Northwest Art Awards and Apex programming ever dovetail anbd complete the circle... if not people will still have a reason to complain. Till then, see it.

Portland Art Museum | February 4 - May 27





(on view in Hypercorrection)

Recess presents Hypercorrection, featuring; Paul Clay, Sokhun Keo, Krystal South, Ross Young. A show exploring misinformation and the conventions of making decisions on said information the press release states, "The artist's use of mimicry, material transformation, and dissimulation to incite...

(more: featuring; Gabe Flores, Wendy Given and a big multimedia group show)
Posted in PORT: portlandart.net on February 3, 2012 01:43 PM

California (detail), oil on canvas (in Timothy Scott Dalbow's studio)

You cant kill painting, because it is like an undead zombie medium... it just gets up again and again, either limping ghoulishly or slinking about as a sexy vampire. That's pretty much what I expect from Nationale's opener for 2012, Highlighter, co-curated by PORT-star Amy Bernstein.

"In Nationale's Highlighter, co-curators Amy Bernstein and May Juliette Barruel round up six exhilarating young painters for an intimate, studio-style exhibition. Showing only recent works from the artists, Bernstein and Barruel openly engage with the now in order to emphasize the heuristic energy guiding such innovation in the first place.

Through a shared language of brilliant colors and jostling patterns, inspired in part by the excess of modern culture, the canvases of Bernstein, James Boulton, John Brodie, Timothy Scott Dalbow, Marie Koetje and K Scott Rawls function as a playground for symbolic and formal invention. However, despite such non-representational tendencies, the works ultimately renounce the highbrow tenets of traditional abstraction in favor of more relatable, personal experiences."

Opening reception • 6-9pm • January 6
Artist presentation • 6pm • August 8
Nationale • 811 E Burnside Suite 112 • 503.477.9786


(more... Gallery Homeland, The Art Gym)
Posted in PORT: portlandart.net on January 5, 2012 10:50 PM

Jesse Reiser's Christmas in America series

Newspace promises to have the most irony laden festivities of the weekend... tis the season you know! A solo show of Jesse Reiser's Christmas in America series puts the holiday season in the proper perspective. Also, Newspace will be showing Chris Willis' personal collection of illuminated plastic Christmas figurines. Lastly, to keep things extra festive they invite you to wear your over the top Christmas sweaters at the opening. This can't miss! Reiser also gives a talk on Saturday at 1 PM as well.

Christmas in America • 6-9PM • Dec 2nd
Newspace • 1632 SE 10th • 503.963.1935


... (more: Worksound, Half/Dozen, galleryHOMELAND)
Posted in PORT: portlandart.net on December 2, 2011 12:04 PM

Andrea Land, "Angelina," 2011

Newspace presents In My Room, photographs by Andrea Land. "Each young girl, while physically existing in the natural world, also thrives in another realm, an insular dream state, with her gaze turned inward. The photographs exist as both fictional and autobiographical creations."

Over in the special exhibitions gallery, Lisa Wells and Bobby Abrahamson present The 45th Parallel, a documentary project profiling three endangered rural towns in Oregon.

Opening reception • 6-9pm • November 4
Newspace Center for Photography • 1632 SE 10th • 503.963.1935

(More: Travis Wade at Launch Pad, Tia Factor at Half/Dozen, Edward Jeffrey Kriksciun at Nationale, folk textiles at the Japanese Garden.)
Posted in PORT: portlandart.net on November 4, 2011 02:41 PM

fashion by Emily Ryan, installation shapes by Laurence Sarrazin (photo Jeff Jahn)

As part of the Portland Architecture and Design Festival 2011, Body Building explores how the body and design function in fashion and architecture as a kind of second skin in a kind of reciprocal engagement.

Artists: Brendan Coughlin, Christine Taylor, Emily Ryan, Hans Lindauer, Jennifer Jacobs, Laurence Sarrazin, Lisa Radon, Opulent Project.

Curated by Christine Taylor (with some input from myself) it takes place in the architecturally notable bSIDE6 building. Body Building is supported by The American Institute of Architects Portland, Project Cityscope, bSide6 llc, and House Spirits Distillery.

Body Building
Oct. 1 - Nov. 5 - street viewing
Oct. 8, 7 - 10, reception 21+ (I.D. required for entry)
528 E Burnside
Portland, Oregon

Posted in PORT: portlandart.net on October 8, 2011 03:50 PM

Nicolás Colón, "High Tide"

Cast your nets wide for 12128 boatspace, Portland's only sea-worthy vessel of art. San Francisco artist Nicolás Colón dreams hard in Paradise (untitled), "a utopian future where the language of form has become universal."

Opening reception • 7-10pm • October 7
12128 boatspace • 12900 NW Marina Way • see their website for directions

(More: What We Carried at Launch Pad, Mother My Son at Nationale, Narrative at Black Box, Malia Jensen at PNCA.)
Posted in PORT: portlandart.net on October 5, 2011 12:05 PM

SBA installation at RECESS

RECESS kicks off its new quarters in the Oregon Brass Works building with The Space-Based Arts Festival. Featuring Hannah Jickling, Zoe Stal, Derek Bourcier, Kyle Thompson and Weston Smith, this inaugural show examines that yawning astral sphere in which we all negotiate our lives.

"'Space' is all-encompassing. Its parameters are so inclusive that is ceases to be meaningful. Well, it doesn't have to be meaningful to have a very serious impact on our day to day— both by tripping us up, giving us a surface to stand on, and all the stuff in between."

Opening reception • 6:30-10pm • September 2
RECESS • 1127 SE 10th • 954.579.6105

(More: still life photos at Black Box, Gary Wiseman at Half/Dozen, Johnston Foster at Disjecta, Lauren Henkin at Newspace.)
Posted in PORT: portlandart.net on September 1, 2011 07:03 PM

Elina Tuhkanen, from Pilose Crux

Nationale presents Elina Tuhkanen's Pilose Crux: Performative Sculptures from Finland. "Communing, prayer-like, behind heavy screens of fur, their hidden gesturing suggests a longing for symbiosis in a culture defined by its increasing disconnect from the natural world."

There's also a special screening of Tuhkanen's video works tonight, followed by a panel discussion featuring Tuhkanen, co-curator Emily Henderson, Finnish artist Alma Heikkilä, and Portland poet Alicia Coen.

Film screening and panel • 7pm • August 11 • $5
Hollywood Theatre • 4122 NE Sandy • 503.281.4215

Opening reception • 6-9pm • August 12
Nationale • 811 E Burnside Ste 112 • 503.477.9786
Posted in PORT: portlandart.net on August 11, 2011 03:03 PM


Worksound presents Identity Paintings, "a new generation of painters in Portland who promise to impact the next decade." This is Worksound's last show before it begins a new residency program, which invites four artists in different media to engage in conversation with critics and audiences before culminating in a final exhibit.

Works by Katie Allred, Jeremy Okai Davis, Gavin Eveland, Luke Fuller, Dorothy Goode, Ruth Lantz, Chelsea Linehan, Elizabeth Malaska, Devon Maldanado and Alexis Sarah Rittenhouse.

Opening reception • 7pm • August 5
Worksound • 820 SE Alder • mojomodou@gmail.com

(More: Ellen Jane Michael & Megan Scheminske at Half/Dozen, Rebecca Steele & Modou Dieng at FalseFront, Body of Knowledge Part II at Gallery Homeland, juried photo exhibition at Newspace.)
Posted in PORT: portlandart.net on August 4, 2011 06:04 PM
PNCA is offering a series of public events as part of Boundary Crossings: An Institute of Contemporary Animated Arts. If you missed Monday's kick-off lecture by Norman Klein, catch openings, artist talks and screenings through the end of next week.



from Boundary Crossings 2009

(more: full schedule.)
Posted in PORT: portlandart.net on July 18, 2011 03:45 PM

Laura Hughes, "Untitled (Light Beams I)"

Gallery Homeland presents Body of Knowledge Part I: Vision, which "seeks to exhibit and examine the evidence of the continual process of searching, synthesizing, and learning." Body of Knowledge is a 3-part series curated by Research Club and hosted by Gallery Homeland. Featured artists in Vision include Laura Hughes, Michael Iauch, Vanessa Kaufman, and Bradley Streeper.

Opening reception • 6-9pm • July 8
Gallery Homeland • 2505 SE 11th #136 • info@galleryHOMELAND.org

(More: Poemophone at Worksound, Lunation at Nationale & an open house at YU Contemporary.)
Posted in PORT: portlandart.net on July 7, 2011 04:29 PM
Since it's a holiday weekend, some galleries are delaying their openings, but here's something to check out tonight:



Timothy Scott Dalbow, "Ménage à trois"

Half/Dozen Left presents Timothy Scott Dalbow's Pro from Dover, about which Dalbow notes: "This exhibition is dedicated to my father, Dr. David George Dalbow, PHD. I would also like to thank everyone I've ever met."

Opening reception • 6-9pm • July 1
Half/Dozen • 722 E Burnside basement • info@halfdozengallery.com
Posted in PORT: portlandart.net on July 1, 2011 07:41 AM

Matty Byloos

Worksound presents Drawing Shades, a group drawing exhibition featuring work by Matty Byloos, Jane Schiffhauer, Nim Wunnan, and Rebecca Ruth Peel in the project room.

Opening reception • 7-10pm • June 3
Worksound • 820 SE Alder • mojomodou@gmail.com

(More: The Phantom Street Artist at Denizen @ MP5, 2 group shows at the newly relocated Half/Dozen, uneasy young photographers at Nationale, and Kendra Larson at Launch Pad.)
Posted in PORT: portlandart.net on June 2, 2011 08:41 AM
Since I'm now beginning my 13th year of living in Portland I thought another iteration of the score was in order. A lot has changed, in fact back in 1999 people kept saying "things never change here." I very publicly bet against them by doing some curating and writing in 2000 and the rest is history (stasis is always a terrible bet). Now the scene has made a habit of of it's perpetually growing international profile and the question is more about how the scene will direct its energy rather than simple regionalist grumbling. In short, everyone that gets talked about here has simply upped their game and international profile and The Score is just another way to keep tabs of this new reality. Some feel criticism should be be gentle... but that generally means they simply want to ingratiate themselves, which is fine but it's also important to take a stand, especially when things are obviously wrong. Sometimes the critic's role is to say what everyone perhaps already knows but needs to say publicly. It keeps us honest and therefore a stronger art scene.



(all photos Jeff Jahn)

Perhaps the biggest change is the proliferation of alternative spaces and a generally higher level of sophistication, typified by huge influx of installation/new media art to a one time more traditional painting and crafted object art scene (not that they need to be mutually exclusive). There is room for both in any worthwhile scene.

... (more)
Posted in PORT: portlandart.net on May 10, 2011 12:48 AM

Exhibition preparation at the PCVA, image ©PAM

The YU Contemporary Art Center presents its inaugural exhibition, Selections From the PCVA Archive. The show will "revisit and honor the legacy of the PCVA and look into a vibrant and important moment in the history of contemporary art in Portland, providing historical context for YU and inspiring a forward-looking vision for a world-class contemporary art center in the city." The show will also launch the YU library and its first publication, Veneer Magazine 08/18.

Opening reception • 6-9pm • May 6
YU Contemporary • 800 SE 10th • 503.236.7996

(More: Paulaus Kapteyn at Nationale, On&On&On part II at Ditch Projects, fringe economies at Newspace.)
Posted in PORT: portlandart.net on May 5, 2011 05:23 PM

Avantika Bawa

Disjecta presents Score., a new installation by Avantika Bawa. "Score. explores the making, breaking and rearranging of rules, strategies, structures and histories. Examining the past use of Disjecta's building, Bawa amplifies the working mechanism and occasional failures of systems through the creation of an abstract and altered Bowling Alley."

Opening reception • 6-10pm • April 2
Artist talk + happy hour • 6-9pm • April 22
Disjecta • 8371 N Interstate • 503.286.9449

(More: Critical Mass 2010 selections at Newspace, Emily Nachison at False Front, Gary Robbins at Appendix, Jaik Faulk at Nationale, Jessica Reaves at Golden Rule.)
Posted in PORT: portlandart.net on March 31, 2011 12:55 PM

Icelandic Artists & Icelandic Babies in Studio: Ásmundur Ásmundsson, Sigtryggur Berg Sigmarsson, Helgi Thórsson

Rocksbox presents No Painting Left Behind featuring Keith Boadwee, Erin Allen, Isaac Gray and Götulist í björg kassi! featuring Ásmundur Ásmundsson, Sigtryggur Berg Sigmarsson, Helgi Thórsson. All works are humorous and radical explorations of painting.

Opening reception • 8-11pm • March 5
Rocksbox Fine Art • 6540 N Interstate • 503.516.4777

(More: Michael Reinsch at False Front, Ilyas Ahmed at Nationale, Hsueh Wei at PNCA Corner Gallery.)
Posted in PORT: portlandart.net on March 4, 2011 01:00 PM

Dieter Appelt, "Der Fleck auf dem Spiegel," 1978

Opening this weekend at PAM: Riches of a City: Portland Collects. The show celebrates the influence that art collection and patronage have had on the museum, featuring over 200 objects from local private collections, including works by Picasso, Lautrec, Miro, and Warhol.

Exhibition • February 5 - May 22, 2011
Portland Art Museum • 1219 SW Park • 503.226.2811

(More: Lindsay Kennedy at Nationale, Bruce Conkle at Project Grow, dreams at Golden Rule, and new work by boatspace artists at 12128.)
Posted in PORT: portlandart.net on February 3, 2011 12:37 PM
Now that we have put a little critical distance between 2010 and started 2011 it's time for PORT's curatorial roundup. It's been a few years since we have done this so we are due again. Check out 2008 and 2007 as well.

Participating curators: Mack McFarland, Terri Hopkins, Stephanie Snyder, Blake Shell, Victor Maldanado, Kristan Kennedy, Kelly Rauer, myself, Namita Wiggers, Elizabeth Lamb and Linda Tesner... (more)
Posted in PORT: portlandart.net on January 30, 2011 09:54 PM
Longtime Portland art scenester Todd Johnson is launching his new photographic gallery Black Box, adding something new to the Lower Burnside enclave across from the Doug Fir.




Johnson has been one of Portland's most talented independent curators (he may possess the scene's dryest and darkest wit) and as a photographer himself has shown... (more)
Posted in PORT: portlandart.net on January 18, 2011 03:56 PM
Sorry about the late posting tonight. Hopefully if you missed tonight's openings you'll check out the shows this month.




Delaney Allen

Nationale presents Delaney Allen's In Visibility. "In the vein of early pictorialists, Allen obscures the archetype of photography as documentation through the synthesis of abstract and found imagery." The show runs through January 30th.

Opening reception • 6-9pm • January 7
Artist talk • 7pm • January 26
Nationale • 811 E Burnside Suite 112 • 503.477.9786

(More: Tedd Nash Pomaski at Golden Rule, Safety in Numbers? Images of African American Identity and Community opens at PAM, Vance Feldman at The Globe.)
Posted in PORT: portlandart.net on January 7, 2011 08:53 PM

Lahaina Alcantara, detail of "The Voyeur"

Golden Rule presents Unnatural, curated by Aiden Koch, featuring Lahaina Alcantara, Shawn Creeden, Austin English, Dennis Foster, Israel Lund, Mia Nolting, and Paul Wagenblast. The works in the exhibition explore the subjective and cultural nature of the concept of the unnatural: "this is a topic that we all can approach, perhaps from a personal relationship with the unnatural, even within one's self, to those things that make us the most uncomfortable."

Opening reception • 7-10pm • December 3
Golden Rule Gallery • 811 E Burnside Suite 122 • 503.477.5124

(More: 10,000 artists at Worksound, Thesis via RECESS at Research Club, and Car Hole Gallery closing reception/book.)
Posted in PORT: portlandart.net on December 2, 2010 12:46 PM

Lisa Radon

Nationale presents Silence is a Blessed Hell: The Po(aesth)etics of Excision, a lecture/performance by local arts writer Lisa Radon. "Going, going, gone? Cut it out, cut it up, or otherwise erase parts of found text or image; excision is a big piece of contemporary practice in both visual arts and poetics...[The event] addresses work made via excision that also asks questions about the broader implications of the practice."

Lecformance • 6pm • November 10 • $3




Rikki Rothenberg

Opening this weekend at Nationale: Rikki Rothenberg's For Begüm. "Stemming from her pieces If I Were a Better Artist: For You Soldier and The Reiki Masters, this new work on paper is at once Rothenberg's own interpretation of the idea of beautification and her calling upon healing energies via the abstracted shapes of her experiences and imaginations."

Opening reception • 6-8pm • November 12
Artist performance • 6pm • December 5

Both events:
Nationale • 811 E Burnside • 503.477.9786
Posted in PORT: portlandart.net on November 8, 2010 08:16 PM

Melissa Gorman, "On The Mend (Island)," detail

Nationale presents Soluble, new sculptures by Genevieve Dellinger, Melissa Gorman, Midori Hirose, and Elizabeth Jaeger. "Inspired by the comfort, minimalism, and nurturing aspects of the [textiles] used in this exhibit, the artists find here a common ground to further explore themes important in their individual work."

Opening reception • 6-8pm • October 8
Nationale • 811 E Burnside Suite 112 • 503.477.9786




Bruce Conkle

Worksound presents Bruce Conkle's Magic Chunks. "Bruce Conkle loves snowmen, coconuts, fairy tales, crystals, burls, and meteorites. He is interested in creating work which combines art and humor to address contemporary attitudes toward nature and environmental concerns."

Opening reception • 6pm • October 9
Worksound • 820 SE Alder • mojomodou@gmail.com
Posted in PORT: portlandart.net on October 7, 2010 02:10 PM

Tae Won Yu

The Land Gallery presents a mini-retrospective of Tae Won Yu. They're exhibiting 15 years of illustration by this Korean-American artist, who's best known for "defining the visual style" of 90s rock bands such as Built to Spill and Kicking Giant. In addition to posters, prints, and book and album covers, the show will include his personal work spanning his childhood in Japan to his teenage years in New York.

Opening reception • 6pm • September 10
Land Gallery • 3925 N Mississippi • 503.451.0689




Carson Ellis

Nationale presents Carson Ellis' Dillweed's Revenge. Celebrating the release of Dillweed's Revenge: A deadly Dose of Magic, Nationale will exhibit original illustrations from the book by Ellis, written by Florence Parry Heide in the 1970s and published now for the first time. The book has already received a silver medal from the Society of Illustrators. "Delightfully macabre, Ellis' acclaimed illustrations are a perfect match to Heide's dark and witty writing style."

Opening reception • 6-8pm • September 10
Artist talk & book signing • 6pm • September 19
Nationale • 811 E Burnside Suite 112 • 503.477.9786
Posted in PORT: portlandart.net on September 8, 2010 09:10 AM

Oregon Painting Society

Nationale presents Nightwave Catalog, "an exhibit of artifacts generated and uncovered by Oregon Painting Society. Each item has a past, present, or future role in our unfolding sequence of experiments. These artifacts have been plucked from their respective temporal-zones and translated into our own dimensional manifold. They are memories of future encounters, pulled up in a net from a dream. What you see are 3-D snapshots taken by the mind's eye from the window of a speeding car heading toward the ocean at dusk."

Opening reception • 6-9pm • August 6
Artist presentation • 6pm • August 8
Nationale • 811 E Burnside Suite 112 • 503.477.9786

(More: Kelly Rauer at NAAU, 5 year anniversary show at Gallery Homeland, Julie Perini at Pushdot, Laundromatte 2010 at the Troy Laundry Building.)
Posted in PORT: portlandart.net on August 5, 2010 03:46 PM

Jeff Jahn VM (Nouvel), 2009

NAAU presents Vection, installations, photography and essay by PORTstar publisher and co-founder Jeff Jahn: "Im interested in civilization/wilderness and its interactive by-products (like culture, housing, design and landfills). Since 2006 my work has increasingly made use of recycled materials and design motifs as a digestion of the present challenges at the intersection of man and nature or where concept meets its execution. According to Jahn the recycled materials invite, 'a discussion around opportunity costs surrounding the definition and use of the built environment and its integration (successful or not) into the larger ecosystem.' The new works for Vection further this inquiry and the accompanying essay of the same name is intended to contextualize an important thread of work that has been being produced in Portland and beyond as well."

Opening reception • 6-9pm • July 2
New American Art Union • 922 SE Ankeny • 503.231.8294

(More.)
Posted in PORT: portlandart.net on July 1, 2010 10:04 AM
RACC is seeking proposals for 2011 RACC Project Grants. The organization "invites nonprofit organizations and individual artists in Multnomah, Washington and Clackamas Counties to submit proposals for artistic projects and cultural events planned for calendar year 2011." Proposals should address "artistic focus" or "community participation." There's about $440,000 up for grabs this year, and awards can range from $1000-$6000 each. Intent to apply forms are due August 4, the grants page is here, and tips on how to submit a successful application can be downloaded from their website here.

(More! PSU Art Alumni show, bSIDE6 via Project Cityscope, and 3-minute films.)
Posted in PORT: portlandart.net on June 15, 2010 09:19 AM

Bailey Winters, "After the Explosion..."

NAAU presents Bailey Winters' Ambush: The Story of the TDA. The exhibition "depicts a fictionalized revolutionary group living on the West Coast of the United States in the early years of the twenty-first century. Winters' paintings, and their accompanying narrative titles, explore the personal dynamics at work in the underground political party. In particular, Winters examines the organization's final decision to refuse a non-violent alternative and instead continue with militant reaction."

Opening reception • 6-9pm • June 4
New American Art Union • 922 SE Ankeny • 503.231.8294

(More: Cadence at Worksound, (Not) So Bright Please at Nationale, Teri Fullerton at Newspace, and PORTstar Jascha Owens at Launch Pad.)
Posted in PORT: portlandart.net on June 3, 2010 12:54 PM

Makino Takashi

Cinema Project is bringing Japanese video artist Makino Takashi to Portland for two nights of images and sound. The first night will feature short recent videos by Takashi, and the second will feature the world premiere of his newest work Inter View with a live score composed and performed by Portland-based musicians Tara Jane O'Neil and Brian Mumford.

Film screenings • 7pm • June 1 & 2
Cinema Project @ Clinton St Theater • 2552 SE Clinton





Drain magazine is celebrating the release of their 11th issue, "Rewind," with a launch party and video performance at Disjecta this weekend. "Issue #11 of Drain explores through word and image the concept of rewind in contemporary art and culture. What is it that we do when we rewind? What are the politics of personal and cultural rewind? Can we really see, feel, and act again? What are the phenomenological dimensions of rewind?"

Launch party & performance • 7-10pm • May 29
Disjecta @ the Templeton Building • 230 E Burnside
Posted in PORT: portlandart.net on May 28, 2010 12:35 PM

Four Salvaged Boxes

Ongoing at UO Portland: Four Salvaged Boxes: wHY@work: "The 4 Boxes document the approach and process wHY Architecture and Design applied toward quality design and creative environmental sustainability...When closed, the boxes function as their own traveling crates, protecting their inner contents. When opened, the boxes unfold to present information about the sustainable design features of the Grand Rapids Art Museum and other innovative green projects, through the use of diagrams, models, material samples and videos." The show will be on view through April 15, 2010. Yo-ichiro Hakomori, AIA and Kulapat Yantrasast, AIA, will lecture next week on "A Crisis is a Terrible Thing to Waste" in conjunction with the exhibition.

Reception • 12-1:30pm • March 30
Lecture • 2-3pm • March 30
University of Oregon Portland • White Stag Building • 70 NW Couch




4D Sidewalks on Lower E Burnside

RACC's in situ PORTLAND temporary public art program presents 4D Sidewalk, a collaboration between urban workshop Cityscope and artist David Neveel. "4D Sidewalk creates a temporal event by recording and broadcasting a series of time-shifted video at street level, bringing the fourth dimension of time into the experience of the building. This interactive installation creates a feedback relationship with pedestrians and explores the extent to which a building can actively shape its environment."

Public art • on view through May 1, 2010 • daily 6pm-midnight
Bside6 Building • 524 E Burnside
Posted in PORT: portlandart.net on March 24, 2010 10:18 AM

Sayre Gomez

Fourteen30 presents Self-Expression by LA-based artist Sayre Gomez. Writer John Motley, in his continued collaboration with the gallery (writing essays for each exhibition): "[Gomez] works in many media, shrugging off the trappings of style, to insistently reiterate a single idea in countless ways, and assert the fragmented nature of identity in the process. As a result, the work in Self-Expression is diverse enough to scan as a group show."

Opening reception • 6-9pm • March 19
Fourteen30 • 1430 SE 3rd • 503.236.1430





The next round of Portland2010 openings is happening this weekend. Catch work by Holly Andres, Corey Arnold, Pat Boas, John Brodie, David Eckard, Damien Gilley, Jenene Nagy, and the Oregon Painting Society at the Templeton Building, and Stephen Slappe at the Leftbank.

Portland2010 Biennial • Openings Part II • March 20
Templeton Building • 230 E Burnside @ SE 3rd • 6-10pm
Leftbank • 240 N Broadway • 6-9pm
Posted in PORT: portlandart.net on March 17, 2010 06:00 AM

Stefano Minzi

Gallery Homeland presents Guten Tag Meine Fruende, a collection of six contemporary emerging and established artists living and working in Berlin. The show grew out of the ongoing relationship Gallery Homeland has been building over the past 6 months with the creative community of Berlin. Featured artists include Nicole Cohen, Ali Fitzgerald, Stefano Minzi, Holger Pohl, Adam Raymont, and Katharina Trudzinski.

Opening reception • 6-9pm • March 5
Gallery Homeland • 2505 SE 11th Ave • info@galleryHOMELAND.org

(More: Transverse at Worksound, Incubate at PNCA's Hybrid Gallery, Susan Burnstine at Newspace, and Midori Hirose at the new Nationale.)
Posted in PORT: portlandart.net on March 4, 2010 05:00 PM

Eliza Fernand

Nationale presents Clad by Eliza Fernand, who writes: "Memories are triggered by familiar sights, noises, and smells. Upon recognizing a material from your past, a history of associations plays in your head. By converting old clothing and bedding into a fabric collage, I can play with an arrangement of memories."

Opening reception • 6-8pm • January 15
Nationale • 2730 E Burnside • nationale.portland@gmail.com
Posted in PORT: portlandart.net on January 13, 2010 09:38 AM

Sarah Meadows

Sarah Meadows' Time Ends Now opens tomorrow at Nationale. In her first exhibition of landscape photography, Meadows "elaborates on her fascination with nature and the elastic properties of film images, dispensing entirely with narrative and human gesture and presenting instead a concentrated study of wilderness encountered."

Opening reception • 6-8pm • November 13
Nationale • 2730 E Burnside • nationale.portland@gmail.com




Lynda Frese

False Front presents Tara in the Living Room, 11 works from 1994-2006 by Louisiana-based artist Lynda Frese. Frese draws from several past series for this collection of painting, photography, assembled digital imagery, and mixed media that "confronts the themes of time and isolation, deities and faith with an eye on proficiency." Note: Frese's cover art can be seen on this year's Nobel Prize for Literature winner, Herta Muller's English translations of the novels Land of Green Plums and Traveling on one Leg.

Opening reception • 7-10pm • November 14
False Front Studio • 4518 NE 32nd • 503.781.4609
Posted in PORT: portlandart.net on November 12, 2009 11:39 AM

Carl Diehl

Another gallery celebrating the PNCA centennial this month is Worksound with Memory/Frequency. They'll be featuring sculpture, sound, video, and photography by Carl Diehl, Tracey Cockrell, and Lennie Pitkin, all faculty at PNCA.

Opening reception • 7-11pm • October 9
Worksound • 820 SE Alder • mojomodou@gmail.com




Anna Weber

Nationale is featuring a new series of paintings and drawings by Anna Weber, whose work is "inspired by geometry, architecture, maps, textiles, sign painters, symmetry, balance, falling, and floating."

Opening reception • 6-8pm • October 9
Nationale • 2730 E Burnside • nationale.portland@gmail.com
Posted in PORT: portlandart.net on October 8, 2009 09:14 AM

Edward Jeffrey Kriksciun

Nationale presents Edward Jeffrey Kriksciun's Brickthrough, a showcase of recent cut-outs that examine negatives & positives. Kriksciun "explores how this relates to our surrounding environment and affects our internal selves: what do we see/ what do we get out of it/ how can we make things better/ do we cut away the negative/ and if we do, are we left with just with the positive."

Opening reception • 6-9pm • August 14
Nationale • 2730 E Burnside • nationale.portland@gmail.com
Posted in PORT: portlandart.net on August 11, 2009 11:34 AM

The view from SW Terwilliger Boulevard looking east toward Mt. Hood in the neighborhood in which Rothko spent most of his time in Portland.


"(I spent my) youth in front of the endless space of the landscape of Oregon lying covered by wintery snows, in front of the monumental emptiness that is nothingness and at the same time part of it 'all.'" -Mark Rothko


Marcus Rothkowitz arrived in Portland, Oregon in early September 1913 with his sister Sonia and his mother Kate. They had been in the United States for less than a month, having arrived in Brooklyn, New York on August 17, 1913 from Libau, Russia's main emigration port. Marcus, who would later change his name to Mark Rothko, was just a few weeks shy of his eleventh birthday. He was born on September 25, 1903 in Dvinsk and was, with his mother and sister, looking forward to starting a new life with his father, Jacob, and his two older brothers, Albert and Morris in Portland. The family had not been together in nearly three years.

Portland marked the end of a long journey. It was a place that this family, like most immigrants, believed that their hard work would pay off and they could start anew. The Rothkowitzes were not alone in Portland. Jacob's brother, Samuel Weinstein, was already here and owned a successful wholesale clothing business called N & S Weinstein. The Weinsteins were important to the Rothkowitzes on both the West and East coasts. When Kate, Sonia and Mark arrived in Brooklyn, their first stop was to visit the Weinsteins in New Haven, Connecticut. It must have been a way for them to recharge their batteries after the long boat trip across the Atlantic and enjoy the comfort of family in an otherwise unfamiliar land. More...




One of the my all time favorite photos of Rothko. If you wanted to know what Portland meant to Rothko, this is it. The photo was taken in 1968 and he his hugging Dorothy Reiter, Morris' daugther and his niece. They both look radiant, happy and absolutely content. The photo is very different than any comparable photo of Rothko taken in New York during the late 1960's. Portland remained a source for him until the end of his life.
Image courtesy of the Oregon Jewish Museum.

Posted in PORT: portlandart.net on June 17, 2009 09:13 AM


This month's ArtSpark is presented by local art collective Nowhere at Rontom's. The theme is Icebreaker: "an easy way to meet new people involved with Portland arts."

Art social • 5-7pm • June 18
ArtSpark at Rontom's • 600 E Burnside
Posted in PORT: portlandart.net on June 16, 2009 09:00 AM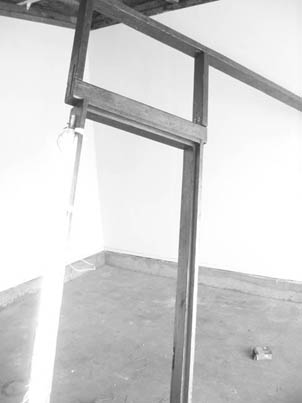 Joshua Pavlacky

Joshua Pavlacky presents Towards the Scrambled Egg, "an installation exploring landscape and spatial manipulation" at Appendix Project Space.

Opening reception • 8pm-12am • May 28
Appendix Project Space • South alley b/w 26th & 27th on NE Alberta





The ZooBombers' Holy Pyle minibike sculpture has found a permanent home. Designed in conjunction with local artists Brian Borello and Vanessa Renwick, the Pyle has been relocated to 13th & W Burnside. The unveiling party this weekend starts at the Holy Rack at 10th & SW Oak at 4pm and will parade to the new location around 5.

Public art party • 4pm • May 29
ZooBombers • Downtown
Posted in PORT: portlandart.net on May 27, 2009 10:34 AM

Alexander Nemerov

Yale professor of art history Alexander Nemerov is speaking and leading two workshops on the practice of art history at Reed College this week, all free and open to the public. On Monday, he'll lead a workshop based on his essay Seeing Ghosts: The Turn of the Screw and Art History, from Michael Ann Holly and Marquand Smith, eds. What is Research in the Visual Arts: Obsession, Archive, Encounter (2008). On Tuesday he'll present the lecture Helen Keller: Making Contact, asking "What is the relation of Helen Keller to the visual arts in America? Which artists from her time perceived the world in the way she did? What would their work look like if they did share her views, and why would this matter to us now?" And finally, on Wednesday he'll present another workshop, this one guided by his essay Fragments of the Home Front, from of Icons of Grief: Val Lewton's Home Front Pictures.

Monday workshop • 4:45pm • March 9 • Vollum 110
Tuesday lecture • 7pm • March 10 • Vollum lecture hall
Wednesday workshop • 4:45pm • March 11 • Library 41
Reed College • 3203 SE Woodstock Blvd.

(More: Kathleen Dean Moore at PNCA, Book signing for MoCC at Powell's, J. Morgan Puett for PMMNLS.)
Posted in PORT: portlandart.net on March 7, 2009 01:15 PM


Worksound presents White Noise, a group exhibition on stagnation. Inspired by Portland snow and the struggling economy, 23 artists from the Pacific Northwest & Los Angeles have interpreted this broad theme through video, installation, and other multimedia works. Featured artists include Kevin Abell, Jaclyn Campanaro, Thor Drake, E*Rock, Danridge Geiger, Damien Gilley, Evan B. Harris, Danielle Higgins, Yoni Kifle, Sarah Jane McKinley, Sarah Meadows, Tamar Monhait, Mason Poole (LA), Nick Raffel, Noah and Nathan Rice, Kent Richardson, Rebecca Shelly, Stephen Scott Smith, Corey Smith (LA), Rebecca Steele, Aaron Thomas (LA), and Dylan Walker.

Opening reception • 7-11pm • February 6
Worksound • 820 SE Alder • mojomodou@gmail.com

(More - updated.)
Posted in PORT: portlandart.net on February 5, 2009 11:09 AM
Tyler Green's wonderful remembrance of Betty Freeman illustrates the all important difference between being a just a collector/donor and being a true patron. It's a deep... quantum level of involvement and personal investment in the artists and cultural organizations that makes a huge difference. I'm working on a historical post that looks at influential patrons (a hot topic in Portland these days).

Randy Gragg interviewed Miguel Rosales about the two possible Willamette river bridge options. Man I miss Randy's contributions to the O, whose architecture coverage since his departure has flagged (though this piece by Brian Libby is a start... there really is no replacement for an architecture and design critic, except a full-time architecture and design critic... especially in a city where design is a major industry). Here's what PORT had to say on the new bridge designs a while back. We want new pictures of the wave design so we can more fully assess it... maybe there will be new images at Rosales upcoming talk on Monday night at Jimmy Mak's (door opens at 5)?

Jerry Saltz ponders MoMA's recent sex change

Yes, Ill have PORT's 2008 roundup posted by Saturday night (now that the show I've been assisting on had its wonderful opening last night... it is always art first). Here's Richard Speer's take on 2008.
Posted in PORT: portlandart.net on January 8, 2009 12:25 PM

Storm Tharp, "Twins at a Funeral"

Storm Tharp is exhibiting ARM & ARM at PDX Contemporary. This new body of work continues his "lengthy investigation into the relationship between human nature and artfulness, form and function." Nine major works will be featured, exploring portraiture, painting, film, and one ambitious sculptural piece. Tharp, who was reviewed by PORT last year, named this exhibition such that "in all forms of its meaning, 'two' is revealed. 'Two' and what it conjures, is the basis by which the work for this exhibition was made."

Opening reception • 6-8pm • November 6
PDX Contemporary • 925 NW Flanders • 503.222.0063

(Many more - updated!)
Posted in PORT: portlandart.net on November 4, 2008 11:00 AM

drawing by Samantha Wall

Curated by Selina Ho, Reverse Reality is an artist residency and exhibition project that sent four Hong Kong young artists to Portland for a month to create new work informed and inspired by their experiences. Artists Beatrix Bang, Doris Wong, Hanison Lau, and Florian Ma translated their tradition working methods through the lens of their experiences in Portland, fostering a cultural dialogue between contemporary American and Chinese art. Included in this mix Portland artist Samantha Wall has a room devoted to her highly kinesthetic drawings of grappling women.

Opening reception • 6-9pm • October 3
Worksound • 820 SE Alder • mojomodou@gmail.com

(More.)
Posted in PORT: portlandart.net on October 2, 2008 08:44 AM
Donald Kuspit considers the history of shit in art.

Despite the crashing stock market today there will be new condos by HdeM and OMA in NYC... both have already broken ground and something tells me the people who already bought their penthouses will still be able to afford these. Funny how NYC can get cool condos by HdeM and Koolhaas but hasn't been capable of realizing museums designed by these two topnotch talents. Architecture is always defined by the client and though I'm sure the condos will be nice... no high density residential design can hope to take very many chances... and certainly not as many as a museum project could conceivably afford.

Portland Architecture discusses a potential 600 foot observation tower in Portland's city's center (it is also a wind power generator). I want to see pics ASAP... this could be great if the design is up to snuff (an icon of Portland's new and bolder commitment to a better way of living) or tragic if it isn't. *Update Brian Libby has published the images and weighs in. Also, Randy Gragg of Portland Spaces has interviewed the developer.

In a related post Edward Winkleman explores the effect of global warming on art and design.
Posted in PORT: portlandart.net on September 15, 2008 10:54 AM

Andrew Brandou

Painter Andrew Brandou presents his lush landscapes at Grasshut. Innocent at first glance, his playful animal characters often reveal a mischievous - or downright twisted - twist that adds a wicked delight to his bright colors and careful brushwork. This weekend's opening reception of from the Funk Drawer, Brandou's Grass Hut mini-show, features a breakfast catered by the Screen Door, so RSVP soon to grasshut.corp@gmail.com.

Opening reception (and breakfast!) • 11am - 1pm • August 31
Grass Hut • 811 E Burnside • 503.445.9924 • RSVP to grasshut.corp@gmail.com
Posted in PORT: portlandart.net on August 25, 2008 09:20 AM


It's Disjecta, again... and again... and again. Long time Portlanders are probably pretty familiar with this promotional routine, and have already formed their opinions. For those of you who don't know the history, PORT takes a look back and a look forward after the jump. (More.)
Posted in PORT: portlandart.net on July 18, 2008 08:45 AM
Since Friday is 4th of July, many east side galleries are postponing their openings for a week (keep an eye out for those picks next week). Here's a sampling of galleries that are rocking it for the holiday weekend:




Grasshut is having an all day party to celebrate Fireworks, The Americans, a group show featuring around 40 artists and their take on Americana. Hot dogs, lemonade, beer, and fireworks will accompany the art to make you truly feel proud of your Independence.

Opening reception • Noon • July 4
Grass Hut Gallery • 811 E Burnside • 503.445-9924

(More!)
Posted in PORT: portlandart.net on July 3, 2008 11:35 AM

Susan Harlan

Susan Harlan is delivering a different take on the glass mania invading Portland this month. Her series Invisible Territories features natural specimens preserved in glass slides, then digitally printed onto fused enamel glass panels. Fusing organic specimens into glass, Harlan's work explores and exposes the natural world in a way that breaks from the "organic" forms often found in blown glass sculpture.

Opening reception • 6-9pm • June 6
Artist Glass Conference reception • 6-9pm • June 20
Pushdot Studio • 1021 SE Caruthers St. • 503.224.5925

More below the cut.
Posted in PORT: portlandart.net on June 5, 2008 11:29 AM

Cloepfil's Anne Sachs building in NW Portland

Tonight, local starchitect Brad Cloepfil will be the guest for Portland Spaces' bright lights discussion series. It all goes down at 6:00 at Jimmy Mak's, no cover... Doors open at 5:30 (get there early). Will Cloepfil and Gragg jam out? ....on kazoo's? ...or at least have a drummer for wise-ass rimshots?


Let's hope the increasingly bleak design outlook for the I-5 interstate bridge is addressed. We need a serious architect to shepherd this increasingly penny-wise pound foolish project... the only way to insure the billions of dollars spent on the largest new bridge project on the west coast doesn't simply become a XXL overpass. How... (more)
Posted in PORT: portlandart.net on May 12, 2008 10:05 AM

Joe Glasglow

Newspace presents Peripheral Vision by the Inner Light Group. Founded in 1986 by Shedrich Williames, the photography group now includes over 20 members working in a wide variety of styles. This exhibition explores the physical and metaphorical possibilities when considering our visual periphery: "Does it exist only in the mind of the photographer? Or is seeing with peripheral vision a physical process that keeps one alert to all that may be happening in the corners and around the edges of an image."

Opening reception • 6-9pm • May 2
Newspace Center for Photography • 1632 SE 10th AVE • 503.963.1935

(more)
Posted in PORT: portlandart.net on May 1, 2008 11:45 AM

Joe Thurston, "Strenuous Life"

This Friday, the Jupiter Hotel is hosting the Buckman Bash, an art auction and benefit for Buckman Elementary, Portland's own arts elementary school. The event features emcee Andrew Dickson and solo musical performances by James Mercer (The Shins) and Stephen Malkmus (The Jicks), as well as a student art show including animated shorts. Some excellent local artists have donated their work, including Storm Tharp, Joe Thurston, Scott Wayne Indiana, Marlana Stoddard Hayes, Eugenia Pardue, PORT's own Jenene Nagy, and more.

Buckman Bash • Doors at 7pm • April 11 • $50
Jupiter Hotel • 800 E Burnside

Can't make the bash? Swing by the school for the 18th annual Art "Show & Sell":
Friday, April 11 • 5-9pm
Saturday, April 12 • 10am-5pm
Buckman Elementary • 320 SE 16th AVE
Posted in PORT: portlandart.net on April 9, 2008 01:17 PM

Ann Ploeger

Pushdot Studio is celebrating the gallery's official reopening in their new location with Ann Ploeger's In Between. The series reinvents the self-portrait, exploring "uninhabited spaces... in which stillness lends itself to the specificity of being there." The photographs encourage the viewer to reflect on how these images represent moments in the artist's life and self, while using light and color to create a sense of location that invites the viewer into the moment.

Opening Reception • 6-9pm • March 7
Pushdot Studio • 1021 SE Caruthers • info@pushdotstudio.com

(more)
Posted in PORT: portlandart.net on March 6, 2008 09:58 AM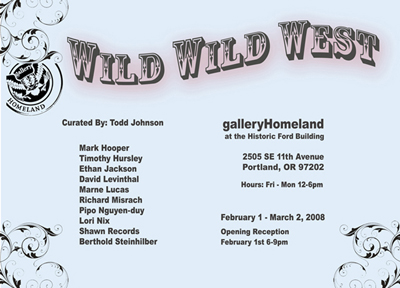 This group exhibition, curated by Todd Johnson, examines "the mythology and romanticism of the American western frontier." What lingering effect does the notion of the pioneer and Manifest Destiny have on the making of contemporary photography? The artists in this show explore what is still captivating about "the legends and myths of the Wild Wild West."

Opening reception • 6-9pm • February 1
Gallery Homeland • 2505 SE 11th AVE • info@galleryhomeland.org

(more)
Posted in PORT: portlandart.net on January 31, 2008 02:44 PM

Cory Clayton Jones

Pushdot Studios is relocating, and having an open house this First Friday for people to come check out their new space. The gallery will have its grand reopening celebration in early 2008, and Pushdot is looking for submissions of digital, multi-media, and film work. So come down this Friday to explore the new space and learn more about submitting your work.

Opening Reception • 5pm • December 7
Pushdot Studio • 1021 SE Caruthers • info@pushdotstudio.com

(more)
Posted in PORT: portlandart.net on December 6, 2007 09:06 AM


The annual Affair at the Jupiter Hotel is happening this weekend. In the four years since it began, Portland's own Art Fair has become an essential venue for the cross-pollination of local artists, dealers, galleries, and curators, and one of the major forces encouraging the development of a Portland art market, or "art ecology."

"Read more" for details.
Posted in PORT: portlandart.net on September 10, 2007 02:43 PM


With a relentlessness seen in very few places, Portland's citizenry love to discuss and attempt to define Portland. It is an impossible pastime. Still, as part of our two year anniversary PORT asked 7 artists to take a shot at picking what is good and or "definitely Portland" about Portland...

Also, it is a good time to visit Portland with Rembrandt and a lot of other good shows too.

...(much more)
Posted in PORT: portlandart.net on June 19, 2007 11:09 AM

Unfinished installation view of The Hook Up

This month the New American Art Union presents The Hook Up, curated by Bay Area transplant Jesse Hayward. The Hook Up deals with the relationship of art to the wall, how flat space influences media and installation, and the effect of the wall as a unifying element in exhibition. This highly anticipated show introduces new work that might subvert your expectations from participating artists.

The Hook Up features three artists from the 1999 Oregon Biennial who woke up Portland's gallery scene forever, Sean Healy, Brenden Clenaghen, and Jacqueline Ehlis, as well as Ellen George, TJ Norris, Jeff Jahn (PORT's ubiquitous co-owner), and newcomers Stephanie Robison and PORT's own Jenene Nagy.

Opening reception • 7-10pm • June 1
New American Art Union • 922 SE Ankeny Street • Tel.503.231.8294

... (more)
Posted in PORT: portlandart.net on May 30, 2007 10:37 AM

Ted Apel's Potential Difference (detail)

At New American Art Union, curator TJ Norris offers invisible.other a subtle group show about subtleties that will probably be squished somewhat at the official opening tonight. Most of the work has a controlled whiteness or transparency about it that requires a calm quiet environment. Tighter and more curatorially controlled than most recent group shows in Portland city limits, it showcases the idea of liminality more than the various participants who are: Ted Apel, Daniel Barron, Richard Chartier (2002 Whitney Biennial), (PORT's own) Melia Donovan, Leif Elggren, Ty Ennis, Thomas Koner, Michael Paulus, Susan Robb, Steve Roden, Abi Spring and my favorite in this show, Laura Vandenburgh. Her work takes on a lot more intimacy without frames.
Opening reception • 7-10pm • April 6-29 4
New American Art Union • 922 SE Ankeny Street • Tel.503.231.8294




Naomi Nowak's Bower

Pretty in Ink: featuring new work by Meg Hunt, Miniature Mouse and Naomi Nowak... it looks pretty and errrr kitschy (but in a well executed, maximum effect way).
Opening Reception • 6-9pm • April 6-29
Grass Hut • 811 East Burnside • 503.445.9924
Posted in PORT: portlandart.net on April 6, 2007 09:26 AM
Please forgive the cross promotion, Ultra and the WWeek have already posted and I've been tardy on this:




Organism's first big fundraiser of 2007 is the Toast Gala, a special evening with a four course dinner celebrating a diverse sample of Portland's visual artists at the Screendoor. Wines by Panther Creek (space is limited so RSVP with payment by March 29th).

The guestlist is already shaping up to be an impressive catalogue of movers, makers and shakers (with some interesting new to town faces who haven't gotten involved before). We plan to do more of these to put the spotlight on many other deserving artists.


Celebrated artists (both emerging and established, all actively showing outside the region):

James Lavadour
Matt McCormick
Sean Healy
Ellen George
R. Scott Porter & Nat Andreini (Sincerely John Head)
Katherine Bovee & Philippe Blanc
Brenden Clenaghen
Carson Ellis

Why wouldn't you want to buy these artists dinner? Also, we intend to do more of these as a way to give back to the hardworking artists. We chose Screendoor because of its excellent food, elegant yet warm Donald Judd meets the South decor and the fact that it's a favorite with artists, rockstars, ad people, professional snowboarders etc., its got a great mix of elegance with no boring. Panther Creek is simply one of the best winemakers available anywhere.

Details: Organism's Toast Gala, will celebrate a diverse sample of Portland's nationally/internationally active during an exciting 4 course dinner at one of Portland's new favorite restaurants: Screendoor, along with award winning wines by Panther Creek. You've never been to the Screendoor like this special private event, dress festive.

Music by Ponderosa (spacefolk cello and banjo)

Cost: $75, RSVP with Check or Credit card by March 29th.

Checks can be made out to: Organism Toast Gala, PO Box 17247, Portland, Oregon 97217

Credit Card payments can be taken at this site.

Time/Place: April 2nd 7:00 PM at Screendoor, 2337 East Burnside

This fundraising event benefitting Organism will also provide a sneak peek at our exciting Spring exhibition "Model Behavior" a group show featuring Hank Willis Thomas, Yoram Wolberger and many others. We plan to program at least 4 shows per year with a focus on quality over quantity.
Posted in PORT: portlandart.net on March 23, 2007 05:54 PM

Thunder Eyez at Grass Hut

Portland's music and art scenes are completely entwined. This show of art by musicians will make that even clearer with work by
E*Rock, Mt. Eerie. White Rainbow, YACHT, Hooliganship, Lucky Dragons/Sumi Ink Club, Adam Zeek, Curtis Knapp (Marriage Records & Watery Graves)
Opening Reception • 6-9pm • March. 2-31
Grass Hut • 811 East Burnside • 503.445.9924... (more)
Posted in PORT: portlandart.net on March 2, 2007 10:16 AM

Justin Williams and Luke Ramsey at Grass Hut

Grass Hut's lyrical, manifesto-style press releases are bright spots in the PORT mailbag month after month. February finds Grass Hut threatening to "pimp slap pretentiousness in the face then give it a brightly colored neon band aid so it can heal in style." and clarifying the origins of the "noodle on LSD" drawing movement, giving props to the magnificent Marc Bell and other seminal Canadian doodlers. Friends of the Endless Journey: a doodler's group show features work by Peter Thompson, Luke Ramsey, Justin Williams, Ekta, A.J. Purdy and Andy Rementer, including some collaborative pieces.
Opening Reception • 6-9pm • Feb. 2-28
Grass Hut • 811 East Burnside • 503.445.9924............(more)
Posted in PORT: portlandart.net on February 1, 2007 02:16 AM

James Ewing at Newspace

Newspace puts on a good-looking show of work by James Ewing and Whitney Hubbs. Ewing exhibits a body of work shot while on a yearlong Fulbright fellowship to Tunisia in 2004. He documents the tension and syntheses between three distinct cultural forces at play within the country; Arabic, European colonial, and contemporary globalization. Whitney Hubbs uses a highly personal visual vocabulary to interpret everyday experience.
Opening Reception • 7-10pm • Jan. 5-28
Newspace • 1632 SE 10th Ave. • Tel. 503.963.1935
Posted in PORT: portlandart.net on January 4, 2007 04:19 AM


"The show is called Driftwood Castle 'cause that's sort of what we're building. Yesterday we drove my pickup to the coast and loaded it up with driftwood, logs and big rocks. When Bwana and I,'Scrappers,' talked about designing the gallery space we both imagined a beach fort. Call it dumb or whatever, it just seems like the right thing to do."

I wouldn't call it dumb at all, Scrappers. In fact, I, "PORT," have been contemplating building my own little fort, or better yet, bunker, ever since I read your press release. I think you've hit the nail on the head, zeitgeist-wise.

Driftwood Castle, an exhibition/night of thematic revelry, will benefit Habitat for Humanity, serve as homebase for a 6pm scavenger hunt, and feature artwork by Bwana Spoons, Scrappers, Dawn Riddle, Ryan J. Smith, Martin Ontiveros, APAK, Le Merde, Souther Salazar, Jacob Macgraw, and Luke Ramsey, as well as David Wien, whose fantastical drawings are always well worth checking out. Opening Reception • 6-9pm
Grass Hut • 811 East Burnside • 503.445.9924.....(more)
Posted in PORT: portlandart.net on November 2, 2006 12:22 PM

Burger Christ

Brandland at Powell's Books Basil Hallward Gallery was put together by the ad giant Weiden and Kennedy's W+K 12 school so one has to consider this student work. An entertaining romp, it is good for laughs at things most of us already know about art and advertising.

For instance "Burger Christ" runs on cognitive dissonance, it's a one liner repeated over and over again, and not quite as good as seen on the Family Guy or someone like Banksy. Still, it works because like a lot of advertising its broadly targeted inside joke resonates with most everyone of a nonchristian & nonfast-food background, creating a sense of sneering belonging. It doesn't try to be great art, its entertainment and group cohesion, which can only be distinguished from art in that it fades away faster and costs less. The verdict...(more)
Posted in PORT: portlandart.net on October 11, 2006 12:35 PM


The 2005 National Juried Exhibition Winners at Newspace are J.Sofford of Portland, Jeffery Milstien of New York and Siri Kaur of LA. See their photographs on display as Newspace celebrates its fourth birthday.
Opening reception: Friday October 6th, 7 to 10p. • Through October 27, 2006.
Newspace Center for Photography • 1632 se 10th ave • 503.963.1935

The New American Art Union has recreated the studio space of artist Rose Willow McCormick inside the gallery. Each Saturday during the month of October she will complete a live painting in the duplicated studio. The Bushwick Paintings includes work on display from a year-long sabbatical in Brooklyn . Colorful, familiar, tranquil but loud, and varied.
Show runs September 30 to October 29, 2006 • First Friday Reception: (time not listed)
NAAU • 922 se ankeny st • 503.231.8294

more....
Posted in PORT: portlandart.net on October 4, 2006 11:47 PM

Mark Zirpel, Eye Chart, kilnformed glass, 2005. Bullseye Gallery.

The International Exposition of Sculpture Objects & Functional Art, or SOFA , is an annual exhibition that takes place next month in Chicago. The Bullseye Gallery is one of 90 galleries invited to participate. This month the gallery is hosting a SOFA/Chicago 2006 Preview of the work heading to the Midwest. The preview consists of fourteen artists who have shaped glass at North Lands Creative Glass in Scotland.
Preview Reception: October 3, 5:30 to 7:30p • Exhibition runs September 19 - October 21, 2006.
First Thursday Reception: October 5, 5 to 8p
Bullseye Gallery • 300 nw 13th ave • 503.227.0222


MK Guth is showing at Elizabeth Leach . Her work combines a narrative of fairytale (often the disturbing parts, not the happily ever afters) with video art. In Growing Stories, she "explores life through the context of a fable using footage from popular films and sitcoms as a backdrop."
Preview Reception: October 4, from 6 to 8p • First Thursday Reception: October 5, from 6 to 9p
Elizabeth Leach Gallery • 417 nw 9th • 503.224.0521

more.....
Posted in PORT: portlandart.net on October 3, 2006 01:23 PM

Ulrika Andersson

Both of our friendly neighborhood NPOs have interesting events for you to enjoy this week...(more)
Posted in PORT: portlandart.net on September 26, 2006 07:42 PM
What follows is a complete listing of all workshops, Guest Lectures, and Chats concerning the Visual Arts during the TBA festival:

Time Based Art Festival 2006 - Institute: Workshops, Chats, Lectures September 7 - 17, 2006

Visit PICA's website for all the details.

Visual Arts Workshop

Isaac Peterson: Visual Art Criticism
Thursday, Sept 7, 2pm Ecotrust
Friday, Sept 8, 2pm Ecotrust
PNCA Art History Professor Isaac Peterson gives a 2-day crash course on looking at and writing about contemporary visual art. Workshop includes a visit to TBA's visual art exhibitions. Must attend both days. Bring laptop if you have one (wireless is great) be ready to look, discuss and write!

Lectures

Mark Russell on The Bridge
Monday, Sept 11, 6pm, Weiden + Kennedy Atrium
Russell will talk about his own experiences of the history of performance and its future.

James Yarker on Why Be a Professional Artist? (Workshop match: Stan's Cafe)
Friday, Sept 8, 3pm, PNCA
Why do you want to be an artist? Why do you want to do it professionally? Why do you want to do it now? With a wry sense of humor and almost fifteen years of experience as a professional artist, James Yarker offers up a compendium of strategies and practical advice for the incipient artist.

(read more for all visual art events......)
Posted in PORT: portlandart.net on September 6, 2006 03:19 PM

Greg Turco at Newspace

Yes it's one of those wierd inversions when First Friday comes before First Thursday. Of course it isn't the end of the world, it's just the beginning of September

Rachel Shapiro & Greg Turco • The View From here
Newspace is the most consistent 1st Friday stop and this duo of photographers only adds to the tradition.
Newspace Photography • 1632 se 10th portland, or 97214, 503 963-1935...(more)


Posted in PORT: portlandart.net on September 1, 2006 01:56 PM

Alex Gross at Renowned Gallery


Group Show • New Expressions in Fine Art Printmaking
A diverse mix of etching, wood-blocks, screen-printing, xerox tansfers, and photo-gravures combined with storytelling, landscapes, and abstracted photography. Curated by Erik Sandberg of Los Angeles.
Renowned Gallery • 811 e burnside 111 portland, or 97214 Opening Reception: 6:30 to 9:30 pm, Friday August 4.
Closes August 31, 2006.

Group Show • The Influence of Motorcycle on Contemporary Art
This exhibit revs up the motorcycle culture through visual images. Curated by Rachel Sanders Fine Art and Design Inc.
Guestroom 128 ne russell st portand, or 97212  • 503. 284.8378
Opening Reception: 5pm, Friday August 4. Closes September 16, 2006.

...(more)

Posted in PORT: portlandart.net on August 4, 2006 11:14 AM




Friday and Saturday boast two offerings of note in Portland for art-o-philes and those that love them.


Posted in PORT: portlandart.net on July 13, 2006 10:17 PM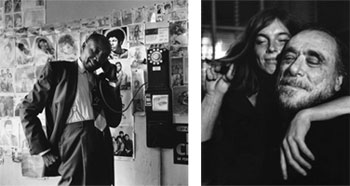 Yes, a fashionable boutique that sits among the smart young businesses on lower Burnside, has been hanging art on the walls since they opened two years ago. This month is their most sophisticated and impressive showing to date. Lawrence Robbin spent a year living in Los Angeles in the mid-1970s as a photographer for the radical Los Angeles Vanguard. Documenting everything from notable personalities such as Charles Bukowski to absurd and bittersweet street scenes, these black and white photos capture not only the spirit and the style of the era, but also highlighted the tenderness, humor, and emotional complexity of the subjects. Although the photos stand on their own as historical documents, Robbin's appreciation of composition and mastery of closing the shutter at the right moment give them life as works of art. Tonight, Robbin will be up from California to present fifteen works in the LA76 series.
Lawrence Robbin • LA76
Artist Reception • Tuesday, June 20th • 7 to 10p
Yes • 811 E Burnside
Posted in PORT: portlandart.net on June 20, 2006 10:02 AM

Natalie Cartwright • Enamored, a photo travel diary
Cartwright reflects on the wonders of her childhood with a photographic diary of a more recent journey through Japan. Moshi Moshi 811 east burnside portland or 97214 • 503.445.9924 Opening Reception Friday June 2, 6-9 p. Show ends July 1, 2006.

grey|area • group show So-called theme-less, non-narrative, conceptual and abstract minimalism are part of the blurred-line of focus for this show, which could be really strong. Curated by TJ Norris. The 13 selected West Coast artists include Troy Briggs, Ty Ennis, Scott Wayne Indiana, Laura Fritz and Ellen George. Guestroom Gallery 128 NE Russell • 503.284.8378 Opening Reception Friday, June 2, 6 - 9 p. Runs through June 30, 2006.

more.....
Posted in PORT: portlandart.net on June 1, 2006 03:17 PM

Zoe Crosher's LAX Best Western at Small A Projects

Out the Window (LAX) • Zoe Crosher • photography
This LA based artist is getting international attention for her studies of transitional situations. Her latest series explores images taken from hotel rooms by the LAX airport.
small A projects • 1430 se third avenue portland, or 97214 • 503.234.7993
Opening Reception May 5, 6-9p. Artist talk, 8p. Show ends May 27.

group show • mixed media
Paintings, illustrations and silk-screened images by Kelly Lynn Jones, Josh Cochran, Matt Haber, Allison Cole, Kelley McCarthy.
Renowned • 811 east burnside suite 111 portland, or 97214 • 503.445.9924
Opening Reception May 5, 6 -9:30p. Show ends May 31.

click below for more.....
Posted in PORT: portlandart.net on May 3, 2006 09:07 PM


Bwana Spoons stands as one of Portland's most prolific, energetic, multi-talented, community-minded and warm hearted young artists. He has had his fingers in zines, comics, illustration, painting, sculpture, toy-design, curation, storyboarding and I'm sure much more. Now he can add entreprenuer to the list as he's taken the reins and opened his very own shop to showcase his artwork, products and other items by people he loves. Nestled inside Renowned among the conglomerate of creative businesses at 8th and Burnside, the Grass Hut Shop opens tonight with some sweets and treats including rootbeer, a t-shirt release and a contest with prizes!
Grass Hut Shop @ Renowned
Grand Opening • Thursday, April 13, 5 to 8p
811 East Burnside, Portland Oregon 97214
Normal Hours • Wednesday thru Saturday 12-7pm
Posted in PORT: portlandart.net on April 13, 2006 11:19 AM


Drift,Wander,Migrate • Michelle Blade • paintings and illustrations Blade is inspired by myth and folktales of Russian, Hungarian, Indian, Mexican and Native American aesthetics. Renowned Gallery • 811 East Burnside Suite 111 PDX 97214 • 503.807.8128 Opening Reception 6-9:30pm. more...
Posted in PORT: portlandart.net on April 6, 2006 05:51 PM
The Willamette Week published a completely interesting article by Zach Dundas today on a potential solution to the critical creative live/work space issue in Portland here. It's an important follow-up to his early reporting on the issue here.

A synopsis, developer Brad Malsin of BEAM and Works Partnership Architecture have come up with a plan to build spartan, concrete box rental live/work lofts that would go for around $500 a month in the Central Eastside Arts District. This would be a huge boon since Portland is swarming with literally thousands upon thousands of artists, crafters and entrepreneurs who are currently using their ill equipped living spaces as studios illegally. This would be so much better, although owning a place is ultimately the way you want to go (some of the 30+ crowd have bought places in the NE as well as on North Mississippi and North Interstate recently). The secret apparently is WPA's plan for communal bathrooms and IKEA kitchenettes. Its true, most artists care less about doors and finished rooms than raw, impressionable space.

I found it particularly interesting when one of the architects, Carrie Shilling stated, "Your making it less enticing in a way....That can be tough for some developers to think about because you're willfully restricting your profit if you build one."

So what about the developer? Brad Malsin was the underdog developer who wasn't completely awarded the very important Burnside bridgehead redevelopment even though he had the best and most popular plan by far. I've also worked with him, he made my The Best Coast warehouse show possible by providing the space. He understood the collateral/catalytic effects that having 31 artists and a few thousand art lovers might have on his property, and to use his words at the time, "just trying to do the right thing for the community by doing something cool." Later, clarklewis... the best restaurant north of San Francisco opened up downstairs with a similar urban, spartan chic. I'm pretty sure Brad understands, he's from New York and saw how pure greed lead to less than ideal communities. I'll repeat my mantra, more growth is coming to Portland and instead of ignoring it, the city should encourage the kind of initiative and intelligent sensitivity this kind of project displays. Change will continue and it's best for everyone here that it be directed intelligently.
Posted in PORT: portlandart.net on April 5, 2006 06:57 PM
Tonight Red76 and Homeland join forces to offer a Laundry Lecture for Chicago-based artist Bonnie Fortune. Bonnie will be talking about her recent projects Free Walking, In the Weather, and introducing her latest interactive social art collaboration, Dormant. A Q & A will follow the talk. Bonnie will also be washing a load of socks and underwear, you are encouraged to bring your own laundry, too. Bonnie is in town thanks to Homeland's new artist-in-residency program.
Saturday, March 18th • 6pm
F & I U Wash • 28th SE (btw. Burnside and Ankeny)
Posted in PORT: portlandart.net on March 18, 2006 10:27 AM


Heaven & Earth • Jim Lommasson • photography Lommasson has traveled from Churches to Museums, artists' studios, outdoor revivals, and beyond in search of the various shapes Faith takes in our contemporary environment. New American Art Union • 922 SE Ankeny Street PDX 97214 • 503-231-8294. Opening Reception: March 3. Show ends March 26, 2006. Read on...
Posted in PORT: portlandart.net on March 3, 2006 12:51 PM


A few years ago Edie came to Portland on a residency and proceeded to raise hell. She showed in the extinct but excellent Field Gallery at the Everett Station Lofts, dressed up as Miss America while strolling down Burnside and livened things up at many of the 2Girls performance festivals. Then she left for San Francisco and promptly landed herself in the very prestigious Bay Area Now triennial (we'd like the upcoming Oregon Biennial to be as relevant). Now, because Portland consistently steals a lot of SF's best talent (Chris Johannson, Harrell Fletcher, Patrick Rock, Brendan Clenaghen and Jesse Hayward etc.) she's back.

Edie Tsong's recent projects have utilized fax, video, teleconference, performance, and plasticene to explore identity as an interactive group project. She has performed collaboratively with Pete Kuzov in Portland's enterActive Language Festival in 2002, 2003, and 2004.

Tsong has exhibited and lectured nationally. She has recently shown at the Mattress Factory, Yerba Buena Center for the Arts, and Atlanta Center for Contemporary Art. Tsong lives and works in Portland, OR.

Monday, February 27th • 7 pm
PSU 5th Avenue Cinema • 510 SW Hall St. Room 92 (on the corner of 5th & Hall)
Sponsored in part by PICA, PNCA, and Reed College
Posted in PORT: portlandart.net on February 26, 2006 11:05 PM

action on East Burnisde for First Friday

Portland seems to sprout a new hip neighborhood every 6 months and more often than not it involves a couple of art galleries and hybrid fashion boutiques that also show art. The latest one has grown up along East Burnside directly across from The Jupiter Hotel, which hosts the annual Affair art fair. The adjacent and hopp'n Doug Fir lounge certainly doesn't hurt either. To be fair though, the very good Holst Architecture, KBOO radio, the Imago Theater and the New American Art Union were all there before The Affair and gave the area good bones as an arts district. Now it filling out with the Fix & Yes fashion boutiques as well as the Renowned gallery. As expected, First Friday's openings had a great deal more...
Posted in PORT: portlandart.net on February 5, 2006 11:25 PM
Group Show • Walter's Daydream • Drawings and Paintings This exhibit features new work by A.J. Purdy, Andy Rementer, Andy Dixon, Andrew Dick, and Justin B. Williams. The artists seek to represent the memories, fantasies, dreams, fears, desires, and ideas in a stream-of-consciousness creation they call Walter.
Renowned Gallery • 811 East Burnside #111 • Tel. 503.807.8128
Opening Reception Friday February 3, 2006, 6-9pm Show closes February 28, 2006

more....
Posted in PORT: portlandart.net on February 3, 2006 01:28 PM
Continuing across Burnside into SW, I walked along second street to Augen Gallery. It was approaching 9 and things seemed to be winding down. I arrived at Augen and Froelick just as everything was being put away. Augen gallery has a show in the back of Marcel Dzama! I was excited to see it, but they had already lowered the lights in the next room, so instead I looked at Susan Larsen and Patrick Collentine's "Kolorbar, Present Perfect". These are landscape photographs in which a figure holds a seven foot color bar test pattern in front of their body at the same distance in every frame. The test pattern gives a true CMY RGB color reference for each photograph, which I imagine they work from when developing the pictures. The point seems to be that the photograph on display is as true to the real color of the landscape as can possibly be humanly acheived. The name of the show suggests that the photographers are trying to perfect the present, and see the tools of photography as a means to that end. This seems like a laughably futile idea, like the king in "The Little Prince" who commands the sun to rise every morning, and there is something funny about these grand landscapes with someone holding a test pattern over their head in the middle of them. And how does creating a photograph of something perfect it? Perhaps the title refers to perfecting the photograph. A perfect photograph can be thought of as a perfect record of the present.

Stephen Hawking would argue that a photograph is only a good representation of time when you use Euclidean Space-Time, in which time is one-dimensional, a line, and lines are of course constructed of a series of points. Each point could be represented by a single photograph. The perfect model for the Euclidean concept of time is of course the film, a series of still photographs. But in the Einsteinian model, which we now accept as the truth, time is simply one function of larger, inter-related phenomena. In Einstein, space, motion, gravity, mass, energy, and time are all interchangeable, all relative. So Stephen Hawking constructs a model of time as a "light cone" a set of possibilites which can be redirected as any of these factors change.


Posted in PORT: portlandart.net on January 8, 2006 08:15 AM
Victoria Haven @ PDX

Well, as a New Year's treat, I have the First Thursday listing up ahead of time (who-hoo!) and have included every single opening I received a press release for. Usually, I comb through the announcements folders and pick some favs but this month, I'm pulling out all the stops. There's lots going on so you've got no excuse to sit at home. And don't forget to save room for First Friday!

Read on for complete listings...
Posted in PORT: portlandart.net on January 4, 2006 01:27 AM
Last Sunday, the Oregonian ran a long story exposing the dubious record of Lance Robbins, the developer backing Bryan Suereth's optimistically ambitious plans to set up shop in the Templeton Building on East Burnside. It turns out that Robbins, who began developing residential property in LA in the late 70s, has been quite successful turning rundown buildings into artist pads, but his tactics have earned him nicknames from local press such as "L.A.'s reigning slum king." Over the past two decades, Robbins has faced repeated charges of fraud and tenant abuse and most recently, is battling the revocation of his California real estate license. Shut out of the California market for the time being, Robbins and his partners have turned their sights towards out-of-state ventures like Portland's Templeton Building.

The sleuthing of writer Erin Hoover Barnett and researcher Lynne Palombo dug up facts that were new to Suereth and the Disjecta Board. The organization faces a daunting task of raising six figure sums for build-out and operations with a thin history of fundraising. Plus, the O reported that Disjecta will be asked for $200,000 to secure the building within the next several months.

One Disjecta board member, Marshall Runkel, admitted to the serious implications that these new developments may have for Disjecta's ability to rally potential donors in this critical phase. And I'm not sure how many donors and members of the art community will be comforted by Suereth's assurances that the project rests on his own integrity or that it's a good opportunity for Robbins to clear his name. Arts organizations can still get away with cavalier strategies in grass roots circles, but it's clear that as Portland's art scene is rocketing towards a newfound maturity, its serious supporters are going to need much more than just casual assurances.
Posted in PORT: portlandart.net on December 14, 2005 01:53 AM
Marne Lucas at Homestar

The Eastside wraps up a drippy week with a strong showing from the young ones.

In what must be a bona fide East Burnside art revival, Moshi Moshi opens next to Denwave (formerly Fix) and Renowned with Rainbow Connection, a group show featuring Meredith Dittmar, Guy Burwell, Tyson Summers, APAK, and Justin "Scrappers" Morrison.
Opening Reception • December 2 • 6 to9 p
Moshi Moshi • 811 E. Burnside

For Renowned's second exhibition they present Hold Me, Please new work by Casey Watson (PDX) and Isaac Lin (PDX).
Opening Reception • December 2 • 6 to10 p • artists will be in attendance
Renowned • 811 E Burnside Suite 111 • tel. 503.445.9924

With Denwave, Renowned and Moshi Moshi are all in the same building, I am hoping they'll come up with a name for themselves as a group (something other than LoBu, please).

While you're in the 'hood, don't miss Bailey Winters' paintings and Greg Simons' multimedia installation at NAAU. Winters shoots Hi-8 and still photographs which elaborates into expressionist paintings which bear a quiet isolation.
Opening reception • December 2 • 7 to 10 p
NAAU • 922 SE Ankeny Street • tel. 503.231.8294

Marne Lucas presents Amusement, a series of color photographs from road trips and travels at Homestar. "Humorous self portraiture, an eye for the unusual and quirky use of animal figurines express a sense of discovery and playfulness she experiences while traveling." Also, in the back room, the Velour Girls Pin Up Lounge, Lucas' latest Pin Up photographs of women in a boudoir atmosphere.
Opening Reception • December 2 • 7-10p
Homestar • 4747 SE Hawthorne Blvd • tel. 503.235.0349


Bailey Winters @ NAAU
Posted in PORT: portlandart.net on December 2, 2005 01:57 PM
Joe Macca at Marylhurst

A few things going on around town...

Tonight Michael Brophy speaks at Powell's on The Romantic Vision of Michael Brophy, a recently released book edited by Rock Hushka. The book explores how Brophy's art reassesses the historical events and decisions that shaped the American West. Brophy is best known for his quietly haunting landscape paintings addressing forest ecology and history (he is currently showing sumi-ink drawings at Laura Russo).
Wednesday, November 9th • 7:30p
Powell's City of Books • 1005 W Burnside

drawing(s)
40+ artists / 200 works
The 25th anniversary drawing show at Marylhurst that opens today. "Old heavyweights, mid career artists, and young turks." Including Henk Pander, Tad Savinar, Judy Cooke, George Johanson, Michael Brophy, DE May, Marie Watt, Linda Hutchins, Ryan Boyle, Melody Owen, and Joe Macca. While you're out there, don't miss Brad Adkins' re-enactment of Michael Bowley's 1979 Walking in a Circle Until a Mark is Made, a 25ft dirt/crop circle on the south side of the driveway into Marylhurst.
Show runs through December 11th.
The Art Gym @ Marylhurst • 17600 Pacific Highway (Hwy. 43) • tel. 503.636.8141

Tomorrow night is On The Wall, a group art show to benefit Skaters For Portland Skateparks featuring customized Vans slip-on's and hand-painted skate decks by local up-and-comers and national talent. All monies raised from the sale of artwork will be donated to S.P.S. to aid them in their goal of free public skateparks in metro Portland. Drop by the opening for DJ's, limited edition catalogs and posters. Work by Russ Pope, Paul Fujita, Joker, Jesse Reno, Klutch, Chad Kelco and more.
Opening reception • Thursday November 10th • 7 to 10p
Local 35 • 3556 Hawthorne Ave • Tel. 503.963.8200

Also, the SE Portland Artwalk's Call to Artists continues through Nov. 15th. Apply at seportlandartwalk.com.
Posted in PORT: portlandart.net on November 9, 2005 02:36 PM
If you're tiring of the same old gallery reception schtick but still love an arty party, then tonight's your night. The Eastside does First Friday with a flare, including a gallery grand opening and celebrity-graced movie night.

Across from the Jupiter Hotel, Fix has been holding down fort for the past year or so. Through some incredible magnetism and muscle, they have attracted at least 3 other young independent art-minded businesses to take up shop in the same building. Tonight, Tony Nguyen opens Renowned with Soon and Very Soon, a group show of local and national artists including Bwana Spoons (PDX), Maya Hayuk (NY), Erik Sandberg (LA), Jill Bliss (SF), and Deanne Cheuk (NY).
Grand Opening • Friday, November 4 • 6-10p
Renowned • 811 East Burnside, Suite 111

Around the corner, NAAU offers What it all Meant, the second solo exhibition by Ty Ennis. This collection of minimal drawings walks the line between irony, rebellion and social critique.
Opening Reception • Friday, November 4 • 7 to 10p
New American Art Union • 922 SE Ankeny St. • Tel. 503.231.8294

A hop, skip and jump away, Homeland takes up fort at their second (temporary) location with new
works by Scott Wayne Indiana. My interest is piqued by the promise of a 72 foot scroll stretched from pillar to pillar, "a long painting resembling the artist's sketch book and revealing a reflective exercise of examining his own
stream of consciousness as a visual representation." There will also be a collection of smaller new works.
Opening Reception • Friday, November 4 • starting at 7p, live music at 8
Gallery Homeland • 222 SE 10th (within the Troy Building)
CHANGE OF VENUE: NOW AT WONDER BALLEROOM • 128 NE RUSSELL

A little further south at Newspace are Myron Filene and Jodi Boatman. Filene presents a series of panoramas in the form of prisms, splicing together thin slices from full panoramic shots to effect an extreme stretching of the vertical field. Boatman's work deals with memory; her images dwell on objects or spaces that trigger personal recollections.
Opening Reception • Friday, November 4th • 7 to 10p
Newspace • 1632 SE 10th Ave. • Tel. 503.963.1935

Over at small A projects, Laurel Gitlen wraps up her inaugural exhibition All I Want is Everything with a movie night screening of Velvet Goldmine featuring a casual conversation with director Todd Haynes. Seating is limited so call the gallery to RSVP or bring your pillows to sit on the floor. Beer, soda and popcorn will be provided.
Movie Night • Friday, November 4 • 7 to 10p
small A projects • 1430 SE Third Avenue • Tel. 503.234.7993

Wrap up your Eastside Evening at Holocene with a benefit for Flight 64. Flight 64 is a non-profit co-op dedicated to providing affordable access to a press in order to nourish a new generation of artists and Portland's printmaking community. Prints will be for sale by over 30 local artists. The evening will be punctuated by a $5 raffle of prints by Chrisy Wycoff, Emily Ginsburg, and Martha Pfanshmidt. The evening will be accompanied by live music from Horsefeathers, Sexton Blake, and Blitzentrapper.
Flight 64 Benefit • Friday, November 4 • Doors at 5, Raffle at 8:45
at Holocene • 1001 SE Morrison • Free until 9, then $5 cover
Posted in PORT: portlandart.net on November 4, 2005 02:01 PM
Something seems to have sparked a trend and suddenly, everything's popping up galleries. Perhaps it's the dense concentration of artists begging for exposure, or the tepid Portland economy that makes it more enticing to create your own job than work for someone else, or maybe it's just something in the water. Whatever the cause, the result is four new galleries (two traditional, two hybrids) opening in two weeks.

Paul Middendorf has defected from Disjecta and, for the moment at least, moved his Manifest Artistry projects to the back burner to team up with artist Paige Saez as co-director of Gallery Homeland. Infiltrating the less commercial Southeast quadrant of the city, Homeland has taken up quarters on the corner of 34th & Belmont, a stone's throw from coffee, cocktails and bourgeois groceries. Exhibiting young local favorites and importing trans-nationals, Homeland aims to "encourage emerging and challenging concepts in visual and performing arts." Their first show opens next Friday (competing with the Affair and the new CMCA wing) with three Portlanders, Zak Margolis, Charles Moss and Amy Steele. There will be live music with the artists and directors in attendance.
Opening Reception • September 29th • 7p
Gallery Homeland • 926 SE 34th Ave • Tel. 503.819.9656

Around the corner from Homeland is the Missing Link, delivering all things Japanese/toy/collectible to the East side of the river. Occupying the former Spoink! space, ML houses art shows in the back quarter and opened to a packed house last week with an exhibition by S.F. yeti-loving graff artist Bigfoot. Shows will rotate bi-monthly, at least in the beginning, with a line-up of skate/graff/design leaning artists. Expect some young fresh fellows to roll through this informal space, with price tags built for the creative class.
Missing Link • 3314 SE Belmont • Tel. 503.235.0032

As we reported last week, Laurel Gitlen is gearing up for the launch of her new space, small A projects and now has a website. She has also added a screening of Heavy Metal Parking Lot to her housewarming on October 7th. Rat your hair, rip off your sleeves and grab a nice cold MGD for a night of all things Rockin'.
Gallery opens September 30th • Reception October 7th
small A projects • 1430 SE Third • Tel. 503.234.7993

Next we traverse Burnside to the other side of the river where we find what may or may not qualify as a gallery. Housed in one of Portland's sexiest buildings, where Wieden + Kennedy and Bluehour rub elbows, B Street Gallery is actually a facade for the showroom of the under-construction Civic condos. The gallery will last two years, until the condos are up and the showroom is closed. According to the website, they will feature work by "local and emerging artists celebrating everything about Burnside"?! Yes, indeed, those are their words. Have these people driven on Burnside recently? I am interested to see what about Burnside these artists will be exalting... the homeless sleeping on the sidewalk, the prostitutes, the crack heads, the traffic, that Volvo dealership, the fact that you can't ever make a left turn? Any old how, there's currently new artwork hanging by some of the Zeitgeist fellas: Paul Fujita, Keith Rosson and Mike McGovern. Hopefully they had some better ideas than I did.
Open to the public October 1st
B Street Gallery • 202 NW 13th Ave • Tel. 503.241.1926
Posted in PORT: portlandart.net on September 23, 2005 12:37 AM
Plenty to do tonight...


Bootsy Holler at Newspace

Accompanying their Bay Area Bazaar exhibition, Pulliam Deffenbaugh hosts the Red and the Green, a play written by Kevin Killiam and Karla Milosovich satirizing pop culture and politics, with a cast of 30 artists reading from scripts and relying on improvisation. The evening begins with readings from curator Larry Rinder, poet Dodie Bellamy and writer Jocelyn Saidenberg,
Doors at 7pm • $5 • *Limited Seating
Pulliam Deffenbaugh • 522 NW 12th Ave • Tel. 503.228.6665

Newspace continues their consistently good programming with Ruby & Willie by Seattle-based photographer Bootsy Holler. This series documents the details of Willie's Richland, Washington, home after Ruby's death. With a museum documentary style, Holler captures the subtleties of the family abode.
Opening Reception • 7 to 10p
Newspace • 1632 SE 10th Ave. • Tel. 503.963.1935

FIX gallery takes on Dan Ness with Blackboard Drawings. Ness is one of Portland's most prolific young artists popping up everywhere from the Pearl to Chinatown to Alberta to SE. With his classic iconic imagery and well-executed collage style, he maintains a consistency and drive that makes him one to watch.
Opening reception First Friday 7-10pm
FIX • 811 East Burnside, Studio No.113 • Tel. 503.233.3189

DK Row once said of me that I continue to show artists that nobody's heard of. Although I don't think this was or is true (yes, there is an art savvy world outside of Portland, Oregon that tracks the careers of emerging artists), I now bestow this honor to the Portland Art Center. PAC brings us another exhibition featuring talent I've never heard of. Tonight they open Natura Naturans, an installation and print study by James Jack. Using media appropriated from nature (pigments from the Oregon Coast and inks from Seder bark) Jack brings the outside in with a meditative and existential body of work.
Opening Reception • 7 to 10p
Portland Art Center • 2045 SE Belmont Street • Tel. 503.239.5481

Rake Art Group presents Space Ambulance "A Night with the Thief", a group show featuring photography, paintings, prints, film and music. Featuring 18 participants, this group introduces a number of unknown emerging artists working in various media.
Opening Reception • 6p to midnight
Rake at Voleur Restaurant. • 111 SW Ash St • Tel. 503.227.3764


James Jack at PAC
Posted in PORT: portlandart.net on September 2, 2005 10:35 AM
Rachael Allen at FIX

FIRST FRIDAY

Anne Ploeger's "Portraits" at Newspace
Opening Reception • Friday, August 5th • 7 to 10p
1632 SE 10th Ave • Tel. 503.963.1935

Vintage Vandals at Savage Art Resources
Closing Party • Friday, August 5th • 7 to 10p
1430 SE Third Avenue • Tel. 503.230.0265

Rachael Allen at FIX
Opening Reception, Friday August 5th • 6 to 9p
811 East Burnside studio #113 • Tel. 503.233.3189

Gabriel Liston at NAAU
Opening Reception, Friday August 5th • 7 to 10p
922 SE Ankeny Street • Tel.503.231.8294


SATURDAY

Bent: Chandra Bocci, Jesse Durost and Ryan Boyle
Opening Reception • Saturday, August 6 • 6 to 10p
Located at 207 SW Pine

Paul Middendorf discusses the latest efforts of Manifest Artistry, Lifeboat-Hamptons, at Scope-Hamptons.
PORT covered Paul's endeavors here and here.
Saturday, August 6th • 7:00p
Gallery 500 • 420 SW Washington St. Suite 500 • Tel. 503.223.3951

Free Form Film Festival
2005 shorts program, plus live musical performance by Inlake
Saturday, August 6th • 9:00p
The Know • 2026 NE Alberta

FFFF is also at the Clinton Street Theatre with American Astronaut "A Musical Space Western"
Tuesday, August 9th • 10:00p
Posted in PORT: portlandart.net on August 5, 2005 02:10 PM
We love Portland Modern's consistently high-caliber gallery-in-print. The good news is that they are now accepting submissions for their third catalog, due out in October. PM is an arts organization that publishes a semi-annual catalog and coordinates exhibitions featuring the work of local independent & emerging visual artists. They seek artists creating in a contemporary manner whose work is conceptually engaging, aesthetically compelling, and demonstrates deft handling of the medium. The upcoming issue will be curated by Portland-based artist and writer Pat Boas. Deadline is August 27th. For complete information, click here.

NAAU is accepting proposals for 4 x 6 foot panels to be installed on the outside of a building under construction on SE 11th & Burnside. All applicants must live or hold studio space in the CEID (Central Eastside Industrial District) to be eligible. Please send proposal, slides or CD of existing work, resume, artist's statement and SASE by August 5th to Ruthann Brown at NAAU • 922 SE Ankeny, Portland 97214 • naau@earthlink.net • tel. 503.231.8294

Posted in PORT: portlandart.net on July 21, 2005 11:39 PM
This First Thursday is all about the young ones. Chinatown and Downtown flex their youthful muscle with some great showings along with a couple of hits from the old guard.

In Chi-town there's a veritable slew of young movers and shakers.


Erika Kohr at Motel

Everything is a-buzz at Motel with Pollinate, the works of Erika Kohr and Suzanne Husky. Kohr offers a sophisticated collection of narrative glass works exploring fertility and nature. Husky presents a series of psychedelic botanical drawings on paper featuring fluorescent flora and fauna.
Opening July 7, 6:30 to 9:30p • Through July 30
Motel • Located on NW Couch St, between 5th & 6th • Tel. 503.222.6699

Compound delivers the Return of Digmeout, a visual artist excavation project out of Osaka, Japan. This group exhibition showcases young artists whose mediums are often posters, stickers, or magazine illustrations. The first Digmeout show was strong collection of unknown Japanese up-and-comers. This second helping promises even more and better.
Opening July 7, 7 to 9p • Through July 30
Compound / Just Be • 107 NW 5th Ave • Tel. 503.796.2733

Genuine Imitation presents the Worldwide debut of the deliciously French artist, Fanélie Rosier. Rosier's distinctive pop-illustration style infuses these devilishly playful series of godesses.
Opening July 7, 6 to 9pm with DJ IZM • Through July 29
Genuine Imitation • 328 NW Broadway, No.116 • Tel. 503.241.3189

Also in the Everett Station Lofts, Pepper Gallery presents Artists of Kentucky, an eclectic group show featuring artists from the Bluegrass state.
Opening, July 7th, 6-10pm
Pepper • 328 NW Broadway, No.113

Downtown hits...


"Male Pattern Baldness & Hummingbirds" at Reading Frenzy

South of Burnside, Gallery 500 presents the solo exhibition of PDX photographer-romantic extraordinaire, Daniel Kaven. Divorce is a collection of mixed-media works and installations exploring the separation of the artist's past. Brede Rørstad, who scored Kaven's film, Naked Seoul, will conduct a string quartet during the opening, translating the emotions of the exhibition.
Opening July 7, 6p to midnight • Through July 29
Gallery 500 • 420 SW Washington St., Ste. 500 • Tel. 503.223.3951

On a lighter note, artist/curator/illustrator/great guy Bwana Spoons packs 'em in at Reading Frenzy with a Sharpie show, Male Pattern Baldness and Hummingbirds, featuring a great collection of local and national up-and-comers, including Souther Salazar, E*Rock, Jessie Rose Vala, Ryan Jacob Smith, Amy Ruppel and many, many more. This is my pick for a steal of a deal. A handmade zine of the included artwork will even be available at the opening.
Opening July 7, 6 to 9p • Through July 31
Reading Frenzy • 921 SW Oak St. • Tel. 503.274.1449

And in the Pearl...


Gretchen Bennett at PDX Window Project

Gretchen Bennett takes over the PDX Window with Hi, It's Me, a faux-naturalist take on the tensions and representations of interior/exteriors. Expect wood-grain Contact paper, buttons and more...
Open 24 hours a day through August 13
PDX Window Project • 612 NW 12th Ave • Tel 503.222.0063

Portland cult literary icon Walt Curtis (Mala Noche) invades Mark Woolley with The Land of Ch'i, featuring his expressionist folk paintings.
Opening July 7, 6 to 9p • Through July 30
Mark Woolley • 120 NW 9th Ave, Ste 210 • Tel. 503.224.5475
Posted in PORT: portlandart.net on July 7, 2005 12:42 AM

D.E. May's Untitled

…someone is always making the claim that art (or art writing) was better in days past. The sheer ubiquity of that Chicken Little statement through the ages undermines its argument. Sure, it might look that way because art from the past has been filtered through the passage of time. Time is the litmus test, sifting out the good stuff. For example there is a touring retrospective of Jean-Michel Basquiat going on right now (next stop LA July 17th), possibly making us think the 80's were so much better than today. Whereas I suspect being subjected to a touring retrospective of Julian Schnabel's 80's work might leave me hungry for the iffy mess of Greater New York Part Deux. It depends on what you focus on.

Still there is no time like the present, so try and catch at least one of three Portland related shows that come down today.

In Chelsea @ Pavel Zoubok gallery, D.E. May's Template-Grid-Inset has its last day. I like his free standing cardboard towers better than the wall works.

In Portland, it is also the last day for Gallery 500's Habitat. It's a refugee camp as an art happening that some lucky person will have to clean up. Stop in and see how the art slum has changed in the last month.

Also in the Rose City, right next to the Burnside bridge Sean Bracken has an open studio sale at 77 NE Burnside 9-7PM, June 25th and 26th. No it is not a soup kitchen, and it is probably worth a trip just to see who else has studios in the building.

Posted in PORT: portlandart.net on June 25, 2005 09:42 AM
As we swing into the weekend, there's plenty of great art chatter including lectures, talks, a reading and even an auction...

Thursday, June 16th


Blumenfeld at PICA

Erika Blumenfeld Lecture @ PICA
Blumenfeld's piece in the Landmark show is one of the most captivating and enchanting. In a dark side room, her white light projections shift slowly, catching the shadows and silhouettes of her onlookers. During the fall of 2004, Blumenfeld worked in an astronomer's house at the the McDonald Observatory's main peak where she created the video work Moving Light: Lunation 1011, now on display. Thursday night she talks about this project and her unique and delicate process of capturing light on film by by hand.
PICA Annex • NW 13th & Flanders • 7pm • free to PICA Members / $2 general

Pinball Publishing Book Release with Vladmaster performance
922 SE Ankeny Portland
Local champions of the small press, Pinball Publishing, release their second poetry title, "Suspension of a Secret in Abandoned Rooms" by Joshua Marie Wilkinson. This book-length poem emerges from the author's exploration of Egon Schiele's work, region and era. Also joining in the festivities is local indie-film rock-star Vladimir, presenting one of her classic Viewmaster performances. If you haven't seen one of these before, you are truly missing out.
at NAAU • 922 SE Ankeny • 7:30p to 9:30p • free

Friday, June 17th

Andi Kovel & Justin Parker Reception at Contemporary Crafts
You may be most familiar with the work of these talented two as Esque functional glass objects and home accessories, gracing the tables of Clarklewis and GBT. At CCG they bridge art, craft and design, each presenting site-specific installations revealing their technical skill and conceptual wit. Sure to be playful and voluptuous. Also on view, works by ceramist Ted Vogel. See Saturday for accompanying lecture.
Contemporary Crafts Museum & Gallery • 3934 SW Corbett Avenue • 5:30 to 8p

Saturday, June 18th


Hilary Pfeifer on the panel at CCG

Panel Discussion: Making a Living Through Making Art: Bridging Craft & Design
Hello young artists (and older). This one's for you! In this day and age there's nothing more formidable than a business-savvy artist. Listen up as Andi Kovel, Hilary Pfeifer and Tom Ghilarducci discuss working as a professional artist in a variety of arenas: museum exhibitions, fine craft shows, design shows, galleries and interior design. They will discuss the merging of studio practice with aesthetics and business and the challenges of making your living through art. I just might have to sneak in a tape recorder for this.
Contemporary Crafts Museum & Gallery • 3934 SW Corbett Avenue • 1p

Art on the Block @ Disjecta
(THIS POST WAS ORIGINALLY INCORRECTLY LISTED ON FRIDAY)
Andrew Dickson wanders back from sunny L.A. to grace us with his auctioneering expertise and City Commissioner Sam Adams joins in for Disjecta's action packed fund-raiser. I'm certain there will be a lively crowd and perhaps some festive shenanigans as Disjecta makes a run for phase two of their development. Who knows, you could walk out with a steal of a deal from Brad Adkins, Damali Ayo, Chandra Bocci, Troy Briggs, Bruce Conkle, Harrell Fletcher, Kim Hamblin, Sean Healy, Chris Johanson, Jesse Durost, Ericka Kohr, Marne Lucas, Melody Owen, Bonnie Paisley, Joe Thurston, Terry Toedtemeier... Need I continue?
Music provided by Clampitt, Gaddis & Buck
Disjecta • 230 E Burnside • 7 to 10p • $?

One Min Film Festival + Themed Art Show @ Holocene
And the theme is... "pockets"! Over forty short-shorts, art on the walls and then a DJ. Participants are a mystery but with 40 to choose from, there's sure to be some gems. Then you can dance your little heart out.
Holocene • 1001 SE Morrison • doors at 8p, show at 9 • $3 to $10 (sliding)

Also opening Saturday is the John Singer Sargent exhibit at PAM.
Posted in PORT: portlandart.net on June 15, 2005 09:53 PM
Tonight Disjecta does what they've always done best, performance, with a double-dutch jump-off between SF-based Double Dutchess and Seattle's On the Double. Expect costumes, choreography, camp and sass as these teams go head-to head (feet-to-feet?) to prove who's the best of the West. Also on the ticket is Daniel Addy's aerial dance group, Aviator, who defy the laws of gravity by walking on walls, suspending beneath bridges, and dancing in mid-air.

Disjecta • 230 E Burnside • Friday, June 10th • 9 p • $8
Posted in PORT: portlandart.net on June 10, 2005 09:41 AM
Ken Kelly at Pulliam Deffenbaugh

Portland's galleries are overflowing this month with fresh young talent. Thursday evening you might as well make a night of it...

ON 21ST
Don't miss the recent works of one of Portland's most promising young gems, Timothy Scott Dalbow at Laura Russo (in conjunction with the Carl and Hilda Morris Foundation Young Artist Exhibition). Dalbow's abstract landscapes capture Portland's architecture with a varied palette and a skilled and easy stoke. Also showing are Josh Arseneau (Paintings), Anna Daedalus (Photography), Anne Glynnis Fawkes (Paintings) and Eric Franklin (Glass Sculpture).
Through July 2, 2005 • Opening June 2, 5 to 8pm
Laura Russo Gallery • 805 NW 21st Ave. • Tel. 503.226.2754

IN THE PEARL
Over 50 recent grads present their accomplishments and celebrate their new-found freedom at the reception for PNCA's Focus 2005 BFA exhibition. My picks are Alex Felton's stop animation drawings, Scott Porter's overly precise minimalist installation, Shawna Ferreira's restrained intaglios, Sarah Nordbye's custom commercial interiors and Patrick Meloy's towering neckties.
Through June 18 • Opening June 2, 6 to 9pm
PNCA • Steven's Studios • Corner of NW Johnson & NW 15th • Tel. 503.226.4391

Reminicient of Rorschachs, tattoos, spiderwebs and heavy metal, Ken Kelly presents "Babble" a new collection paintings on canvas at Pulliam Deffenbaugh. Impressive large patterned abstractions.
Through July 2 • Preview June 1, 5:30 to 7:30pm • Opening June 2, 5:30 to 8:30pm
Pulliam Deffenbaugh • 522 NW 12th Ave • Tel. 503.228.6665

CHINATOWN
Over in the Everett Station Lofts, Martin Ontiveros presents "Mestizo" a semi-autobiographical exhibition exploring the boundaries and borders of culture through a series of superheroes. See his bold, precise, graphic-inspired paintings at Genuine Imitation.
Through July 1• Opening June 2, 6 to 9pm
Genuine Imitation Gallery • 328 NW Broadway #116 • Tel. 503.241.3189

Motel is packed with the luminous large-scale works of local up-and-comer Jesse Durost. Inspired by the color palettes of Baroque painters, Durost works with coffee, India ink and gold paint pen to craft transcendental drawings bursting with fluidity and rhythm.
Through July 2• Preview June 1, 6 to 8pm • Opening June 2, 6:30 to 9:30pm
Motel • NW Couch St between 5th & 6th Aves • Tel. 503.222.6699

DOWNTOWN
Gallery 500 presents "Habitat", the culmination of a week-long on-site endeavor where six artists build their own shelters and inhabit them alongside one another. After Thursday night, the completed art habitats will transition from lived-in community to preserved ghost town, as only one artist remains in the space until June 1. Katrina Scotto di Carlo, Nana Hayashi, Marc Snegg, Jeff Stratford, Liz Harris, and Gabrielle Woladarski.
Through July 1 • Preview June 1, 6 to 8pm • Opening June 2, 6pm to midnight
Gallery 500 • 420 SW Washington, Suite 500 • Tel. 503.223.3951

ON THE EASTSIDE
You thought Disjecta was dead or maybe just sleeping? Not so. They've been hard at work securing a new home and a gradiose vision for contemporary art in Portland. Preview The Donut Shop 9 and Portland Modern's latest gallery installment as Disjecta energizes the Templeton Building with 8,000 (!) square feet of unfettered exhibition space.

Since 2000 The Donut Shop has been a forum for imaginative art in purposefully non-traditional environments with a total of eight incarnations of the yeasty project. Donut Shop 9 features the work of Alex Hubbard (NYC via PDX), Frank Parga (NYC), Melissa Dyne (LA), Jon Harris (Australia), Molly Dilworth and Daniel Heffernan (NYC).

Portland Modern, Mark Brandau's gallery-in-print, presents its second exhibition from the sophomore issue in the same building. Diedrich Dasenbrock offers vibrantly colored nighttime photographs while Don Olsen exhibits humorous improvisational paintings on recycled panels.

Special Preview June 2, 6 to 9pm • Opening reception, June 4th, 6 to 10pm.
Disjecta • the Templeton Building • 230 E Burnside (Under the Burnside Bridge on SE 3rd)


Jesse Durost at Motel
Posted in PORT: portlandart.net on June 1, 2005 12:21 PM