I've been traveling and unpacking those sojourns and recently catching up on shows. There will be many articles on the way to round out the month. First though let's catch up.

Sad news, Vito Acconci has died. PORT interviewed this trouble making giant years ago and his last answer is advice all artists should heed.

Look who showed up in the New York Times, Portland's old Appendix gang is going to be moving American Medium to Chelsea. Congrats, we singled them out a very long time ago as ones to watch in this article from 2009 (they had a 5 year run in Portland as an incubator). As for terms like "Post Internet", like other terrible terms see; Minimalism, Postmodernism, Modernism, Cubism, Fauvism and Expressionism etc... its a very weak description of what is going on. More accurately it is the way geek cultures have flourished since the computer age made sharing sometimes obscure interests easier but it predates the internet and is more wholly related to the collateral effects of the computer/information age. Lots of luck as a Chelsea gallery is a very difficult thing to pull off these days if you aren't selling blue chip work. That said its what the art world needs to do.

Then there is the whole mess with the Metropolitan Museum's ouster of its Director. Everyone, everywhere during my travels wanted to talk about this and Vanity Fair did a decent job of unpacking it. Really what happened was the way the Director bled out institutional experience in favor of updating agendas... and there was inter office blowback. It has nothing to do with deficits which the Met routinely runs (its a typical non profit shell game). The thing is the Met was a supreme repository of institutional knowledge (much of it arcane)... yet was moving too fast into new digital interfaces and educational mandates. With encyclopedic museums there is a danger there... to undervalue what it already does well and many such institutions have had similar problems. Basically it is disrespect for one's core competencies and I see it as a moment where the war on expertise (in the guise of edutainment) had an interesting little big horn moment. The problem is further exacerbated as many digitally savvy Gen X and Millenials just don't feel like museums are speaking to them anymore as a front for the 1%. That is a big problem, but I dont think losing core competencies is the right way to go. Charging tourists isnt the right way either... go open source. Simply put, museum's need to be a very physical manifestation of the rich making riches available to all.

Last but not least the Portland Art Museum's Rothko Pavilion plan is causing some friction and Bike Portland covers it. I'm a big proponent of the Rothko Pavilion... it was my idea before PAM ever thought it even possible. Still, I believe this is a good thing. I believe that PAM was making a very understated architectural footprint to avoid stirring these sentiments up but what they needed was a bit more architectural temerity (this isnt a 1% grab of public space since the pavilion would be open to foot traffic). OK tough questions... can Vinci Hamp do a redesign that goes beyond just the basic "museum" dictates and creates something that becomes an amenity for the Park Blocks and casual passers by? Perhaps a more adventurous architect is required? Privately, I have always indicated to PAM's director that this needs to bring the museum and park blocks together as a mixing zone rather than present PAM as a bunker. I just think this site is more complicated than the current design contends with. Yes, addressing these issues will cost more $$$ but I believe the added complexity will help both PAM and the South Park blocks area become something more than what they already are... islands. What is more I'm not certain this needs to be a cyclist's super highway through the museum... that isn't a realistic or sober goal. The current space has some foot traffic and almost no bike traffic... a redesign could be more inviting... perhaps to a rooftop sculpture garden open for free 9AM-PM as a kind of Highline? Perhaps sacrifice the current tunnel? My best advice is PAM needs to be more like a park and less like a museum. That is something very difficult for most museums and boards to understand but in the current political climate being seen as a wealthy fortress isn't what they need. I could also bring some Rothko lore into this take as well (Rothko's worldview was like a lot of Portlanders of today are now). Basically. I believe there is a solution and it will make both the passer by and museum experiences better. Right now as it is the street and museum experiences are bit of a mixed bag and I hope all sides see this as an opportunity. Good can come from the Museum and the public having a strong dialog with realistic goals for once.
Posted in PORT: portlandart.net on April 28, 2017 10:48 AM

Surplus Space

Appropriately, Surplus Space is ending its run today with senseofplace LAB's curation, a title/happening that accurately describes the venue's brief existence. Instead of finely tuned exhibitions I'd characterize its output as a laboratory for inhabiting space with art and functioned almost as a kind of clubhouse. It is a kindred to other experimentally minded alternative spaces like the now closed Recess, Appendix and HQ Initiative and similarly its output tended to be more of a becoming rather than a a presenter of tight fully realized statements. That isn't a slight, interesting art cities like Portland need laboratories where things develop and these spaces need more financial support... and acknowledgement from more established institutions to complete the circle of relevance and patronage. In the past, some spaces like Haze Gallery and the New American Art Union managed to achieve both experimentation and excellence... they remain perhaps the two best programmed spaces in the past 16 years. Other newish spaces like Muscle Beach, S1 and Melanie Flood Projects carry a similar sense of influence and promise as they resemble how another now longish running alt space, False Front, always seem oriented towards putting on a good show. Sometimes a lab can just be a place of experimentation without judgement like Surplus Space... or at least it seemed a tad phobic of being judged as a final product. That's fine.

Thus, let's celebrate the diffuse nature of Surplus Space with its 5 part senseofplace LAB curated egress... here is their description:

1)Commemorative Donations as Installation

senseofplace LAB invites meaningful (to you) contributions that will become the materials for this work. Contributions can take any form, and will communicate and tell your stories.

2) Surplus Space Marker

The Surplus community is invited to design a small marker to be placed in front of the space, to mark the imprint of the gallery on the neighborhood. Markers should be made of materials that can withstand the elements, and be on the smallish side so when they are left outside they will be less likely to be removed. All the markers that are made will be installed in the gallery as part of the installation, and then placed out front as part of a ceremony during the opening.

3)Median as Commemorative Space

Over a period of two days before the opening, senseofplace LAB will invite collaboration to turn the median in front of the gallery into a location to acknowledge the gallery's presence. The space will be 'launched' during an event at the opening.

4)Markings (Surplus)

During the opening, the community will have an opportunity to fill out tags that are printed with 'This is where...' and attached to flags in the gallery as part of the installation.

5)Radial Shadows (Surplus) will be a series of site-responsive shadow drawings.

senseofplace Lab curates Surplus Space | October 31 - ?
Opening October 31 6 - 9PM
Surplus Space
3726 Ne 7th
Posted in PORT: portlandart.net on October 31, 2015 12:11 PM


Ellen George is simply one of the very best artists in Portland... if you don't know this it is likely because she is a woman and doesn't teach/or an alumnus of one of the local art schools. She's one of the very sci-fi/design savvy artists I keep mentioning (Damien Gilley, Avantika Bawa, Laura Fritz, Jordan Tull, Paula Rebsom, Laura Hughes, Tony Chrenka, Wendy Given, MSHR, Matt Leavitt, Nathaniel Thayer Moss, Jenene Nagy, the former Appendix guys etc.) The genre is significant because they thrive on the shifting uneasy future of civilization as channeled by the Portland ethos, which isn't restricted to Portland). Also, her projects with Jerry Mayer are consistently very strong as well, and their latest "Formation" at NineGallery looks like another winner.

Formation|Jerry Mayer & Ellen George
August 5 - August 30 2015
Opening Reception: August 6th 6:00 - 9:00PM
Nine Gallery (Enter through Blue Sky Gallery)
122 NW 8th Avenue




PNCA's Low-Residency MFA in Visual Studies is one of my favorite programs in Portland and the thesis exhibition for the 2015 is something you should catch.

Drift: PNCA's Lo-Rez MFA Thesis 2015| July 30 - August 9th
First Thursday Reception: August 6th, 6:00 - 8:00PM
Regular Viewing Hours: Mon-Sat, 9am-10pm, Sunday, 10AM-6PM
Pacific Northwest College of Art| Lemelson Innovation Studio (ground floor)
511 NW Broadway




Posted in PORT: portlandart.net on August 6, 2015 02:06 PM
A healthy art scene identifies and welcomes new talent but we should also be keeping an eye out for new presenters, who often have the hardest job of all... that of not only opening new doors... but also keeping them open.

At PORT, we take seriously the role of identifying new talent early on... not simply jumping on a bandwagon after new artists and spaces are established (but I also want to see if there is staying power). Thus, it is time for another installment of our New Faces series, focusing on new leaders to the art scene because it is precisely these early beginnings where being a talent scout can do some good.

Every few years we seem to have a sea change where some familiar spaces shut down (in the last few years it was Worksound, Place and Appendix) and it leaves holes which some enterprising new faces seek to fill (Place was forced to transition to Surplus Space and both Adams and Ollman and Upfor Contemporary have added to the gallery scene but what gets me up in the morning are discovering what those "wildcard", unproven new personalities might accomplish). Although nobody is doing anything the size (ie a large industrial space) and the consistently international scope of Worksound it looks like there is definitely a new crop in the works.




HQ Objective is (L to R) Johnny Ray Alt and Andre C Filipek

In April 2014 Andre C Filipek and Johnny Ray Alt inaugurated the HQ Objective's project space, titled HQHQ (think HQ squared) in the depths of the venerable Oak Street Building in the heart of Portland's Central Eastside Industrial District. It is an industrial neighborhood where so many alternative spaces and warehouse shows have taken place but HQHQ with its faux wood floors make it feels far more more polished than previous efforts. Filipek and Alt are both recent PNCA grads with an aesthetic reminiscent of the now shuttered Appendix Project Space. What's different is a somewhat more design-y and an early international outlook they have taken, including an artist from the UK in their May show. Definitely a space to keep one's eyes on.

HQHQ
232 SE Oak St. #108






Lindsay Jordan Kretchun and Jessica Breedlove Latham at Duplex Collective

Duplex is another art and design minded alternative space headed by the whipsmart duo of Lindsay Jordan Kretchun and Jessica Breedlove Latham.

...(more, C3: initiative, Hap & Muscle beach )
Posted in PORT: portlandart.net on July 16, 2014 03:11 PM

Amy Bernstein

We have waited an incredibly LOOOOOOOONG time for PORT's own Amy Bernstein to do a solo show of her paintings but on Sunday it will finally be here with Notes at Nationale. I can safely say she's obsessed with possibilities and permutations of meaning... and I don't think there is a distinct difference between the visual moves of painting and the meaning of words in her world. She moves between the two fluidly but never really settles. Perhaps the visual and language are two sides of the same coin, one which always comes up heads as she keeps tossing it? She's one of Portland's best painters and really pushes herself hard.

Notes | March 6 - 30, 2014
Reception Sunday, March 9, 2 - 5 PM
Nationale
811 E Burnside





Once again Disjecta's biennial offering dubbed Portland 2014 will open in various locations (some better, some worse) but the main opening is today march 8th from 6-10PM at Disjecta. Already, this year is notable for not having very many female artists... (more)
Posted in PORT: portlandart.net on March 8, 2014 02:03 PM

Jorge Pardo's Streetcar Stop for Portland (detail inside at night), Best Installation 2013 (all photos Jeff Jahn)


Complacency is a state of mind that exists only in retrospective: it has to be shattered before being ascertained. -Vladimir Nabokov


Portland's art scene was incredibly active in 2013 so I wouldn't describe it as year defined by complacency but like some aspects of 2012, specters at the institutional level still linger (mostly a divide between too much interest in old regional stereotypes to the exclusion of an immense influx of more varied and internationally relevant work). Still gains were made, such as when RACC changed their grant language to invite independent curatorial projects and new media to apply for project grants. The other fact is that Portland's living art scene still remains a meritocracy largely underinfluenced or spoiled by the art market.

Since Portland is both small and hot in terms of international interest, complacency should be our chief area of concern. Do we support what we already know better than what challenges us?

I counter that criticism is a cure for complacency, and by that I mean real criticism... not the kinds that merely flatter and reiterate artists statements as a kind of marketing for friends, community support and favored galleries or simple rants. I'm writing specifically about criticism that expands the discussion and illuminates the pressure points, right or wrong it matters not as long as there is informed intellect and integrity at work. Criticism will ruffle feathers (even when positive) and cannot be expected to go down any smoother than the visual art can be expected to. Practicing this type of criticism is an earned errand and 2014 marks my 15th year in the city.... (more)
Posted in PORT: portlandart.net on January 1, 2014 06:45 PM

Attend, Mike Rathbun at Archer Gallery

There are a lot of shows ending this weekend at the Art Gym, Lumber Room and Appendix is closing for good tonight (Eutectic has a nice holiday show opening too)... but perhaps the most satisfying of them is Mike Rathbun's large scale effort "Attend" at the Archer Gallery, which closes Saturday December 7th.

Attend | October 8 - December 7
Closing Reception and Talk: December 7, 12 - 1PM
Archer Gallery | Clark College| Penguin Union Building
1933 Fort Vancouver Way, Vancouver Washington
Gallery Hours: T-Th 10AM to 7PM, F & S noon to 5PM
Posted in PORT: portlandart.net on December 6, 2013 11:48 AM
The Portland2012 Biennial was a failure mostly because nearly everyone was in it except the most exciting group of artists in town (all associated with the alt spaces Appendix, Worksound or both), it didn't discover anyone new, it was in too many locations and was installed incredibly poorly at the two largest spaces (Art Gym and Disjecta).

The list for 2014 by LA curator Amanda Hunt should address some of those problems by including some of the scene's favorite practitioners who were noticeably absent last time but there aren't many women on this list:

Zachary Davis (cofounder Appendix)
Modou Dieng (founder Worksound) and Devon A. Vanhouten-Maldanado(Worksound)
Alex Mackin Dolan (curator Appendix)

...(more)
Posted in PORT: portlandart.net on October 29, 2013 01:04 PM


It is the end of an era as Appendix presents its last show Sallymander by Alex Felton. What constitutes the most culturally significant garage in Northeast Portland the appendix guys and a few gals have done great things with an internationally relevant outlook for the past 5 years. Not certain what to expect but the words, "a kind of encyclopedia made into farce," jumped out at me from the press release.

Sallymander
Opening Reception: October 4, 8 - 11:30 PM
Appendix
located in the south alley between 26th and 27th Avenues off of NE Alberta St.



Posted in PORT: portlandart.net on October 4, 2013 12:17 PM
Portland's art scene is full of schism's and divides (often generational) but two artists from two completely different universes Eric Stotik (a 1990's standout) and Alex Mackin Dolan (a 2012 PNCA grad) happen to be exhibiting 7 blocks from one another. To add some urgency, this is the last weekend for their shows.

As artists Stotik and Mackin Dolan's universes (circles of fellow artists, collectors, curators and critics) likely never intersect but what they each share is a hermetic zeal for their obsessions. Both are deep alchemists combining visual minutiae that seem to exist as as a kind of global existential unconscious.



Eric Stotik, Untitled LR233 (bird, octopus, horn), 2013 (detail)



Alex Mackin Dolan's Sun Table

Stotik works with the darkness and secrets which humanity keeps... Dolan with the existential sunshine of blotting out the world and turning to pursuits within.


...(more)
Posted in PORT: portlandart.net on September 28, 2013 10:50 AM
Even though Appendix is having their last exhibition next month we have noticed how Alberta Street's scene has been becoming more serious as of late. It doesn't hurt that the city's two best art book stores Monograph and Ampersand have set up shop! Here are 3 picks for Alberta street tomorrow.




still from Lucas Cook's Welandedonthemoon

For this month's video installation Living Room Realty is presenting Portland based Lucas Cook's work. Wine and snacks are courtesy of LRR.

Lucas Cook | September 26 through October
Opening: September 26, 6-8 PM
Living Room Realty
1455 NE Alberta St


... (more)
Posted in PORT: portlandart.net on September 25, 2013 11:30 AM

THE PROJECTS


THE PROJECTS is a festival of experimental comics and narrative arts, happening at the IPRC and other locations from August 22-25 2013. There will be 4 days of workshops, exhibitions, panels, performances, projections and projects. HERE is the program.

The festival is a free event seeking to leave behind the flat model of comics as commerce. Check it out !


THE PROJECTS | festival of experimental comics and narrative arts
August 22 - 25, 2013






Cameron Soren & Melissa Sachs


Cameron Soren & Melissa Sachs present Weepy Donuts, the result of their art "jam sessions". On a Wacom tablet, lying down in bed, high on Kratom (Southeast Asian plant, when consumed in tea, similar effect to morphine), they produce "paintings". The artists seek to "pick up the viewer" by escaping into a drug-induced pod and looking inward.



Weepy Donuts, the Kratom Kids | Cameron Soren & Melissa Sachs
Opening | August 23 | 8 - 11:30 PM
Appendix Project Space | South alleyway off of NE Alberta St. between 26th and 27th Aves in Portland, OR.





& there's an exciting talk on Sunday too !
Posted in PORT: portlandart.net on August 22, 2013 09:31 AM

Mandala
two adult sparrows, baby sparrow in nest, dried plants
& mixed media in modified wooden box
9 1/2" x 5 5/8" x 17 1/8"


Ampersand is pleased to present Memory / Magic / Wonder, Matt Hall's second solo show at the gallery. This exhibition consists of mixed media assemblages and large-scale ink on paper drawings. This work explores historic perceptions of the natural world and our sense of wonder & magical phenomena.

His inspiration stems from his childhood fascination with the agility of birds in flight, fish breathing under water & dogs navigating with their sense of smell. Hall's assemblages bring to mind curiosity cabinets of natural history museums, yet on a deeper level they allude to reliquaries. His pieces evoke spiritual practices in which direct interaction with animal parts is thought to transfer magical & totemic powers. Hall has also made a series of intricate drawings in an effort to show the multiple layers of his working experience. He shows a slight glimpse into the horror, strangeness, & magic of his process.



Memory / Magic / Wonder | Matt Hall
Preview Reception with artist | July 24th | 6-10 PM
& open late Last Thursday
July 24 - August 25, 2013
Ampersand Gallery & Fine Books | 2916 NE Alberta St., B, Portland, OR 97211




& there are more openings on the 25th & 26th . . .
Posted in PORT: portlandart.net on July 23, 2013 06:15 PM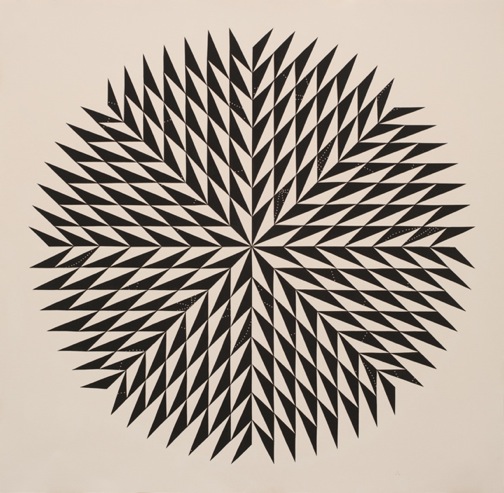 Lena Wolff
Black Dahlia (variation with white dots), 2013
collage with hand-cut & hole-punched paper
40 x 40 in


Ampersand is pleased to present Call & Response, featuring work by Bay Area artist Lena Wolff & Colorado-based artist Corey Drieth. While rooted in the patterns & iconography of American quilt making, Wolff's works explore the nuanced visual languages of op art, geometric abstraction & color theory. They are comprised mainly of cut paper painted with watercolor & gouache. Wolff reveals a dynamic organization that involves rhythm, repetition & a sense aliveness.

Corey Drieth's gouache & wood paintings explore contemplative spiritual experience inspired by religious traditions such as Zen Buddhism & Quaker Christianity. Citing artists such as Georgia O'Keefe, Agnes Martin & Richard Tuttle as precedents, his work aligns with the American traditions of small-scale, non-representational abstraction. Drieth's new drawings, composed of graphite & white colored pencil on aspen wood, directly explore two kinds of order, the organic & the analytic. The works are rooted in childhood memories of his father drawing diagrams on pieces of wood used to construct utilitarian & decorative objects. "I thought that the marks on the wood were in and of themselves interesting, incomplete & full of potential," notes Drieth.


Call & Response | Lena Wolff & Corey Drieth
June 26 - July 21, 2013
Preview Reception | June 26th | 6-9 PM
Also open late on Last Thursday
Ampersand Gallery & Fine Books | 2916 NE Alberta St., B, Portland, OR 97211







Still from Bad Religion


Bad Religion was made for an exhibition in San Francisco where a group of artists were asked to make work in response to a short, ephemeral video prompt provided by the curators. Stephen Slappe began his entry by giving himself one rule, that he would only watch the video prompt three times. During the initial viewing, he took in the video, making no attempt to purposefully record any specifics. The second and third viewings involved much note taking, jotting down short phrases about the tone, content, and formal details of the video.

Slappe got the sense that the characters were always fragmented or obscured, it felt mysterious and ritualistic. The trajectory of one character toward another character communicated both urgency and inevitability. For Bad Religion, he lifted these tonal and structural qualities, amplified, then transposed onto new images and sounds.


Bad Religion Video Loop | Stephen Slappe
June 27 - July 24, 2013
Opening Reception | June 27th | 6-9 PM
The Light+Sound Window Gallery | 1422 NE Alberta St, Portland OR






& there's more happening on the 28th and the 29th !
Posted in PORT: portlandart.net on June 25, 2013 03:58 PM

Park Avenue Armory (photo James Ewing)

Congrats to Alex Mackin Dolan who was just awarded a residency at New York's immense Park Avenue Armory. In fact, he is the residency's first visual artist... others being mostly performance based. Once again, clear evidence that Portland's art scene is producing sharp new artists that one gets to see develop in very cool, low key alternative spaces... who then completely leap frog the very conservative local-ennials, institutions and awards to end up on the international stage. Dolan has also been curating Appendix, one of Portland's hippest alternative spaces (often Appendix is more experimental than fully realized but I like the risk taking it engenders).

Only just recently in the past year or so has Alex really found his voice... harnessing the design language and cognative projections accrued around the idea of purity (which should be a huge challenge to evoke in that space). In other words, local curators who are not going to alt-space shows are hopelessly out of touch with a scene that is among the most dynamic on the planet. Mackin is just one of perhaps 15-20 hard core like-minded artists in perhaps 2-3 interrelated cliques who harness, interrogate and redirect design's cognitive/perceptual implications. All have a very international outlook and Alex is one of the youngest. I keep saying it, use Portland as a rebel base.
Posted in PORT: portlandart.net on May 15, 2013 11:00 AM

Jane Schiffhauer


Jane Schiffhauer's installation created by handmade undulating nets, ropes, foliage, human hair, and found objects explores the intricacies of our being in relationship to our surrounding environment. Body of Knots highlights the anxieties between what it means to be human and live in contemporary society. Schiffhauer seeks materials that are often contradictory in their nature as well as their purpose in order to comment on gender and the body. For example, ropes may bind as well as create a way of escape and nets may be used as a trap or to offer security.


Body of Knots | Jane Schiffhauer
May 9 - 29, 2013
Reception | May 9th 6-9 PM
Littman Gallery | PSU Smith Hall, Room 250. 1825 SW Broadway. Portland, OR 97201
www.pdx.edu/littmanandwhite/


Fern Wiley's minimal & nuanced drawings are a meditation on the passage of time and energy. Art making for Wiley is a product of her grappling to understand and conceptualize human experience. Currently, Wiley is working from more abstract points of reference, to examine our experience of time and space.


Accumulation | Fern Wiley
May 9th - 29, 2013
Opening Reception | May 9th | 6-9 pm
White Gallery | PSU Smith Hall, Second Floor. 1825 SW Broadway
www.pdx.edu/littmanandwhite/




click through for more art !
Posted in PORT: portlandart.net on May 8, 2013 11:11 PM

http://www.recessart.com/

RECESS is excited to present a curated exhibition of resumes and curriculum vitae collected throughout the early months of 2013. The exhibition will open in conjunction with their 2013 open studios. Making a resume is a challenge. Job seekers are pressed to reduce their experiences into coherent chunks, hoping to manifest their specific person-hood on the page. In both content and form, the resume or curriculum vitae becomes a singular portrait of the job seeker's professional self. For Hire explores the methods adopted by job seekers to vocalize their professional merit. For Hire is an exhibition of resumes accepted through an open call in March of 2013.

Not only does RECESS have great events and good exhibits, but also it is home base for several artist who have studios there. On April 5th these artist are opening the doors of their studios and sharing their work. The artists include : Maggie Craig (Figurative Painting), Jenny Vu (Drawing, Painting & Comics), Lucile Marlome (Jewerly Making), Erica Edmonson (Sculpture & Textiles), Ashley Burke (Graphic Design), Paul Clay (Video & Performance), and Chloe Kendall (Video & Printmaking).

For Hire | mulitple participating artists
RECESS OPEN STUDIOS | mulitple participating artists
Opening Reception | April 5th | 7 PM - late
RECESS | 1127 SE 10th Avenue. Portland, OR 97214
http://www.recessart.com/





& there's more ...
Posted in PORT: portlandart.net on April 4, 2013 08:22 AM

Bruce Nauman, Basements at Reed College, (far left) Wall-Floor Positions, 1968, (large center) Dance or Exercise on the Perimeter of a Square (Square Dance) 1967-68 (photo Jeff Jahn)

2012 held what was perhaps the highest quality collection of exhibitions in Portland's history... partly because most of the major institutions really stepped up their game when it came presenting major artists (since when does Portland ever have 2 Bruce Nauman shows in one year?)... while the very vital street level contemporary scene added a great deal of new intrigue and conceptual rigor to the mix. I also penned an Op Ed in the Tribune about Portland's current cultural prominence and how to keep that momentum going.

Still, there is a schism between Portland's most cutting edge artists and its top tier institutions/awards who seem more comfortable with mid-late career and academic concerns than challenging/interesting art with a fine edge (the kind that most professors have trouble keeping).

(... much more with; Rothko, Nauman, Kelley, Arnold, Cornaro, Schenk, Thompson etc...)
Posted in PORT: portlandart.net on December 31, 2012 09:11 PM
Peter Happel Christian @ Ditch Projects

Out in Springfield this Friday, there's a new exhibition entitled Long Nights, Long Days by the Minnesotan interdisciplinary artist, Peter Happel Christian. The exhibition draws its title from a pair of photographic works produced by Peter during the summer and winter of 2012. "One bundle, Long Nights, was removed from its packaging in the artist's backyard, recorded the entire duration of winter beginning on December 22, 2011 and ending on March 19, 2012. The second bundle, Long Days, was opened in a darkroom and processed through a fixer bath first, recorded the entire duration of summer beginning on June 20, 2012 and ending on September 21, 2012."

Long Nights, Long Days | Peter Happel Christian
Opening Reception | November 9th | 6-9 PM
Ditch Projects | 303 S. 5th Avenue #165, Springfield

Also this weekend, a group show at Appendix and the start of the NWFF. More details are behind the cut.
Posted in PORT: portlandart.net on November 8, 2012 04:38 PM

Still from Torse,USA, 1977, HD resotoration of 16mm double projection, color, sound, 55 min. Image courtesy of Cinema Project.

This weekend, Cinema Project kicks of their yearlong residency at Yale Union(YU) with a screening of Torse by Charles Atlas. YU has built an impressive theatre on their second floor for the film and video curation of Mia Ferm, Michael McManus, and Heather Lane. Torse is a dual-screen rendition of the dance original choreographed by Merce Cunningham, the prolific avant-gardist keen on collaboration. "Shot at the University of Washington with three 16mm cameras - two mobile and manned by Cunningham and Atlas to capture close-ups and a third stationary - Atlas edited the piece to appear on two screens side by side. This strategy allows viewers to see the dance from various vantage points at once. From Einstein's theory of relativity, Cunningham took the idea that there are no fixed points in space, therefore no intended perspective point, no preferred seat from which to watch." With two night time screenings, you'll be able to check this out despite your plans to attend the Stock Dinner this Sunday.

Torse | Charles Atlas
Curated by Cinema Project
Sep. 29 + 30 | 9 PM
$7 Suggested Donation
Yale Union (YU) | 800 SE 10th Ave




This Saturday, Appendix Project Space presents This New Ocean by Chicago-based artist Daniel Baird. "Daniel Baird's sculptures treat contemporary objects and materials as items of myth, rendering them into linked symbols of light, passage, and stasis. Removed from their original role as component pieces they approach their core purpose, a transaction of energy and attention."

This New Ocean | Daniel Baird
Opening Reception | Sep. 29th | 8 PM
Appendix | the south alleyway off Alberta St. between 26th and 27th Aves.
Posted in PORT: portlandart.net on September 28, 2012 03:54 PM

Still from video documentation of Sean Carney's Abjackass

Almost as if to whet the city's palate in preparation for TBA, the White Box invites talented locals to fire away with pop-up-like shows/events each day this week. You might have already missed Lisa Radon today, but don't miss out on tomorrow's light workshop with Laura Hughes. Participants will be able to get their hands on some of the new phosphorescent materials she makes use of in her new work. With a depth of exploratory vision and a working knowledge of electronics, the clever Stephanie Simek presents a new sound experiment on Thursday. On Friday Wayne Bund performs as Feyonce, his queer appropriation of pop diva Beyonce. His character, the ephemera on view at Show and Tell, and his performance are intended to "challenge pop culture, radical feminism, and drag lineage"; it's a tough job, but someone has to do it. Then finally, on Saturday, catch some documentation of prior performances by the successfully abject Sean Joseph Patrick Carney and Michael Reinsch. Sean Carney will present video documentation of a 25-minute long performance that highlights the "links between the history of performance art and stunts by the members of Jackass." If you're faint at heart and looking to actually laugh while being challenged by popular culture, though, I would stick with the drag show.

Show and Tell
Featuring Lisa Radon, Laura Hughes, Wayne Bund, Stephanie Simek, Michael Reinsch and Sean Joseph Patrick Carney
August 21st - 25th | Performances 6-8 PM each night
White Box | 24 NW 1st Avenue



Katja Novitskova @ Appendix

With a remarkably up-to-date response to current events, Katja Novitskova is the newest addition to a brand new line of web releases from Appendix Project Space. Available to view online from tomorrow at noon through early September, Curiosity and Opportunity: Next Best Thing to Being There is a solo exhibition "in the form of a panoramic application. The resulting show features several existing objects and appropriated images that express the unity of art, technology and nature as form-finding processes based on curiosity and opportunity."

Curiosity and Opportunity: Next Best Thing to Being There | Katja Novitskova.
Opening at 12 PM, August 22nd
Appendix (via the web) | http://appendixspace.com
Posted in PORT: portlandart.net on August 21, 2012 05:26 PM
Unlike New York, LA or London, Portland's gallery season starts on January 1st and ends on December 31st... perhaps because our excellent summers attract people from elsewhere while keeping us here? Instead, we tend to flee Portland's arch-soggy December through February months.

The first half of Portland's 2012 visual art season was a doosy headlined with a Mark Rothko retrospective that transformed the way a many Portlanders view its local art museum + civic cultural history. Also, the news that our alternative scene was worthy of international attention, leaving more traditional galleries in the dust was a wake up call. Why the galleries don't at least attempt to harness some of that energy in their inevitable summer and winter group shows like they used to... I'll never understand? I guess they think selling the same art to the same collectors over and over again is a good idea? Especially when new players keep moving here and begin looking for the action they read about but cannot be found in the Pearl District. C'mon you know I'm right, Portland is going through massive changes... act accordingly, there is a new set of waves to catch.

So what is in store for the second half?




At MOCC Design with the Other 90%: CITIES (Photo: (c) Haas & Hahn for favelapainting.com)

On Friday the Museum of Contemporary Craft fully morphs into the design museum a city full of designers calls for with Design with the Other 90%: CITIES. The show was organized by Cooper Hewitt and the Smithsonian making its only West Coast stop in Portland at MOCC and Mercy Corps.




Kara Walker, (detail) Fall Frum Grace, Miss Pipi's Blue Tale (2011), Courtesy of the artist and Sikkema Jenkins & Co.

On September 4th the Cooley Gallery re-opens with Kara Walker's More and Less. Featuring prints from Jordan Schnitzer's print collection and her latest film "Fall Frum Grace, Miss Pipi's Blue Tale" (2011). Walker will come to Reed to speak on October 2nd... you might want to take that day off to get a good seat!


... (much more)
Posted in PORT: portlandart.net on August 16, 2012 12:45 PM

Bea Fremderman @ Appendix
Taking another ride on the appropriating-corporate-aesthetics wave, Appendix presents a series of, let's say, assemblages by Bea Fremderman. Appendix states "The recuperation of such standard materials subverts use value in a form of resistance. Much like the bureaucratic condition of office environments, the valid structural organization of things remains enigmatic and unknown." Born in Moldova and living in Chicago, Fremderman recently received a BFA from the School of the Art Institute of Chicago. Delve deep into the source material of her work to give currency to its purported subversive function.

S,M,L,XL | Bea Fremderman
July 26th | 8 PM
Appendix| South alley between 26th and 27th on Alberta St.
Posted in PORT: portlandart.net on July 26, 2012 12:56 PM


Last January I authored an OP Ed piece on Portland's somewhat troubled relationship with supporting internationally notable levels of excellence with special focus on the arts. Before tonight's town hall style panel discussion on the subject I'd like to dig a little further.

First of all, it is an indisputable fact that the artists who have been flooding into Portland since at least 1999 (often educated outside of Portland) have changed the expectations and awareness of the city as an interesting art city worthy of international attention. Now the New York Times stalks Portland for its edgy funky charm... they never quite get it that it is the permissive arts atmosphere. It all started when the 1999 Oregon Biennial shocked people with multimedia work. In 2002 I staged a show called Play to show just how different things had become and in 2003 a series of large warehouse shows Beamsplitters, The Best Coast, The Modern Zoo, Core Sample and Battle of the Artist Curators all hammered the point home. Portland has been interesting for at least 13 years now but...

...(more)
Posted in PORT: portlandart.net on July 19, 2012 06:05 PM

Michael Iauch, Cowboy(still), 2012, high-definition video, stereo sound, 4:02 minutes, looped, image courtesy of FalseFront

False Front presents a new series of video works by Michael Iauch. The artist writes, "Is our romance more like a disease? Do we like S&M? I am concerned with an inspired by the tension between my desire for a "pure" experience, to truly transcend the barriers of my mind and body and the decadent utopic visions of American culture that animate this desire; a mix of rock and roll promises, 60's back-to-the-land ideology and the moralistic horizons of greening."

Cowboy / Natural Beauty | Michael Iauch
Opening Reception
July 14th | 7-10 PM
FalseFront | 4518 NE 32nd Avenue




With their second web-based release, Appendix presents [Rare Earth Sculptures] - Cerium by Iain Ball, part of his ongoing project E N E R G Y : P A N G E A. Beginning Tuesday July 17th, this new work will be visible at www.appendixspace.com through the end of July. In Ball's project, Appendix is transformed into one module of his/the greater systemic machine, alongside the mechanics of hydroshearing seen in a dormant Oregon volcano, alongside your computer, alongside your attentive inquiries. Ball conceives of the show as "mind space which creates metaphysical undercurrents directed towards hyperobjects distributed through various technological apparatus, minerals and weather patterns... Cerium uses detritus associated with filtration, transformation and a composite formula resulting in carbon dioxide to create a kind of homeopathic remedy, filtering escalating climate-anxiety as a catalyst towards the ecological thought." Navigate your browser their way on Tuesday. Implore further. Stay plugged in 'til the end.

[Rare Earth Sculptures] - Cerium | Iain Ball
a part of TheEnergy Pangea Project
Appendix (via the web) | http://appendixspace.com
Posted in PORT: portlandart.net on July 14, 2012 01:25 PM

MSHR instruments

We tend not to cover performance art much being a visual art focused site but MSHR's performances look to be as much interactive sculpture/installation as performance... that and what better way to celebrate the summer solstice than at Appendix? Here's the PR:

"MSHR is a collaborative project by Brenna Murphy and Birch Cooper from Oregon Painting Society. The duo harnesses elemental forces to nurture ecstatic cybernetic ecosystems. Their sculptural human-electronic interfaces offer visitors interactive ocular/aural experiences within an augmented reality of mirrored glowing sand glyphs, sonic ancestral rainforest codes and misty laser feedback corridors. In two presentations, MSHR will ritualistically engage a trans-dimensional organic synthesizer to unfold earthly doors to terrestrial transcendence."

Oh yeah... well don't cross the streams!


Solstice opening: Wednesday, June 20th
Opens 7PM | performance 9PM

Last Thursday closing June 28th
Opens 7PM | performance 9PM

Video Screening: Sunday July 1st
MSHR curates a 45-minute compilation of influential video art, 9PM


Appendix Project Space
south alley between 26th and 27th Avenues off of NE Alberta Street
Posted in PORT: portlandart.net on June 19, 2012 10:06 PM

Christian Oldham at Appendix

The notifications sent out attracting people to Christian "Megazord" Oldham's Chat with Flowers at Appendix typically give little away. It might be frustrating to stab in the dark, but I implore you to make the jaunt up North to investigate the work of my favorite of the ultra-trendy-90s-core-net-based-dudes whose work is maturing faster than Erin Jobs. Although the boys have little to say about the show at the moment, we were left with this lovely little link.

Chat with Flowers
May 29 - 30th and June 1st - 3rd | 7-10 P.M.
Appendix | south alley between 26th & 27th, off NE Alberta




Warm for Your Form, Bobbi Woods, 2011, Enamel on Poster

You won't have to sift through as many layers of shadowy "conceptualism" (or at least yard debris) to get to Bobbi Woods' opening at Fourteen30 tonight, but you will be confronted with some form of obfuscation. Here, the view of 1970s-era posters is almost totally covered by blankets of enamel. Fourteen30 writes, "Through an environment of repetition, in which the viewer is able to move easily between correlative works, Woods creates an experience predicated upon visual pleasure, desire, and obfuscation."

Warm For Your Form
Opening Reception | Friday, May 25th, 6-8pm
May 26 - July 15th, 2012
Fourteen30 | 1501 SW Market St.


Posted in PORT: portlandart.net on May 25, 2012 05:19 PM
In case you missed it:

DK Row actually did a nice job interviewing the three mayoral candidates about the arts in a 4 part series. This is what we expect the Oregonian to be doing, but sadly this sort of eye for relevance is rare and it's generally just gratuitous conservative "shrug pieces". PORT will have something even more targeted and incisive to help you separate these 3 candidates.

Eva Lake's first solo show in New York City seems to be going over well. I knew it when I saw this show at Augen... Eva was definitely onto something.

Jerry Saltz picks 10 artists to save the art world. He's wrong of course because he didn't pick any Portlanders... we are the "Capital of Conscience" as I penned in the Tribune's Op Ed a few months ago after all. So if I picked 10 Portlanders (who haven't already been in a Whitney Biennial) who would they be? I won't make too big a deal about this list but just off the top of my head these 10 are all ready and doing original, high level work with impressively sustained intelligence:

...(more)
Posted in PORT: portlandart.net on April 23, 2012 10:15 AM

Pure Clear at Appendix

Although not wholly realized, Alex Mackin Dolan's Pure Clear at Appendix offers up some tantalizing mimesis and outright readymade examples of boho and industrial design tropes that conjure "purity", while inviting in a Smithson-esque sense of entropic infiltration or even outright pollution. He's definitely onto something and tomorrow night is your last chance to catch the show.

"Using 'clear' as an initial password, Dolan chooses objects based on their deployment of specific color sets and materials, using them to investigate various 'eco-aware' memes and connections."

Appendix Project Space Closing Reception: 8:00 PM | April 18th south alley between 26th and 27th Avenues off of NE Alberta Street
Posted in PORT: portlandart.net on April 17, 2012 12:14 PM

"Perceptual Control" Resident Artist's Talk #1 @ Worksound

Worksound presents the first round of artist talks for their "Perceptual Control" residency program. Participants Nathanael Thayer Moss and Kyle Raquipiso will give presentations on their work. If this is anything like the series of lectures that accompanied the group of artists in "Shred of Lights", it'll be a Friday evening well spent. Also, this is a good chance to hear the elusive PNCA grad, Kyle Raquipiso, speak about his often enigmatic yet enthralling work. Moss @ 7pm; Raquipiso @ 8pm.

Artist Talks | March 23rd | 7 - 9 pm
Worksound | 820 SE Alder



...(More: Half/Dozen & Appendix)
Posted in PORT: portlandart.net on March 22, 2012 08:45 AM
Hmmm, need any more indications that the Columbia River Crossing's hurried, cheapie design wasn't all that well considered? Well it looks like they designed it too low. I sense this is only the tip of the iceberg and hopefully Washington State's deep funding crisis will kill this thing so it can be begun the right way... not Kitzhaber's rushed, even seismically short-sighted way (cable stay designs are currently superior to all other bridge types in major earthquakes, they also allow for higher clearances... that option was nixed as an option for cost and schedule reasons).

Roberta Smith's take on the 2012 Whitney Biennial... honestly the multi-disciplenary concept doesn't seem new to us here (TAM's current NW Biennial, TBA, Core-Sample in 2003, programming by Worksound, Rocksbox, Gallery Homeland, Recess etc.) but I do like the idea of it not being your typical Biennial where too much work is included with a "throw it and see what sticks" strategy. Here's Jerry Saltz's take too. It seems so quaint to us here in Portland that New York is trying to be non-comercial... when so much here is non-commercial as a default. Not that it's bad... it is just that commercially focused efforts seem novel to us in the way non-commercial seems novel to NYC.

And in case you didn't know some of the Appendix crew (Travis Fitzgerald, Daniel Wallace and Josh Pavalacky) are opening a new type of Gallery in New York City called American Medium. Hilariously they are not moving to NYC and I like their focused & too cool for that approach, I'll let them give you details in good time. It's a different type of art gallery for a different type of work. It opens in May.
Posted in PORT: portlandart.net on March 5, 2012 12:28 PM

Appendix presents Jasper Spicero's Interiors.

"In his rendered images, Spicero presents chambers optimized for status signaling and contemplation, a fantasy of aesthetically integrated techno-spirituality. Referencing equally the spaces imagined by computer game designers and lifestyle marketing - each simplified, each driven by a few key metrics - Spicero's images and objects suggest an uncomfortable causal tangle between the spaces we wish to inhabit, the creatures we wish to be, and the options that are made available to us."

Opening - 6:30PM - January 13th
Appendix Project Space - south alleyway off of NE Alberta St. between 26th and 27th Aves.
Posted in PORT: portlandart.net on January 11, 2012 11:09 PM

Kyle Thompson, I Hate The Sound of Guitars A: No Survivors at Recess (photo Jeff Jahn)

2011 was an interesting year that saw a lot of strong shows in the numerous university galleries and a bunch of new artists to watch. In many ways though it lacked 2010's punch (much missed were NAAU's experimental yet well conceived non-commercial shows and a satisfying major museum exhibition) so it seemed almost preparatory for 2012. Still, with solo and group shows by Martin Kippenberger, Philip Iosca, Damien Gilley and Jordan Tull, Adam Sorensen, Marieke Verbiesen, Zachary Davis, Laura Hughes, David Eckard, Midori Hirose, Matt McCormick and a few wild shows at Rock's Box and 12128 it was still a strong year. With all of the constant attention for Portlandia and Grimm it also seemed like Portland is simply a hotter topic than it has ever been before.

The Budd Clark Commons was a major architectural moment for the city.

University galleries like the Archer Gallery, the White Box, Linfield, The Feldman Gallery, the Cooley and PSU's Littman kept things lively but alt spaces like Worksound, Appendix, Half/Dozen, Falsefront, Rock's Box, Gallery Homeland (who staged a show in Houston too), Recess, Place and 12128 were where the stars of the future could be found.

Who to watch in 2012 based on their 2011 break out: Kyle Thompson... (much more)
Posted in PORT: portlandart.net on December 31, 2011 11:24 PM
It is end of the year wrap up time and Holland Cotter felt like the NYC Museums delivered, while the galleries were complacent. I mostly agree with his assessment.

Mack McFarland interviews the gang over at Appendix in Bomb. Appendix does the alternative project space thing right. Here at PORT we always pay attention to what they are doing because they are important as a self-selecting group of talented and very intellectually engaged individuals.

RACC awards a record sum for Project Grants. It is important to note that they convened some multidisciplinary panels to evaluate projects like Ben Young's... a clear step in the right direction. Sure, some of the grants went to embarrassingly dippy projects to people who repeatedly get some of the larger project grants but the new names like Young and Bund are encouraging. Honestly, I've never bothered applying for a project grant because it seemed like a waste of my time (I am a critic/curator and thus infinitely capable of pissing off panels of my so-called peers even when I'm not trying to alienate people... it comes with the territory if you call a spade a spade). Yet with these special multidisciplinary panels I'm reevaluating my opinions of RACC's project grants now... perhaps now can they handle high level independent curatorial projects? Venues like Rock's Box, Appendix, Worksound, Gallery Homeland and Recess are the backbones of the scene but dont get support except when individual artists get a grant. That said congrats to those who did and don't suck! Im hard on RACC but if any of the projects they funded are excellent I'll be sure to give them the props they deserve.

The new federal budget plan cuts the NEA and NEH.

On Friday artist Robert Hanson died at age 75 and PNCA covered it best. I don't want to attempt a eulogy (I only do that for those I knew well) but I what noticed most about Robert is that unlike many others of his generation you'd see him out and about taking in the new shows each and every month... usually with his wife Judy Cooke (always such a wonderful couple). That curiosity speaks volumes about the man. Our thoughts are with Judy and his family as he will be missed. Hanson's work will be the subject of the next Apex show at the Portland Art Museum.
Posted in PORT: portlandart.net on December 19, 2011 01:44 PM

Geoffrey KixMiller at Appendix Project Space

Quick, let's play word association: "cheap." Nothing? Okay, linoleum." Yeah, grandma's kitchen floor. That's exactly what I was thinking. But evidently, that's not what Geoffrey KixMiller, Philly-based artist who is now showing at Portland's Appendix Project Space, was thinking. It took me ages to find this gallery—supposedly one of two "it" places to see art in Portland right now—but wandering in the dark through the backstreets of the Alberta arts district, I finally saw a tiny unlit alleyway next to a gym... (more)
Posted in PORT: portlandart.net on November 15, 2011 01:41 PM


Appendix Project Space presents Target Language, videos by Andrew Norman Wilson, Anne de Vries, Harm van den Dorpel and Oliver Laric.

"Appropriating visual material from tech marketing, Disney movies and the decorative arts, language from pop culture and philosophy, and even cannibalizing their own work, these artists investigate continuities so familiar as to be invisible."

Opening reception • 7-11pm • November 3
Appendix Project Space at 937 • 937 NW Glisan • 503.295.6144

(More: Amy Bernstein at Stumptown, Pattern Recognition at Steven Goldman, Erik Geschke at PNCA, Jim Riswold at Augen, lectures by George Baker.)
Posted in PORT: portlandart.net on November 3, 2011 12:37 PM


Appendix Project Space presents Swimming, a selection of sculpture, hand-made booklets and photographic prints by Geoffrey KixMiller. His work contemplates "the unstable recipe of pattern, absurdity and expressiveness" in found objects and chance compositions.

Opening reception • 7pm • October 27
Appendix • south alley between 26th & 27th, off NE Alberta

(More: a bevy of artist talks and lectures!)
Posted in PORT: portlandart.net on October 25, 2011 10:33 PM


Appendix Project Space presents an installation by Chris Lawrence. Using construction stock, re-purposed consumer goods, found objects, light and sound, Lawrence "suggests spaces of frustrated and mysterious function, where viewers are implicated as interlopers in an environment hovering on the line of the sinister."

Opening reception • 7pm • September 29
Performance • 8pm
Appendix • south alley between 26th & 27th, off NE Alberta
Posted in PORT: portlandart.net on September 29, 2011 03:09 PM


FalseFront presents Towards Omniscient Documentary, the first in an ongoing series by Dustin Zemel. "By building expanded audiovisual experiments that recount 'true' stories, it is my goal to shed light on the subjective, hybrid space that exists between objective reality and personal interpretation."

Opening reception • 7-10pm • August 25
FalseFront • 4518 NE 32nd Ave • 503.781.4609



Sanela Jahić, "Fire Painting"

Appendix Project Space presents Passengers from the Relative to the Absolute, by Sanela Jahić. "Distilling the essential powers claimed by various modes of creation— painting's living evidence of touch, or the power of the word to remake the past— Jahić creates situations of enhanced mechanical advantage."

Opening reception • 7pm • August 25
Appendix • south alley between 26th & 27th, off NE Alberta
Posted in PORT: portlandart.net on August 24, 2011 12:39 PM

Anish Kapoor's Cloud Gate in Chicago (photo Jeff Jahn)

Tomorrow at Place the latest Praxis salon discussion presents Jason Brown's Paper "In the Defense of Beauty: The Guise and The Intangible." Grant Hottle's paintings will be on display as well.

Beauty was a hot topic in the mid 90's when Dave Hickey challenged the decades long bias against it in contemporary art with his essay, The Invisible Dragon: Four Essays on Beauty. It was essentially an all out and ultimately successful attack on a lot of French postmodernism theory that had metastasized into a kind of academic koan, one which treated visual pleasure as a kind of intellectual failing. What Hickey most effectively assaulted was the academic conceit rather than the theoreticians themselves and suddenly it was fine to make beautiful things again and craft suddenly stopped being a dirty word... not that Anish Kapoor and Jeff Koons weren't already doing it and artists like Murakami, Hirst, Andreas Gursky, Josiah McElheny and Olafur Elliason eventually removed all doubt. Likewise, the resurgent interest in Ed Ruscha, Ellsworth Kelly, Richard Serra, Robert Irwin and Judd ultimately solidified the argument that beautiful (or relentlessly visual/kinesthetic) work could be intellectually rigorous.

Overall, I'm interested in seeing where this discussion around Brown's paper hinges on and diverges from the art history of the past 20 years and hopefully some discussion of local examples will ensue (Storm Tharp, Jacqueline Ehlis (who studied with Hickey), Eva Speer, Arcy Douglass, Laura Highes, Jordan Tull, Laura Fritz, Midori Hirose, Adam Sorenson, the Appendix crew and James Lavadour are all germane). Lastly, does beauty still require defending and from whom?

Perhaps reading Arcy's essay from 2008 On Form (or from Polykleitos to Janine Antoni) might be helpful?

Place @ Pioneer Place
700 Sw Fith Ave. Third floor at settlement
August 24th
5:30 - 8:30PM
Posted in PORT: portlandart.net on August 23, 2011 09:27 PM

Nik Pence

Appendix Project Space presents Nik Pence's in, "a collection of double mementos poised between a remote context and a lost referent." Starting with a body of hand-carved tools, Pence "gradually brought the residency site into focus around a series of externalized memories... The result is a porous space permeated with inaudible information."

Right down the alley, Hay Batch presents Yearning, Burning and Churning, a live-dairy action skit by Cathy Cleaver. Using an exercise bike cleverly modified to churn cream, Cleaver will huff and puff her way to exhaustion or butter— whichever comes first.

Opening reception and performance • 7pm • July 28
Appendix • south alley between 26th & 27th, off NE Alberta

(After the jump: Stephanie Simek at False Front.)
Posted in PORT: portlandart.net on July 26, 2011 10:48 AM

Daniel J. Glendening & Michael Welsh

Appendix presents Neverland, a collaboration between Daniel J. Glendening and Michael Welsh in which they "collapse their individual practices into a single dreamlike environment, a survivalist clubhouse seemingly torqued out of time. Over the course of their month-long residency, the artists inhabited a cycle of production and re-uptake, pushing aesthetics of social breakdown and youthful wonder toward a singular gravitic point."

Hay Batch, connected to Appendix, presents Weird Fiction's Artificial Empathy Machine.

Opening receptions • 7pm • June 30
Appendix • south alley b/w 26th & 27th off NE Alberta




Michael Endo

False Front presents Michael Endo's Pain Scale, the result of Endo executing a single monumental-scale painting on site just days prior to the opening. "Centered on producing a singular, stately painting, Endo will work from six smaller reference works, each based on a self-constructed color code system inspired from the present-day methodical diagrams of sensory and emotional measurement. "

Opening reception • 7-10pm • June 30
False Front • 4518 NE 32nd • 503.781.4609
Posted in PORT: portlandart.net on June 29, 2011 10:57 AM

Ariana Jacob

In addition to the ongoing Andrew Norman Wilson show, Appendix presents Ariana Jacob's Teach me how to think like you in the Hay Batch. "I want to understand how other people think. To research this I am developing techniques for consensual brainwashing, which will allow me to think like other people - to think like you. While testing these techniques on myself I will also be investigating the cultural conditions out of which this desire to think like another person grows."

(Re)opening reception(s) • 6pm • May 26
Appendix Project Space • South alley off Alberta b/w 26th & 27th
Posted in PORT: portlandart.net on May 25, 2011 09:25 AM

Chris Freeman

Worksound presents New Mutants, curated by Stephen Slappe, featuring video, installation, and photography by Tabor Robak, Missy Canez, Chris Freeman, and Nadia Buyse. "Bubbling up from the crevices of culture, scraping digital dirt from their heels!"

Opening reception • 6-9pm • May 14
Worksound • 820 SE Alder • mojomodou@gmail.com




Andrew Norman Wilson

Appendix presents works by Andrew Norman Wilson, following his participation in PSU's Open Engagement conference. "In the four works: FlowSpot, Global Countdown, Workers Leaving the Googleplex, and Virtual Assistance - Video Task, Wilson dips beneath the surface of a growing pool of branding, imagery and mythos to pull out and examine the potentials and mechanics within an ecology of corporate superentities."

One night show • 8pm • May 14
Appendix Project Space • South alley off NE Alberta b/w 26th & 27th
Posted in PORT: portlandart.net on May 13, 2011 06:18 PM


We normally don't post fundraisers, but since RACC doesn't fund alt spaces and there's no cover for this one, we'd like to alert you to Appendix's Fount fundraising event happening this weekend. Artists from Appendix, Little Field, and Bay Hatch have donated work for raffle and there will be live garage rock from The Woolen Men. Gary Robbins of Container Corps has also created a limited edition print available to every guest who buys a raffle ticket.

Fundraiser • 6pm • April 23
Appendix Project Space • South alley b/w 26th & 27th off NE Alberta
Posted in PORT: portlandart.net on April 20, 2011 10:32 AM

Avantika Bawa

Disjecta presents Score., a new installation by Avantika Bawa. "Score. explores the making, breaking and rearranging of rules, strategies, structures and histories. Examining the past use of Disjecta's building, Bawa amplifies the working mechanism and occasional failures of systems through the creation of an abstract and altered Bowling Alley."

Opening reception • 6-10pm • April 2
Artist talk + happy hour • 6-9pm • April 22
Disjecta • 8371 N Interstate • 503.286.9449

(More: Critical Mass 2010 selections at Newspace, Emily Nachison at False Front, Gary Robbins at Appendix, Jaik Faulk at Nationale, Jessica Reaves at Golden Rule.)
Posted in PORT: portlandart.net on March 31, 2011 12:55 PM

Re/activate during March 1st Thursday's opening

I can't recall a time a young emerging artist has hit Portland as hard and often as Damien Gilley has... and in March 2011 he just doubled down with 2 major shows at W+K and Linfield Gallery. He's one of several artists (Jordan Tull, Josh Smith, Eric Franklin and Gilley) with shows up this month that I wish to discuss.

First, let's define provisional architecture as illusionary, test form or unfinished space/structures and or materials in space presented in a way that doesn't distinguish itself as a finished object that can exist without the space that contains it. Provisional architecture doesn't just modify space it re-schematizes it, turning finished space into an expanded unfinished (or unfinishable) potential space. It opens space and possibilities rather than dwell in it... (more)
Posted in PORT: portlandart.net on March 17, 2011 08:05 AM

Installation view (L to R) Jason Traeger Unitiled 2, 3, 4 and Benjamin Young's Ejection & Self Help

Hayward isn't discovering anyone here, but he is giving four of Portland's most promising recent talents; Benjamin Young, Jason Traeger, Matthew Green and Midori Hirose a nice stage to spar and highlight one another upon... (more
Posted in PORT: portlandart.net on February 23, 2011 09:34 AM

Emily Counts, "A Battle Lost"

The Settlement presents IN(ter)DEPENDENCE, which explores the emergence of small, independently run, and self-funded cultural hubs in Portland over the past 5 years. Each space or curator participating was asked to nominate an artist or collaborative group to represent them: &Review (Morgan Ritter + a performance by Jesse Malmed and Jeff Guay on March 3), Appendix Project Space (Zack Rose), Deep Leap Micro-cinema (Jesse Malmed), Ditch Projects (Ditch Projects), Elizabeth Lamb (Weird Fiction), False Front (Jason Doize), Golden Rule (Emily Counts), Grand Detour (TBA), Half/Dozen (Michelle Liccardo), Kelly Rauer (Mack McFarland), Launchpad (TBA), Little Field (Nathanial Oester), Recess (DIY Lover, Alicia Gordon, and Sean Patrick Higgins), Place (Juleen Johnson), and Tribute (J.Brown and Courtney Cullen). Through March 31.

Opening reception • 6-9pm • February 19
The Settlement • Pioneer Place Mall • top floor
Posted in PORT: portlandart.net on February 18, 2011 03:30 AM
Now that we have put a little critical distance between 2010 and started 2011 it's time for PORT's curatorial roundup. It's been a few years since we have done this so we are due again. Check out 2008 and 2007 as well.

Participating curators: Mack McFarland, Terri Hopkins, Stephanie Snyder, Blake Shell, Victor Maldanado, Kristan Kennedy, Kelly Rauer, myself, Namita Wiggers, Elizabeth Lamb and Linda Tesner... (more)
Posted in PORT: portlandart.net on January 30, 2011 09:54 PM
Time for the results of PORT's annual readers poll (aka the popularity contest).



Storm Tharp (photo Marne Lucas)



Ai Weiwei's Dropping the Urn at the Museum of Contemporary Craft

...(more)
Posted in PORT: portlandart.net on January 5, 2011 05:40 PM


We jumped the gun on this a couple of weeks ago - the actual opening reception for The Settlement's next set of shows is this weekend. The Settlement is PLACE, STORE, PEOPLE, and TRADE galleries in the Pioneer Place mall. PLACE will be opening Terror and Ego, new installations by Joshua Berger, Vanessa Calvert, Rhoda London, Emily Nachison, TJ Norris, and Dustin Zemel, on the 3rd floor of the mall. People's "offers original, small-scale works by local artists." Store is the result of a collaboration between the Settlement and PNCA, and "continues to develop and feature installation works by the BFA students of Victor Maldonado's Art, Ethics, and Transgression class." And finally, Trade is "the most fluid of the galleries focuses on local institutions that fill a creative and experimental niche," starting with a curatorial collaboration between Nim Wunnan of Research Club, Tori Abernathy of Recess Gallery, Wynde Dyer of Golden Rule, Elizabeth Lamb of White Box, and Max Ogden.

Opening reception • 6-10pm • December 18
The Settlement • Pioneer Place Mall downtown


Appendix presents HOME/BODY: "An elevator. A bus. A packed line. These are spaces where human proximity is close but not chosen. Juxtapose this with the selected intimacy of the domestic, and you have HOME/BODY, the latest piece by Choreographer Danielle Ross in collaboration with Video Artist Dustin Zemel. Eight performers are placed in a home and asked to improvise while negotiating pre-designed rules, task-oriented movement, and more importantly, each other. The audience will move freely through the space as the performers play with the sense of crowdedness and forced intimacy." This will serve as research for a larger upcoming project. The work will begin the Project Space and continue throughout the house, the audience is invited to come and go freely during the dance performance and installation.

Installation-performance • 4-7pm • December 18
Appendix Project Space • South alley b/w 26th & 27th off Alberta
Posted in PORT: portlandart.net on December 16, 2010 09:16 AM

as easy as falling off a log (installation view) photo: Jeff Jahn

In 1957 the State of Oregon outlawed the use of splash dams on Oregon waterways. Splash dams were built on rivers and creeks as a way to back up water in a sufficient volume to propel logged trees downstream. The flood caused by the sudden gush of water, plus the massive number of logs, scoured the waterways down to the bedrock, thereby making those streams inhospitable to the spawning salmon that required gravel beds (redds) to lay and fertilize eggs. Only after a series of lawsuits by anglers and environmentalists was the practice terminated nationwide.

Often the rush of logs downstream would cause logjams... (more)
Posted in PORT: portlandart.net on November 17, 2010 09:08 AM

Appendix Collective

NAAU presents Tropical Depression, a collection of new work by Portland's Appendix Collective: Maggie Casey, Zachary Davis, Joshua Pavlacky and Benjamin Young. "For each artist, form and approach are guided by the properties of their materials and by parameters set by the group. From within their system of collective practice, the artists grapple with the intangible nature of information technologies and systems, and the growing difficulty in distinguishing between the manufactured and the naturally occurring."

Opening reception • 6-9pm • November 5
New American Art Union • 922 SE Ankeny • 503.231.8294

(More: Josh Smith at MP5, Mariana Tres at MP5, Jonathan Leach at Gallery Homeland, Look Behind You at Worksound, PSU art alums at Autzen, and a moving sculpture by Evertt Biedler.)
Posted in PORT: portlandart.net on November 4, 2010 04:32 PM

Sonny Smith

In collaboration with Disjecta, False Front presents Sonny Smith's 100 Records. For the project, Smith created names and song titles for 100 different fictional bands, and asked 100 visual artists to create the album artwork for each 7" record. Smith then wrote and recorded 200 songs (A sides and B sides) for each imaginary musical act. The project culminated in an interactive exhibit of all 100 pieces of art, biographies of the imagined musicians, and a restored jukebox playing all 200 songs.

Opening reception • 6pm • October 28
False Front Studio • 4518 NE 32nd • 503.781.4609





The last shows of the season in the Alberta alley ways: Appendix Project Space presents Israel Lund's Trubl(e), Matthew Green will be hiding in the bushes at Hay Batch!, and Little Field presents Tim Mahan's Big Field, "an amalgamation of the artists, past installations, and physical elements that make up the Little Field space."

Openings • 6pm • October 28
Appendix Project Space • South alley between 26th & 27th off Alberta
Hay Batch! • South alley between 26th & 27th off Alberta
Little Field • North alley between 28th & 29th off Alberta
Posted in PORT: portlandart.net on October 26, 2010 09:56 AM

Vanessa Calvert

False Front presents Residue, a site-specific installation by Vanessa Calvert. The artist writes: "In the aftermath of the financial crisis, Residue presents the current recession as a period of ambiguous and uneasy change, with growth as an inevitable process that continues, despite the climate of contraction. A shift from consumption toward reuse forces the average American to develop new ways of working and living. Here, the couch acts as a totem for that person, forced out of their comfortable cocoon and into new forms."

Opening reception • 6-10pm • September 30
False Front • 4518 NE 32nd • 503.781.4609

(More: Nowhere collective @ Appendix, Terence Duvall @ Little Field, morgue photographs at Ampersand.)
Posted in PORT: portlandart.net on September 28, 2010 11:18 AM

Laura Hughes 2010 The Span of an Instant

I saw a beautiful piece at the Appendix Gallery: Here is a link to a piece Laura Hughes did in the Portland Building. Yes, it is much like Mary Temple's work, that you might have seen at Western Bridge but Hughes has the audacity to twist the screw... (More)
Posted in PORT: portlandart.net on September 7, 2010 07:22 AM


At the Alberta alley spaces: Appendix presents Laura Hughes, In the Space of an Instant. The installation "articulates and enhances fleeting instances of light through applications of phosphorescent and iridescent paint. The work is an exploration of how light, space, time, and architectural form shape one another to produce the visible by amplifying the imprint of the peripheral to the forefront of our perception."

Opening reception • 8:30pm • August 26
Appendix Project Space • South alleyway b/w 26th & 27th off Alberta

Little Field presents new work by Midori Hirosi, "stemming from her interest in combining geometric and loose facets. Her interest comes from an investigation into the dichotomy of the Apollonian and Dionysian idea culled from reading The Birth of Tragedy. She has a predilection for order and chaos and for this series of sculptures, tries to achieve the genera principle using wood, foam and paint to convey a form of balance between structure and disorder."

Opening reception • 7pm • August 26
Little Field • North alleyway b/w 28th & 29th off Alberta




Rebecca Shelly

False Front presents Rebecca Shelly's The Seed Olympics. "Through the use of stop motion animation, Rebecca Shelly documents the growth of starter plants with an exploratory theme of Olympic games under the theory, 'survival of the fittest.'"

Opening reception • 6pm • August 26
False Front Studio • 4518 NE 32nd • 503.781.4609
Posted in PORT: portlandart.net on August 24, 2010 10:36 AM

Tabor Robak's Quarterback

After navigating the intense Last Thursday Alberta Street crowds of revelers I was grateful to reach Appendix Project Space, which along with Littlfield has become the experimental installation/performance art hot spot in Portland (though there seem to be new spaces popping up in unexpected places all of the time)... (more)
Posted in PORT: portlandart.net on July 30, 2010 11:14 PM

Gary Wiseman, "Temporary Monument One (Couldn't Have Done It Without You)"

Little Field presents Gary Wiseman's Temporary Monument Two: Project, Reflect, Perform (Imagining Transitions). The project is "the second in a series of monuments that acknowledge and honor the people who have collaborated with Wiseman through his social and Co-Relational art practice."

Opening reception • 6pm • July 29
Little Field • North alleyway between NE 28th & 29th off Alberta

(More: Appendix/Hay Batch, False Front, Alicia Blue Gallery, Stumptown Family Showcase.)
Posted in PORT: portlandart.net on July 27, 2010 12:57 PM


Appendix presents Cruisn', an installation and performance by Oregon Painting Society featuring "collectively built instrument-objects, composing a witchy scene with uncontrollable synth action." Little Field presents FUTURE_DEATH_TOLL: "Mysterious, ubiquitous, and eminently destructive, the agentz of blaze orange utilize vintage electronicz such as rotary pwnz, synthesizerz, and drum padz to perform back alley open-heart surgery on their most enthusiastic patientz."

Alleyway Performing • 8:15pm • June 24
Appendix • South alley b/w 26th & 27th off Alberta
Little Field • North alley b/w 28th & 29th off Alberta

(More: Michael Iauch at False Front and Rites in Passage at Alicia Blue.)
Posted in PORT: portlandart.net on June 22, 2010 10:25 AM
May has been an exceedingly good month for shows in Portland and even though Cy Twombly, Disquieted and Donald Judd have ended there's still time to catch Scarecrow and other extra worthy shows. Honestly, I can't a remember a month in Portland when we've had so many high quality or at least provocative shows both local and international in scope? In fact, both the Everett Station Lofts and Last Thursday delivered strong surprises (which somehow weren't sniffed out by the recent attempted/impossible survey of the scene).


Here are a few quick reviews that give one a taste of what else was going on in the Portland art scene for May:



Hometouch at Littlefield

At Littlefield Zach Rose's Hometouch, the artist presented a hilarious mock trade show/infomercial sales situation. The three sleek blinking black boxes on pedestals promise some sort of technology and the cheesy pot ash tree gives the whole affair an air of corporate ennui emphasized by the sign which is expertly presented as anything but home-y. The installation raises lots of questions with no answers. Might one of the black boxes be a game console that can help you exercise or play tennis without leaving the home or is it a wireless controller that will organize the activities of every electronic device in the room? No answers here, just crickets and I enjoyed the near perfect deadpan presentation. It wouldn't be as effective in a traditional white box gallery either.

Overall, technology can be considered an endless incursion into one's personal and or home life and Rose's mock celebration/exposition... (more)
Posted in PORT: portlandart.net on May 28, 2010 12:54 PM


At Appendix: Travis Fitzgerald is a painter who "works with the collective identity of grouped characters and a trajectory of design throughout the 20th century" whose "recent transition to built objects in space pulls known methodologies of making into unknown territories."

At Little Field: Zach Rose's HOMETOUCH: "Through object, performance, and interaction design, Rose interrogates the myths of technological innovation and capitalist enterprise. Situated between cell phone huckster and tech startup HOMETOUCH divorces product from service, form from function, and innovation from success."

Opening receptions • 6pm • May 27
Appendix Project Space • South alley b/w 26th & 27th off NE Alberta
Little Field • North alley b/w 28th & 29th off NE Alberta


While you're in NE, check out the Alicia Blue Gallery on 1468 NE Alberta and False Front on 4518 NE 32nd.
Posted in PORT: portlandart.net on May 25, 2010 11:16 AM

McIntyre Parker

False Front presents new work by McIntyre Parker, director of art space Pied-à-Terre, which has moved to Half Moon Bay, CA. Parker's videos "soften the static of modern life, pulling our focus gradually inward. Serving the greater theme of contemplation, Parker's captured images ask open questions of time, purpose and place...As analyst, we are free to create our own narrative and continue the survey which Parker begins."

Opening reception • 7-10pm • April 29
False Front Studio • 4518 NE 32nd • 503.781.4609





Appendix Project Space presents a joint installation by Nathan Dinihanian and Molly Cooney-Mesker that will "distill the function and program of a space...attempting to delve into the way meaning is layered physically, socially, and materially in their surroundings." This also marks the opening of Appendix's new performance/art space, Hay Batch.

Opening reception • 6pm • April 29
Appendix Project Space • South Alley between 26th & 27th off Alberta • appendixspace@gmail.com





Little Field, which is being co-curated & coordinated with Appendix, presents For Real, a group exhibition: "The collected computers represent work exploring viral replication, digital image curation, pixel work, and interactivity...Positioning these unreal works in real positions within Little Field, For Real attempts to pull the question of the gallery's relationship to digital work into conversation with the developing crowd of viral-curators, image dumpers, digital image makers and programmers."

Opening reception • 6pm • April 29
Little Field • North Alley between 28th & 29th off Alberta • appendixspace@gmail.com
Posted in PORT: portlandart.net on April 27, 2010 05:17 PM
The results of our first ever Portland art scene reader's poll are in and it definitely confirms that 2009 was an extremely interesting and active year. Overall, these things tend to favor young emerging artists whose social networks (formed in art school) tend to rally round popularity contests like this. Still, it's a worthwhile exercise and the results do reflect quality as well as popularity. In some cases the margins were so overwhelming that it forms a kind of art scene consensus.



Ruth Ann Brown

Art Scene MVP 2009: With a commanding majority of 68.2% of the votes Ruth Ann Brown ran away with this category. Her successful Couture Series at NAAU channeled and funded one of the scene's biggest strengths, installation art. I guessed this would be the result but the voting margins were even more heavily stacked than expected. Sure there were lots of write ins and grumblings about this category but facts were 2009 was RAB's year.

...(more)
Posted in PORT: portlandart.net on December 30, 2009 07:32 PM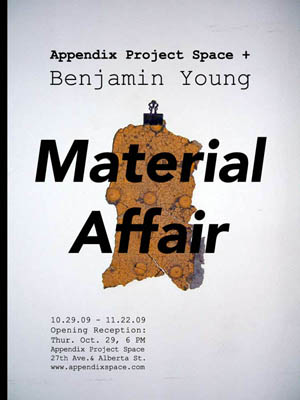 Appendix presents Benjamin Young's installation Material Affair. "In collaboration with collected materials, Young sculpturally explores the tension, process, and ecology of synthesized form."

Opening reception • 6-11pm • October 29
Appendix Project Space • South alley b/w 26th and 27th on NE Alberta St. • appendixspace@gmail.com




Jason Doizé

False Front presents Jason Doizé's Hikikomori. Inspired by a found online confession, Doizé began to explore the Japanese concept of Hikikomori, or acute social withdrawal. Doizé's artistic take on the phenomenon asks the question: "To what degree do we open our 'little home boxes' we inhabit and allow others in? Maybe the idea of shutting-in isn't foreign at all. Maybe in the end we're all hikikomori."

Opening reception • 6-10pm • October 29
False Front Studio • 4518 NE 32nd • jasondoize@mac.com
Posted in PORT: portlandart.net on October 28, 2009 08:11 AM

"The goal of our intellectual efforts cannot be a static, polished possession...In our many efforts toward knowledge, science, math, logic as in life itself, it is the process, not the terminus, that should concern us - if we are wise." Bruce Aune Rationalism, Empiricism, and Pragmatism

The fall season is in full swing, I've been here a little over a decade now and PORT is heading towards its 5th anniversary, so it seems like an opportune time to take full stock of the development of the Portland art scene. Part I is general and interrelated (nine ways to improve, Portland as a model city, and our recent past). Part II will be more specific, discussing artists - young, mid-career and old - different types of institutions, etc.



Broadcast at Lewis and Clark College (Dara Birnbaum's Hostage, 1994, in background)



Rose McCormick's Grande Ronde concluded NAAU's Couture series last weekend

There have been many excellent shows this season so far, including Rose McCormick's Grand Ronde, Broadcast at Lewis & Clark, Tom Cramer at Laura Russo, Jesse Hayward & Ethan Rose at TBA, Jordan Tull at Littlefield, Vanessa Renwick at Blue Sky, Ryan Pierce at Elizabeth Leach, and Processions at PSU, plus China Design Now and Raphael's Valeta at the Portland Art Museum. Portland definitely has a strong scene by anyone's standards, but it's not without its challenges. Only recently have our two top visual arts institutions (PAM and PNCA) embarked on serious campaigns with major donor education components. With PNCA celebrating its centennial this month, it's important to remember that they were the same entity a mere decade and a half ago and that only recently have the two organizations concentrated heavily on endowments and legacy gifts. The situation reminds me of the odd and sometimes beautiful combination of youth and age I come across in Portland. Now we seem to be at a tipping point where Portland could be more than just a great place for artists and become a better place for art. It's a subtle distinction that everyone should be considering..... (much more)
Posted in PORT: portlandart.net on October 27, 2009 02:13 PM

Processions: an Elaborative Cartography (detail)

For the past few months a group of artists consisting of; Maggie Casey, Zachary Davis, Joshua Pavlacky and Benjamin Young has demanded increasing attention in the Portland art scene by opening an unlikely space in a garage. It is called Appendix and it's just off Alberta Street. Though always experimental, their earlier site specific exhibitions at Appendix Gallery and Tractor have ranged from promising to some of the best of the year. But the thing that really got my attention was... (more)
Posted in PORT: portlandart.net on October 23, 2009 11:59 PM

Processions

The coordinators of Alberta' Appendix Project Space present Processions: an Elaborative Cartography at PSU's Recess Gallery (dept. of architecture). The work is a collaborative installation by Maggie Casey, Zachary Davis, Joshua Pavlacky and Benjamin Young: "Navigating the topology of the individual, the group, and emergent form, the exhibition is an exploration of process and its structure. Processions is an ecology of making. Composed of a series of hung arcs, each informed by its companion, the resulting structure exists as a material pause in an evolution of possible choices." The artists recommend that viewers show up to the reception promptly, "as the piece is best experienced over the transition from daylight to dusk."

Artist talk • 4pm • Shattuck Hall Annex • October 23
Opening reception • 5pm • Shattuck Hall Terrace • October 23
Recess Gallery • Shattuck Hall • 1914 SW Park
Posted in PORT: portlandart.net on October 21, 2009 10:24 AM

The design for the new leaf-shaped Rainwater Pavilion for the Tanner Springs urban wetland park in the Pearl District is pretty impressive. The pavilion designed by Herbert Dreiseitl (like the rest of the park) conjures "Space Elves" in my mind, something that would be hokey...(more)
Posted in PORT: portlandart.net on September 25, 2009 11:30 AM


Gary Wiseman and Meredith Andrews present Inside, Outside, Upside Down, a one-night Last Thursday installation at Appendix. The artists write: "...The difference between fantasy and reality seems infra-thin. I like the idea of time and space folding. I want to go home. Nine dimensions seem so ambiguous and arbitrary. In fact (after earning her PhD at Oxford my X-friend the physicist told me) kindness is all that matters. Befuddled, I am honestly trying to tell you the truth but it is hopeless. I can't talk that fast."

Opening reception •6-11pm • September 24
Appendix Project Space • South alley between 26th and 27th off NE Alberta





The other Alberta alley gallery space, now named Little Field Gallery, presents FRAME by Jordan Tull. "FRAME examines the role of the audience as subject to the object. The installation is a model of space fragmented. FRAME explores how space and time connect vision to experience."

Opening reception • 5-10pm • September 24
Little Field Gallery • North alley between 28th and 29th off NE Alberta





Neighborhood Diaries is a compilation of Portlanders' neighborhood-specific memories, compiled and put to music by Abraham Ingle, who's also spearheading the Portland version of Papergirl. The project begins its exhibitions with the King/Vernon Diaries at Together Gallery this Last Thursday - bring your MP3 player to download the tour. Upcoming events include the Downtown Diaries at ON Gallery for October First Thursday, the Buckman Diaries for First Friday at Second Nature Gallery, and the Boise/Elliot Diaries at the Waypost on October 11. Visit the website for more details.

Opening reception • 6-10pm • September 24
Together Gallery • 2916 NE Alberta • 503.288.8879
Posted in PORT: portlandart.net on September 23, 2009 11:32 AM


Appendix will be showing Finder Keeper, an installation by Zachary Davis "concerned with seekers and unexplored landscapes."

Opening reception • 6-11pm • August 27
Appendix Project Space • South alley b/w 26th & 27th on NE Alberta • appendixspace@gmail.com





The Appendix folks are also helping establish a similar new space down the street. The space will be featuring Daniel Wallace's newest project, the result of the artist in residence program at The Dude Ranch, which "considers our relationship to light, materiality, and the parameters of visual perception."

Opening reception • 6-10pm • August 27
New Alberta project space • North alley b/w 28th & 29th on NE Alberta
Posted in PORT: portlandart.net on August 25, 2009 11:50 AM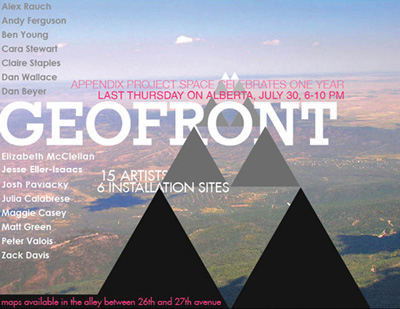 Celebrating their one-year anniversary, Appendix presents Geofront, a multi-site project featuring 15 artists working in light, sound, soil, structure and movement. Maps to the six installation sites are available at Appendix.

Opening reception • 6-10pm • July 30
Appendix Project Space • South alley b/w 26th & 27th on Alberta
Posted in PORT: portlandart.net on July 28, 2009 09:22 AM
Whether the economy is bubbling or collapsing Portland continues to attract new faces (often with new spaces). With more and more leaders to our ever growing and evolving scene there is most certainly yet another new wave in effect. Here are just a few of the new faces everyone should have on their radar (I'm certain there are many more... it's impossible to keep track of the in flow so feel free to nominate them in the comments).



The attention getting Jhordan Dahl caught our attention as an artist in 2007 at the Affair at the Jupiter hotel in Mark Woolley's bathroom (while still a PNCA student) and her most recent curatorial effort White Noise. She's serious, smart and sweats the details with a lot of edge... setting her apart from most of the softer slacker/hipster wannabe artists we spend a lot of time ignoring. I'd like to go on the record stating there haven't been enough young, independent female curators active in Portland... (a few years ago it seemed overbalanced with to many alpha male efforts.. many of which were more alpha male territorial exercises than concerted curatorial efforts). Let's hope she pulls together a solo show of her own work or another group show this summer.




Justin Bland is a 2008 PNCA graduate who has been very active as a curator of shows like Monster at Appendix Project space and the impressively professional Green Oregon (a much bigger survey like this is in order). In Miami's 2008 art fair he participated in Deitch Projects... (much more)
Posted in PORT: portlandart.net on July 1, 2009 03:00 PM

Elizabeth McClellan

Appendix presents Sediment, a collection of indoor/outdoor drawing environments by Elizabeth McClellan. Due to size and showing constraints, Outdoor works will be up through June 27th.

Opening reception • 6-10pm • June 25
Appendix Project Space • South alley b/w 26th & 27th on Alberta
Posted in PORT: portlandart.net on June 22, 2009 09:48 AM
Group shows often act as social mixers or reconnectors and thus provide an important opportunity to tease out trends and renew friendships... but for me it's the solo shows that provide the more satisfying art viewing experiences.



Ben Young's Platonically Imperfect at Tractor

This June was short on new solo show excitement with, DE May at PDX and the interesting and well hung debut of Joe Bartholomew ... but overall the solo offerings seemed very minimal, pun intended. Then I came upon Ben Young's Platonically Imperfect at Tractor, probably the most surprising, almost magical...yet rigorous debut I've seen in years at the Everett Station Lofts. Tractor is a space to watch... (more)
Posted in PORT: portlandart.net on June 11, 2009 03:59 PM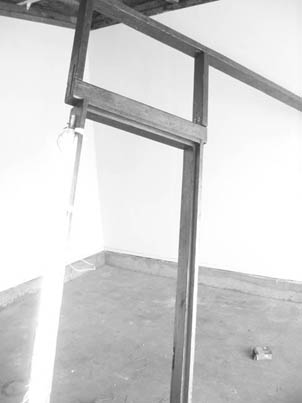 Joshua Pavlacky

Joshua Pavlacky presents Towards the Scrambled Egg, "an installation exploring landscape and spatial manipulation" at Appendix Project Space.

Opening reception • 8pm-12am • May 28
Appendix Project Space • South alley b/w 26th & 27th on NE Alberta





The ZooBombers' Holy Pyle minibike sculpture has found a permanent home. Designed in conjunction with local artists Brian Borello and Vanessa Renwick, the Pyle has been relocated to 13th & W Burnside. The unveiling party this weekend starts at the Holy Rack at 10th & SW Oak at 4pm and will parade to the new location around 5.

Public art party • 4pm • May 29
ZooBombers • Downtown
Posted in PORT: portlandart.net on May 27, 2009 10:34 AM

Lincoln Barbour, "Loading Dock"

Office PDX presents My West Coast. A group of photographers were asked to take a series of images that define the West coast with Polaroid Land Cameras. Five Polaroids will be showcased from each of the following photographers: Alicia Rose, Barbara Kinney, Chris Walla, Jan Sonnenmair, Jeff Selis, Jon Jensen, Lincoln Barbour, and Tony Secolo.

Opening reception • 6-8pm • April 29
Office PDX • 2204 NE Alberta • 888.355.7467




Maggie Casey, "Stairs"

Fiber artist Maggie Casey presents a new site-specific installation at Appendix. Casey explores "a space-based narrative in 3-dimensional drawing."

Opening reception • 6-11pm • April 30
Open critique & discussion • 7pm • May 6
Appendix Project Space • South alley b/w 26 & 27th on NE Alberta




Basil Childers, image of the Museum of Contemporary Craft

Part 5 of 5 of the PNCA+MoCC community conversations regarding PNCA's acquisition of the Museum of Contemporary Craft is happening this week. Panelists include Victoria Frey (executive director of PICA), Linda K. Johnson (founder of South Waterfront Artist in Residence program), Elizabeth Leach (owner of Elizabeth Leach Gallery), and Tom Manley (PNCA president).

Panel discussion • 6:30pm • April 30
PNCA • 1241 NW Johnson
Posted in PORT: portlandart.net on April 28, 2009 11:42 AM

Tom Holmes, "I Make Stuff Up"

Curated by Gabrielle Giattino, I know nothing of the weather when I know it is either raining or not raining. opens this Thursday at PNCA's Feldman Gallery + Project Space. Drawing its title from Ludwig Wittgenstein's Tractatus Logioco-Philosophicus, a series of statements about the nature of logic, the show highlights strategies for making art that "willingly defy the necessary usefulness of logic and language." Featured artists include Erica Baum, Ellie Ga, Tom Holmes, Justin Matherly, Andrea Merkx, Jenny Perlin, and Vicente Razo. Artist Andrea Merkx will lecture on Wednesday about the show, curator Gabrielle Giattino will give a tour before the reception, and artist Ellie Ga will give a final presentation on Friday.

Artist lecture • 12:30-1:30pm • February 25
Curator tour • 12:30-1:30pm • February 26
Opening reception • 6:30pm • February 26
Artist presentation • 12:30-1:30pm • February 27
PNCA • 1241 NW Johnson • 503.226.4391





Matthew Green will perform Solo Jams at Appendix Project Space this Thursday. The piece begins promptly at 7pm, and elements from it will be on view 3-7pm for the following three Thursdays.

Opening reception • 6-10pm • February 26
Appendix • NE Alberta • in the south alley between 26th & 27th
Posted in PORT: portlandart.net on February 23, 2009 11:35 AM

Appendix gallery is opening its 2009 season with Pushup: new work by Calvin Ross Carl, Zack Davis and Joshua Pavlacky.

Opening reception • 6-10pm • January 29
Appendix Project Space • In the alley b/w 26th & 27th on NE Alberta
Posted in PORT: portlandart.net on January 27, 2009 09:43 AM